Vertex Global Services: Empowering Businesses Through Leading-edge Solutions
The economic shockwaves of 2020 have compelled organisations across the globe to up their game. The pandemic has forced several companies to redefine their priorities and adopt innovative strategies. While this drastic shift may have been difficult for some organisations, the silver lining is that innovation is being prioritized now.
A few companies, above all, have embraced these changes with open arms. These organisations love challenges which help them grow in every aspect. Their stoic determination and resilience is nothing short of awe-inspiring.
One of such companies is Vertex Global Services. The company is a sought-after, globally renowned Business Solutions provider. Through its unique business optimization solutions, Vertex is bolstering the performances of several companies across the globe. This article will further elaborate on the brand's service portfolio, success story, and much more.
Vertex Global Services: An Ethical Company That Supports its Employees
Vertex (Group) Global Services is a multifaceted company that's based in Times Square, New York. Owing to the company's impeccable performance, it has been ranked 19th in the list of Top 50 innovation leaders across the globe.
The company is also known for its exceptional ethical parameters in terms of employee satisfaction and transparency with clients. For this very reason, it has been voted as The Best Company of the year 2020 & 2021 consecutively.
The brand's diversified service portfolio includes the likes of performance marketing, managed services, AI & Digital platforms, events & conferences, revenue & retail mapping solutions, and a host of cloud-tech enabled services curated for cross-platform development.
Vertex Group also has 3 other service verticals across the globe, namely Vertex Next, Vertex Academy, and VCosmos. Gradually marking its global presence, the company has also established key hub offices in US, UK, Nepal, Philippines, India, Canada, and Middle East.
Successful alliances with numerous investors, nation-building stakeholders, partnerships and clients across the globe are a testament to Vertex's reliability and competency as a Business Optimization partner.
With an impressive growth rate of 100%, year after year, the company is a one-stop solution for all your business optimization and human resource augmentation needs.
Besides this, the company's vibrant and nurturing work environment makes it one of the best companies to work for. It places great emphasis on the overall well-being and growth of its employees, a rare phenomenon in today's world.
Founder & CEO of Vertex Group, Mr. Gagan Arora, likes to describe his employees as "the pioneers of human resource lifecycle management". He commends their relentless efforts at delivering success every day.
"Our culture is ethically led to maintain a parity of transitory goals with scrupulous decision process to fortify company's collective reputation,"
                                                      -says Gagan Arora
How Vertex Helps its Clients Transform their Digital Presence
To help clients accentuate their digital network and build an imposing brand image, the company leverages media and digital technology. It then yields a strategically balanced combination of Digital and PR channels that help the client boost their brand's engagement and stand out from their competitors.
Till now, Vertex has successfully deployed AI for a plethora of renowned brands under the experienced guidance of hundreds of veterans. The company has also been providing cutting-edge tech solutions to Fortune 500 companies to help them stay at the top of their game in terms of technology.
Recently, Vertex Group has introduced VCosmos, which provides Unified Communications as a Service (UCaaS), Software as a Service (SaaS), Call Centre as a Service (CCaaS), and Talent as a Service (TaaS). With this launch, the company aims at enabling the client's dynamic growth whilst fostering their agility, performance, and cost-effectiveness. "From companies' registration to business optimization, we offer integrated business solutions and consultancy services while maintaining cost and diminishing risk," affirms Gagan Arora.
Values Maketh Brand
Being a ethical brand, values like integrity, respect, commitment, trust, and excellence are inculcated in each of the company's operations. The incredible "executives" at Vertex are known for their passion, dedication, innovation, and helpful nature. The way the teams at Vertex effortlessly handle troubleshooting, meetings, and briefings on the management level has righteously given them the title of the "Unstoppables".
Every "Vertexian" is equally responsible for the success of the company. They put in all the work required to push the company forward, and then some more.
"While everyone visualizes the risk, I have noticed the reward. In a highly precipitous corporate world, there lies a simple truth- perfect people do not exist; what does exist are human beings who have the determination to achieve despite their imperfections. While I faced immense challenges and my initial ventures did not flourish, I refused to lose sight of the greater good. My motivation lies in the adrenaline rush of riding the wave of innovation, which led to the creation of the brand 'Vertex Global Services' in a minuscule space," says Gagan in regard to his leadership style.
The Visionary Behind Vertex Group
Founder & CEO of Vertex Global services, Mr. Gagan Arora, is a three-time winner of the BEST CEO award. He is a first-generation tech entrepreneur, a tenacious leader, and a tech enthusiast, who has successfully established himself as a well-known brand name in the industry. At present, he is leading Vertex Group (Vertex Global Services, Vertex Digital Academy, Vertex Next & Vertex Cosmos (VCOSMOS) as the Founder& CEO, and also chairs the Delhi Chapter of the Foreign Investors Council and Director-Global Education, serving 52 countries for Asia Arab Chamber of Commerce.
A Boston University Certified, Gagan began his entrepreneurial journey as an entrepreneur, and eventually as a leader. Because of his instinctive and unmatched intellect, he has an eye for spotting opportunities and staying ahead of the trend.
"I always operate in a way that is more diverse and stimulates more opportunities," he says.
Gagan started Vertex out from a small garage in Florida, and in less than five years, he has put the company on the map, including United States, United Kingdom, India, Philippines, Nepal, Middle East, and Africa.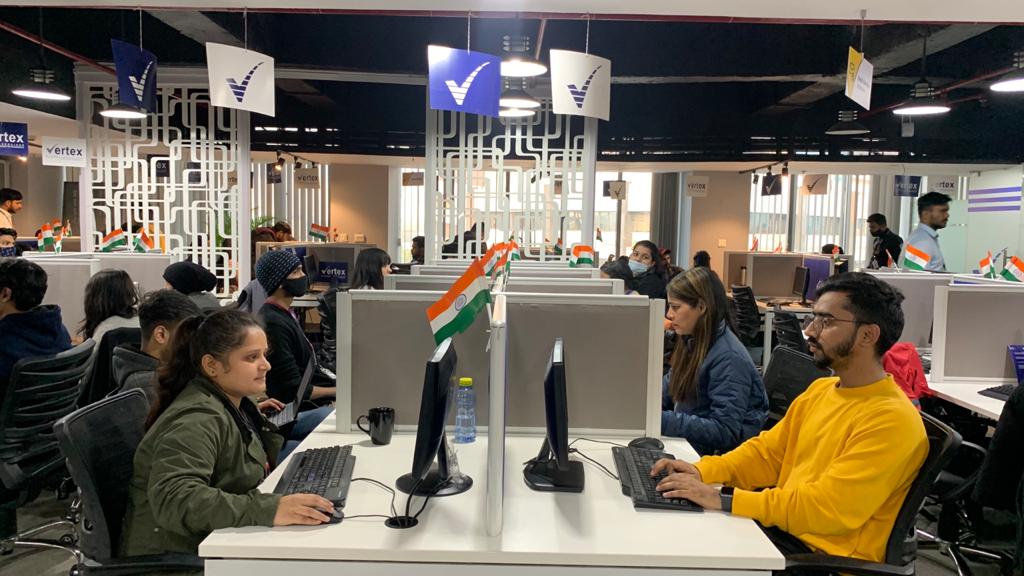 Notable Achievements and Milestones
Over the years, Vertex has garnered numerous laurels, awards, and hit new milestones. Given below are the most notable ones:
Best Place to Work in India 2020 by the Best Place to Work ® Institute for its best practices with ESAT at 94% and Global Score 92%.
Ranked 19th amongst the 50 Most Innovative Companies across the globe
Awarded as "India 5000 Best MSME Award 2021" by India 5000
Recognized amongst "The Top 10 Fasted Growing BPO Companies in India 2021"by Business Connect.
Awarded as Best Innovative Business Solutions Service Providers – 2020 by Brand Opus India
Recognized as Asia's Greatest Brand 2020-21 by AsiaOne in participation with ET NOW
Ranked as Most Innovative Tech Company in India.
Ranked as India's Best Company of the Year 2020 & 2021
NASSCOM accreditation.
Towards a Brighter Future
Being a rapidly growing organization, Vertex has numerous grandiose plans in the pipeline. Gagan goes on to elucidate the crux of his growth strategy: "Growth is an integral part for us at Vertex, it means offering consistent deliverables to consumers with a continuous process where both employees and employers put their efforts to create a conducive environment so that we can achieve objectives at the same time."
In addition to this, a major part of the company's growth strategy involves penetrating new markets and new segments, which will aid in its multidimensional.
A Message for Entrepreneurs
Having been in the industry for several years now, Gagan has experienced the highs and lows of entrepreneurship first hand. On an end note, he spurs our readers to imbibe some core qualities along their journey:
"Being a successful entrepreneur takes a lot of work, a lot of vision and a lot of perseverance. Hope this helps others to navigate the path much more easily."
http://vertexglobalservices.com/