Digitalization is at its peak, digital tools have become essential for seeking a good job. The need to enhance soft skills among students to aid employment chances cannot be overlooked. Academic institutions have to stay at pace with employer needs. The work spectrum is ever-evolving, and we have to assure that our students are not left behind.
Dr. Purswani, Chairman of SST College of Arts & Commerce, thinks that, with the growth of economies in terms of urbanization, agricultural practices, and infrastructure development, skillfulness is essential to a successful career and sustainable survival. With a mission to empower young minds, especially those from rural backgrounds, with holistic education, he has paved the way to a premium institute.
The SST College of Arts & Commerce…
Is a leading academic institute in Ulhasnagar, Mumbai, working to impart quality, career-oriented education amalgamated with high ethical values. Affiliated to the University of Mumbai, it offers a wide range of courses, from a Junior college to Post-Graduation. Over the years, SST College has carved a niche as a premier institute providing skill-based education. Today, about 5,000 students, mostly from rural backgrounds, are upgrading their knowledge & skills going ahead to transforming their future with SST.
Inception Story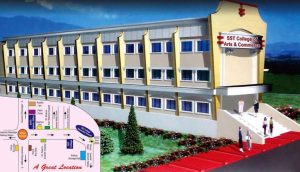 Ulhasnagar, a military camp, was vacated during the Partition era & became a refugee township for migrants from West Pakistan. The inhabitants shaped the city we see today, yet the majority of people still make a living through stagnant wages, micro-businesses, and home-based work. The city was split into two parts: Ulhasnagar (East) compring of Camp No. 4, and 5 and Ulhasnagar (West) comprinting of camp no 1, 2, & 3.
The SST College was founded in Ulhasnagar (East) in 2004 to meet the academic needs of rural residents. With a goal to break the cycle of poverty by equipping people with the knowledge & skills that would make them independent & productive.
What started as a small college with only 13 students has flourished into a renowned institute boasting about 5,000 students today. The institute admits students from all walks of life, its primary goal is to empower the economically deprived – slum dwellers, domestic workers, daily wage earners, and other rural Indian residents who want a better life for their children.
The Obstacles
Dr. Purswani grew up in harsh difficulties with not-so-educated parents and no funds to support him too. All he knew was that education was his route to success and with the utmost zeal to learn & earn a better living, he landed his first job in 1979. He soared ahead to make a better future for himself and the deprived class.
In 2004, with the blessings of his mentor Shri Sidh Rajguru Thakurnath Yogeshwarji, after whom the college is named, he started an institution to deliver the best education. All this with no financial backing or political support.
Ensuring holistic development
SST College firmly believes that every child has a hidden potential to bring something unique to the world. And every academic organization must provide children with the opportunity to identify their uniqueness. The institute offers a scholarly and professional ambiance and a fulfilling campus life, much-needed for their overall development. Students have access to various academic facilities- technology-based education, early practical exposure, business incubation training, skill development programs, workshops, internships, & placements. There are also extracurricular activities available – from acting to singing, fashion shows, drama, street plays, flash mobs and sports – the options are endless.
All in all, SST College focuses on the holistic development of its students by inculcating good habits that make them responsible members of global society.
Celebrating students' accomplishments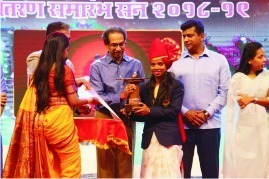 Every academic institute's power lies in its students and their success. SST College has made a difference by helping its students to achieve ambitious goals by equipping them with the knowledge, skills, & experience that adds substance to their vision. Some of the noteworthy accomplishments of SST's alumnus are:
Winning gold medals for India
Pursuing rewarding careers in various MNCS'
Winning national-level fashion shows & becoming brand ambassadors for leading labels
Being recognized as the Face of Maharashtra
Scripting a play that won international acclaim in short movie competitions
Starting nonprofits that aim for rural upliftment
Faculty and research at SST College:-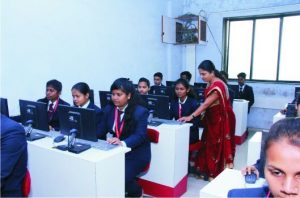 SST College recognizes the power of quality educators & the need for them to keep up with market trends & needs. Its faculty includes highly skilled professionals from a variety of fields, exceptional educators, and committed mentors. It boasts a vibrant group of professors, industry experts, and alumni who help students learn new skills through webinars, value-added courses, & certificate courses. The research community at the college adopts a learn-by-doing approach. Educators and students both are encouraged to research and publish papers in peer-reviewed journals.
Focusing on skill development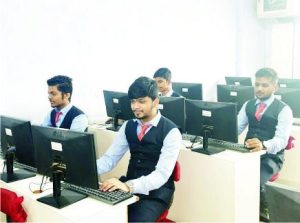 Earlier, SST college used to get students from several regional backgrounds and the transition from their mother tongue to a foreign language took a lot of time. However, as the city has become more cosmopolitan, students from all over the country have flocked. Because of the growing competitiveness, SST college urges students to whatever opportunity is available & gain industry exposure.
For internships, skills development programs, and placements, the institution has ties with industry leaders. For instance, each year, the World Bank offers one-month training & interaction sessions to SSTians.
The management at SST College foresees a possibility where future employers not only focus on grades but extra knowledge acquired by students. The college encourages students to add to their knowledge spectrum with online courses & qualifications from world-renowned institutes, which add credibility to their resumes. For this, the institute has collaborated with IBM, the IITs, several international universities, & vocational academies.
Growth amid the COVID-19 pandemic
Necessity is the mother of invention; SST College came up with newer and better educational techniques so that students' academics are not hampered due to COVID 19. In a single year, SST has achieved a plethora of academic accomplishments. Online learning being the need of the hour, SST took the following steps to provide continuous learning to its students amidst the lockdown:
Tie-ups with several digital portals worldwide to host free online courses from 150+ world renounced universities.
SST developed its learning management system. Each student has a virtual classroom, a digital safe to save documents, notes, videos & assignments, Students receive reminder emails for lectures & notifications, when teachers leave notes or assignments for them.
Access to a digital library that contains 4.5+ crore videos, assignments, books, Journals.
Most students from low-income families didn't have a mobile or PC to study when their parents were working. So SST developed its in-house software where the faculty recorded & uploaded 525+ lectures on its YouTube channel- SST Edupedia.
Keeping the non-technical background of many students in mind, SST also arranged for them to receive additional training sessions on how to use basic technologies.
SST created a dedicated Help Desk that addresses students' queries & problems during the pandemic.
An online portal was developed to deliver and assess online examinations.
Notable CSR Activities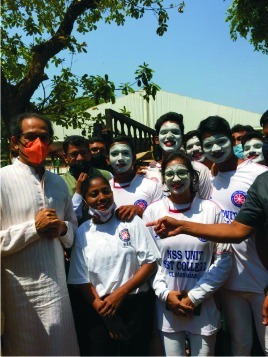 SST College promotes reformation via responsible behavior. It has worked with both public and private sector groups on a variety of upliftment initiatives including:
Supporting educational independence via Scholarships, Freeships & Financial Assistance.
Working with Program Officers of the National Service Scheme.
Tree-plantation drive with Forest Department
Adoption of Thalassemia unit of a government hospital in the city & helping healthcare officials in blood donation drives. SST has collected more than 1000 units continuously for 3 years.
Support to NGO working for HIV+ patients, with Mahindra & Mahindra as an active partner.
Connected with Nashik-based Adhar Tirth Ashram to help orphans from the farming community. Every year, they come to the college and participate in Eka-Akshara, a five days Ganpati Utsav @ campus.
Spreading mass awareness in rural areas to ban plastic, promote education and hold Drawing, Painting & Rangoli Competitions.
Participating in Hagandari Mukt Gaon, an initiative by the central government to end open defecation in villages.
Conducting International Webinars on Laughter Yoga with Dr. Madan Kataria (Guru of Giggling) to ward off depression during the pandemic.
VidyaDaan Virtual Carnival – free educational National webinars in collaboration with the Ministry of HRD, NSDC, and MESC.
The Step Ahead
SST College plans to continue uplifting those for whom education is a privilege rather than a necessity. Within the next few years, it wants to make SST a global institute. "We cannot build the future for our youth, but we can always build our youth for the future. With 356 million 10-24-year-olds, India has the world's largest youth population. SST's courses are the passport that makes these youths eligible for traveling worldwide. While our skill-based training is the visa that allows them to pursue success anywhere in the world", says Dr. Purswani. His faith in, accomplishing this goal stems from the word-of-mouth publicity the college has received from students, parents, and its alumni.
---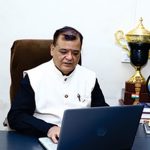 Welcome to SSTC
             "We cannot always build the future for our youth but we can build our youth for the future"
The goal of SSTC, guided by the vision, is to provide transformational education that produces a skilled work force of researchers and innovators of tomorrow with intellectual and technological resources. Our commitment and dedication is to focus on experiential, Co operative and project based learning that allows our students to continue to adopt, grow and succeed in solving real-world problems. The college thrives to establish partnership with industries, Government Organizations and Academia, to become collaborative community of faculties. Students, Staff and Alumni fulfill societal needs with professional ethics. SSTC is proactively involved in outcome-based education and choice based credit system to enhance inter disciplinary competence and Leadership skills among our students in a global perspective.
Each department offer undergraduate, post graduate programmes and also run different domain specific specialized sponsored programs from well recognized international universities, in addition to MAST (Market Aligned Skills Training) and ABLE (Ability Based Livelihood Empowerment) programs to fulfill the needs of skilled professional as per market demand.
SSTC has always been striving for excellence in whatever it plans to do, be it teaching, research or development of technology. The SSTC is aware of its social responsibilities as well. I congratulate the faculty, students and all other staff for their untiring effort to keep the SSTC flag flying high. It is my pleasure to note that the placement of students of SSTC in the public and private sectors including industries has also been a heartening feature.
The SSTC has made steady progress and continue to do so in the areas of academics with emphasis on intellectual enrichment and growth. I hope the SSTC expectations and achievements may reach a meeting point soon to the satisfaction of all.
SSTC looks to the future today-with inspiration from its past and the strength of its present as guided by the vision and blessings of Guruji and driven by a passion for excellence.
Dr. J. C. Purswani
Chairman
---
https://sstcollege.edu.in/