World's Money Exchange, Inc. : Bestowing The World With Flexible Foreign Currency And Exquisite Metal Exchange Services
THE 10 MOST TRUSTWORTHY COMPANIES TO WATCH IN 2023
World's Money Exchange, Inc.
As the business world is sailing across boundaries, foreign money exchange services are essentially required across various segments. Whether it is traveling abroad, or planning your child's education, people require trustworthy and authentic foreign exchange currency solutions that are quick and available at competitive rates. As a leading foreign currency exchange provider and precious metal dealer, World's Money Exchange, Inc. has dense flexibility in its services.
One can exchange paper currencies as well as precious metals in the safest possible manner with their extensive workforce and network of partners in most countries. The team of Prime Insights Magazine got an opportunity to feature one of the leading ventures in the business bubble of foreign money exchange – World's Money Exchange, Inc. Our editorial team had an ecstatic session with the Founder of the company, Mr. Anil R Shah. He revealed some lesser-known facts about his entrepreneurial journey and other valuable insights for our global readership panel. We are enthralled enough to share these facts in this captivating draft.
A Quick Overview of the Company
World's Money Exchange, Inc. was founded in the year 1987 by the dignitary entrepreneur Mr. Anil R. Shah. They have taken the lead in dealing with foreign currency exchange and precious metals. The company also buys and sells- Gold, Silver, Palladium and Platinum bars/coins at the best possible rates. Their ideology is all about buying and selling at the best possible rates to fulfill customers' interests and satisfaction first. What makes them stand apart from the competition is ensuring that their clients can save money without sacrificing their expectations from the service. Their clientele includes acknowledged tycoons of commercial banks, foreign exchange houses, travel agents, attorneys, and C.P.As.' corporations.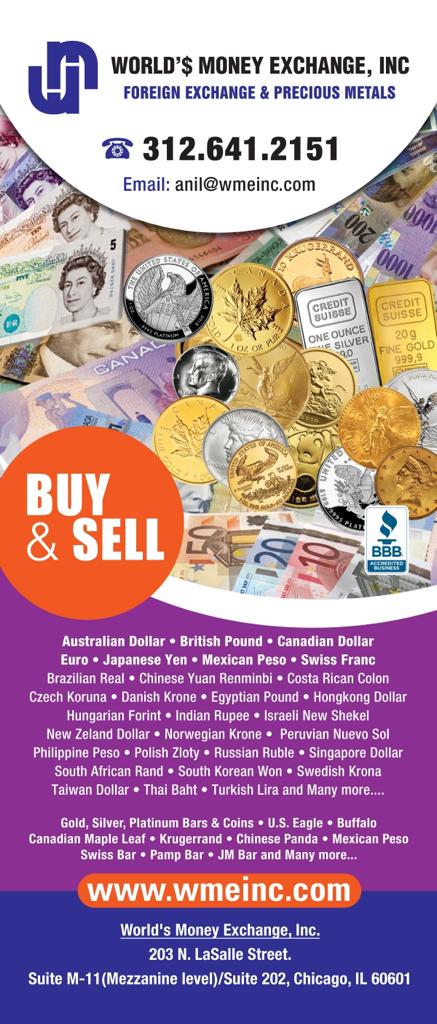 A Brisk View of the Services
The company offers exchange rates that are emulous in the business ecosystem. They provide currency exchange services for more than 70 different countries across the globe. The idea of adding hard yet long-term assets to investments in terms of coins/bars of gold, silver and platinum is an excellent idea for securing stronger grounds in asset diversification. The following are some major foreign currencies and precious metals they deal in.
Foreign Currency: –
Australian Dollar
Canadian Dollar
China Yuan (Renminbi)
Denmark Krone
Egypt Pound
England Pound
Euro
Hong Kong Dollar
Indian Rupee
Japanese Yen
Mexican Pesos
Norway Krone
Philippine Pesos
Poland Zloty
South African Rand
Sweden Krone
Switzerland Franc
Taiwan Dollar
Thailand Baht
Turkish Lira
& many more..
Precious Metals:
Gold, Silver bars and Coins
American Eagle
Buffalo
Canada Maple Leaf
JM Bar
Krugerrand
Pamp Bar
Swiss Bar
& many more..
World's Money Exchange, Inc. is dedicated to preventing money laundering. They empower their associated staff and employees to chase for achieving the finest standards of compliance integrity. It is very much ensured that their employees are always aware of the company's commitment to handling money laundering and their respective responsibilities administered under the company's policies.
Enthusiasm in Nerves
Mr. Shah further discussed that the initial two years of the business were quite challenging for them. But with time, their endurance evolved over these years. Having completed 35 years in this business, they have come this far because of their reassuring work ethics. Being a credible and powerful brand, the zeal has always been to ensure that customer services remain uninterrupted.
Mr. Anil R Shah believes that a responsible brand should have a disciplinary and corporate governance system in place, especially in this exchange industry. These dutiful actions guarantee that ethical standards and transparent approaches to the customer base are upheld. Bringing a significant impact on the elements of society as a business is a sacred obligation in the company's work morals. The results and customer testimonials speak for their diligence and quality of service. That's how they have completely distinguished themselves from the competition. For them, a satisfied customer is an everlasting asset and a satisfied workforce is a base for forming the everlasting asset of customer satisfaction.