Sree Krishna Groups: Sai Krishna Azad's Attempt to Make a One-stop Solution for All Your Legal Issues
Company overview
Sree Krishna Groups was started in 2003 by its founder and CEO Sai Krishna Azad who is also a High Court Advocate with a worldwide reputation in Law Media. The company has been executing Law Media YouTube channel with nearly 1.5 lakh subscribers giving a one-stop solution to address all client legal issues led by Sai Krishna Azad, the High Court Advocate. This Law Media Firm is mainly focusing on NRI Legal Services, NRI Property Cases, Criminal Law Cases, Adoption Name, NRI Divorce, and Family Cases and so on. The company stands as a law pioneer to offer proactive and hassle-paid legal services to overseas Indians. Client satisfaction is the company's top priority along with paid phone consultation and email services. The company respects clients' privacy through which it builds trust and confidence with a client.
History of its founder
The entire professional firm for the law has been handled by Mr Sai Azad with over 20 years of experience at the High Court of Hyderabad. He is a legal case handler who undoubtedly serves professionally given the best services for all clients. He is one of the best lawyers in Hyderabad with an astounding experience of 15+ years and a 100% success rate.
What the company has to offer
The Sree Krishna Group provide services like messaging, emails and even video chatting for any NRI to feel more secure and comfortable regarding a direct interaction with the legal exerts with paid consultations. Sree Krishna Group functions diligently to settle property dispute matters that are neglected due to the lack of time or due to Indians staying overseas. The team of lawyers exclusively serve NRIs for different cases like business, tax laws, real estate, immigration, family and divorce, civil, criminal etc. With a good network locally, the company can handle legal aspects and property buying and selling with genuine property- even without the actual visit to India by their clients.
Why choose Mr Sai and his team
The company gives the best in-person consultation service answering all queries.
The team is updated with every single Progress in the legal issues and property scenario in India.
There is 24X7 service availability and online support via email or WhatsApp.
The specialized and vast experienced team can solve any complicated to relieve clients from their mental agony.
Some other NRI legal services include
Criminal cases Advocate in Hyderabad
The Includes IPC 498A, Dowry, Highcourt matter, Quash petition, Forgery, Property cheating, Financial cheating, Illegal occupation, Property related and Criminal cases.
Family cases Advocate in Hyderabad
Marriage–related family issues include divorce, annulments, child custody, name changes, pre/postnuptial agreements, MOU etc. while other family problems involve visitation, restraining orders, emancipation, adoptions, guardianships, juvenile dependencies and so on.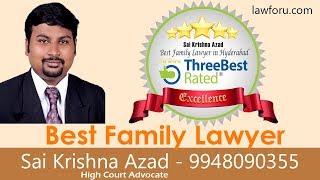 NRI divorce Advocate in Hyderabad
This deals with the NRI divorce, GPA, dissolution of marraige, NRI Mutual divorce, or terminding a marriage. All client info is kept confidential and legal advice is given after listening to the needs and demands from both sides.
Name change service in Hyderabad
This is done when there is a requirement of a name change services for better gender fit, choosing surnames of interest, according to astrology or film industry, after marriage, after adoption, replacing old parent name, etc.
Non-Indian property cases in Hyderabad
Dealing with real/immovable property and personal/ movable property in terms of property disputes, rental or sale disputes and title verification
Writing a will for NRIs real estate and property management
Violation of criminal rights
Notary and deeds regarding witnessing or performing legal actions for signing documents and legal affairs.
Civil cases
Prperty disputes
Buying & selling properties
NRI real estates
Clients served by the company
All sorts of people whether Indians or non-Indians hiring for any kind of NRI legal service, property management, divorce, family and criminal cases are the company's clients. Apart from these, both the states of Telangana and Andhra Pradesh have the company's clients living all over India and in other countries. The company offer legal services, consultation, information and solutions to the people of India, both inside Indians and outside NRIs through various platforms. The firm finds a myriad client base with business houses, MNCs, banks, public sector undertakings, NGOs and many more. Apart from these the Central and State governments are also its reputed clients.
The research and development (R&D) team of the company
The company's (R&D) team do activities for the company to undertake and introduce innovative new services. It is the initial stage of the development process whose goal is to typically take and understand new market services and involve them in the company's bottom line.
The secret behind the company's brilliant future
Mr Sai Krishna Azad is the one man standing behind this entire law firm in Hyderabad, Andra Pradesh & Telagana. He is skilful, helpful, friendly and always there for everything. He is fantastic in human relations as well as in law proceedings. For any issue, his dedicated team is sure to respond in 48 hours to give peace to agitating minds. The firm aspires to build long term relationships with its clients through teamwork guided by integrity and principles of consistency and honesty. From the client perspective to their needs, the firm assists in any kind of legal advice, expertise, creativity and value. The firm is socializing itself on TV, media channels, news, social networks, etc.
What makes

Sree Krishna Group

the best among all in Hyderabad?
20 years experience with clients
Cost affordable
Professional help with comfort
Online presence
Human relations
Strong client testimonials
Efficient team
Achievements and awards
Following are the titles and respect earned by Mr Azad in different magazines:
"Top 10 Most Promising Corporate Legal Consultant 2019" By Business Connect Magazine
"Most Influential Lawyer of the Year 2018- Family Dispute and Criminal Law" By CV Magazine
"To 3 Divorce Lawyers in Hyderabad 2017" By Three BEST Rated
"The 10 Most Trusted Business and Commercial Law Solution Providers" By Insight Success Media
                                           

Contact US
http://www.lawforu.com
http://www.advocatefornri.com
http://www.legaldivorce.com
http://www.legalnamechange.com
http://www.urlawyer.in