MedPass: Redefining the Way India Manages Their Health Expenditures
MOST TRUSTED BRAND IN DIGITAL HEALTHCARE SERVICES 2023
The healthcare industry has, for sure, been taken to profound levels of advancement. We have the latest technology-driven equipment, high-profile medical experts, and various eminent hospitals that are ready to serve people with quality health services. However, with these comes associated burdens on the pockets of people. Medical emergencies or illnesses of a person bring mental, physical, psychological, and, most importantly, financial turbulence to the entire family.
With the rise of digital transactions, this generation in India has the power to utilize diverse UPIs and UPI wallets. Not only are these transactions easy, but they also come with additional benefits like cashback, offers, loan services and EMI options.
Now imagine a scenario where the best of both worlds—exemplary healthcare and simplified digital transactions via UPIs—come together. The impact it brings is massive, influential, and enormously advantageous for numerous people!
Through the commendable initiatives of Mediimpact Healthcare Private Limited, India now has the support of its esteemed health mobile wallet, MedPass. MedPass is an all-encompassing app where individuals can seamlessly access exceptional healthcare services at their convenience. Moreover, they can also avail prominent cost savings on all healthcare transactions and access medical loans without any hassles as per their requirements.
The Inception Days
Mediimpact is a Bangalore-based company working towards excellence in healthcare and believes in pursuing business through innovation and technology. The motivation to start this concept came to Mr. Bharatheesh PL-Co-founder and CEO at MedPass, an industry maven working in the healthcare industry for the past 17 years who used to visit different hospitals frequently for work.
He oftentimes came across scenarios of people asking for discounts before paying the bills and also people calling their family members/friends asking for funds to pay in hospitals. Mr. Bharathesh PL saw the problem where either people were unable to collect the funds for their healthcare services or lacked access to quality healthcare. To address these real problems in healthcare, MedPass was created.
Welcoming Customers to Experience the Revolutionary
Over the years, MedPass has gained a loyal and strong customer base of over 23,000 people and has garnered a rating of 4.9/5 in the Google Play Store. Indeed, a breakthrough in digital healthcare services, the MedPass wallet app is safe to use, users can make payments from any corner of the world and also receive hefty cashback or discounts for all healthcare services they choose to avail of.
MedPass collects the valuable feedback of its customers across multiple places, such as after the transaction, during the health camps, and at merchant sites, to analyze their behavior and inculcate their feedback. The team leverages their feedback to enhance the app's features, improve customer service, and bring additional services that they might be looking for.
Coming to the essentiality of research and development, MedPass has built AI alerts based on the data the team collects via market research and comes up with possible innovations to their services to deliver only the best to their customers.
"At MedPass, we believe that healthcare services go beyond mere transactions; they are everyone's right to lead a happy life, and money shouldn't be a hurdle to this happiness. Our team has an unwavering commitment to this notion, and they are proactive in understanding the unique pain points and requirements of our valued customers and, in return, delivering tenfold value in return.
We understand that knowledge has the power to make people aware of their choices. That's why it's our mission to empower our clients with the knowledge they need to make informed decisions about the ideal healthcare services. We promise to illuminate the path of their healthcare journey. Quality is the cornerstone of our services. We continually assess and improve our processes to maintain the highest standards of excellence.
What sets MedPass apart is our patient-centric approach. We see each patient as an individual with unique needs, and we tailor our services accordingly; there is no one-size-fits-all approach for us! We believe in fostering transparency in our actions. We welcome all sorts of questions regarding our services and answer them with jargon-free explanations. This creates an unshakeable alliance based on trust, awareness, and collaboration", says the Co-founder and CEO, Mr. Bharatheesh PL.
A Glimpse of the Service Portfolio
Cash Back/Discounts: Instant cashback across all hospital and medical transactions.
Emergency Medical Loans: Minimal Procedure and Instant Approval
Medicine Delivery at Home: Instant and Authentic Medicines Delivered at Home.
Home Blood Collection: All your reports from your home.
Doctors to Door: 24*7 Emergency Help
Home Care Services: Have the assistance and support of doctors and medical experts at the comfort of your home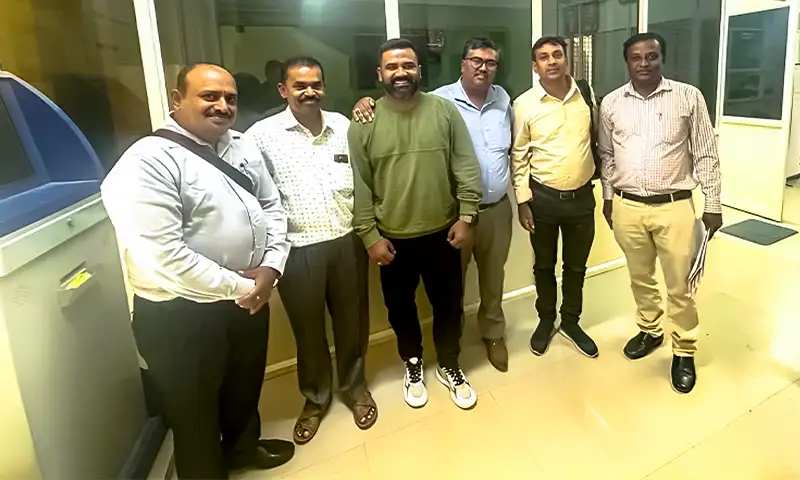 From Hurdles to Achievements: An Inspiring Journey to Admire
Mediimpact started in June 2020 and launched MedPass on December 10, 2020.
Before the end of FY 2021, MedPass achieved the milestone of facilitating transactions over one crore.
By the end of 2021, MedPass stood at the "breakeven" stage, where its total revenue generated equaled its total costs and expenses, resulting in neither a profit nor a loss.
Reaching the breakeven point is a significant milestone for a business, as it implies that it has covered its operating costs and can begin to operate without accumulating further losses.
From 2021 to September 2022, MedPass saved approximately 2.5 crores of its customers' money and processed more than 30 crore transactions. MedPass revenue during that time summed up to threefold of its turnover in 2021.
Medpass was awarded the prestigious "Ramaiah Evolute Star Startup Award" from Ramaiah Evolute. This accolade is given to honor the contribution of highly innovative cross-disciplinary startups.
MedPass also won the award for "Digital Transformation Project" from the IHW Council".
MedPass is now serving more than one lakh families.
Words from the Dignitary's Desk
It was a revered opportunity to share the platform with Mr. Bharatheesh PL and narrate his unparalleled entrepreneurial story through words. His purpose driven vision and leadership standards are eminent examples for the young minds and aspiring entrepreneurs. Following our inquisitiveness, we asked for some ineffable pieces of advice for our global readership panel. Here is what the dignitary says,
"MedPass is a shining hope for people to lead a happy and healthy life. With us, you're not alone on your healthcare journey or medical emergencies; you have a dedicated family committed to your well-being, your happiness, and your trust. MedPass is currently operational in Mumbai, Bangalore, and Mysore. The company will further continue to expand its business operations in Hyderabad, Pune, Chennai, and Delhi.
For the readers of Prime Insights, my piece of sage advice is that everyone needs to have patience and keep following the path of hard work. With consistency and celebrating small achievements, you'll push yourself forward to keep thriving. Stay committed to your vision, and your success is not far-fledged."