KASSTECH AEROSPACE: Mr. Vivek Saxena's Vision of Introducing Global Tech Solutions to Indian Industry
The Indian Aviation space is amid a period of great transformation. Newer and more advanced technologies are being introduced to the market each day, some of which have completely altered the dynamics of aviation. The renewed market space has necessitated companies to stay abreast with the latest engineering and scientific developments. Any redundancy, no matter how insignificant, could cause the obsoletion of their services.
KassTech Aerospace is a company that has been especially successful at adapting to the changing demands of the aerospace sector. It was founded by Vivek Saxena, a Gurgaon-based entrepreneur with over 15 years of experience in the aviation industry. KassTech has been instrumental in the successful distribution of renowned brands like Diamond Aircraft and Austro Engines among Indian aviators. In addition, it offers a broad array of defence and thermal-imaging solutions collaborating with market leaders like FLIR. As a response to the country's needs during the pandemic period, Kasstech diversified into healthcare solutions by providing latest state of art medical oxygen plants to the Indian healthcare sector from Oxywise.
From brand versatility to service comprehensiveness, there are various elements that've shaped KassTech's market success. This article will elucidate on some of them, in the hope of inspiring new entrepreneurs to imbibe the same in their business approach.
KassTech's Conception Idea
KassTech Aerospace was founded by Vivek Saxena in February 2019. He was driven by the idea of providing all-round, comprehensive solutions to Indian aviators. He saw massive growth potential in the aviation industry and wanted to harness it to the utmost.
Vivek's most noteworthy quality is his rich experience in the industrial sector. He has a cumulative experience of 30 years in the sector, out of which over 15 years were based in the aviation industry. The amassed knowledge and acumen have enabled Vivek to intuitively understand market patterns. In KassTech, he's harnessing both his industrial and aviation sector experience to create a synergistic effect with its offerings.
An Overview of KassTech's Services
KassTech provides multifarious leading-edge solutions in the areas of aerospace technologies, aviation, and defense. The company has multi-level collaborations with the following brands: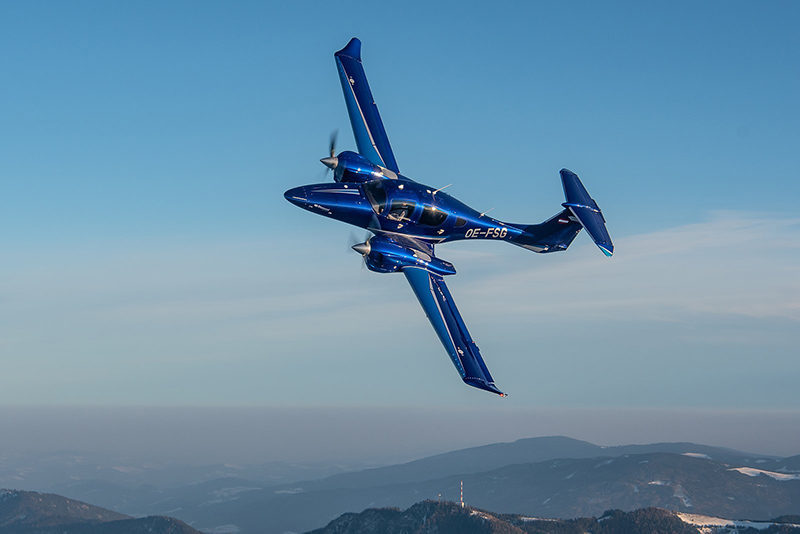 DIAMOND AIRCRAFTS: Diamond is the leading global manufacturer of single and twin-engine aircraft in general Aviation. Its aircraft are renowned for their superior design, build quality, comfort, safety and extremely low costs of operation, owing to which they're the preferred choice of private pilots as well as flying training institutes. Over 5000 Diamond Aircraft have come into operation worldwide over the last decade and over 40 of them are flying in Indian sky today.
KassTech is the sole representative of Diamond Aircraft in India and also in the process of providing Maintenance, Repair, and Overhaul Services for these aircrafts.
Diamond Aircraft offers the latest technological advances in their aircraft and are thus the most reliable, safe and most cost-efficient aircraft in their respective classes. Some of their advanced features include-
Fully Composite Construction- Composite Construction is the latest technological technique for aircraft construction. It allows the aircraft to have a very light yet strong frame. Since no metal is involved, it is rust free/corrosion resistant and the concept of metal fatigue does not apply here. The strength and design of this construction provides the aircraft with the highest safety rating among all aircraft in their respective class. Actually, all new airliners (such as the Dreamliner-787 from Boeing) are built with a very large percentage of composites.
Advanced Cockpit- The aircraft from Diamond have advanced cockpits and all the 4 seaters and above are equipped with a G1000 cockpit which gives a similar feel to airliner cockpits. Ä very effective autopilot is also available.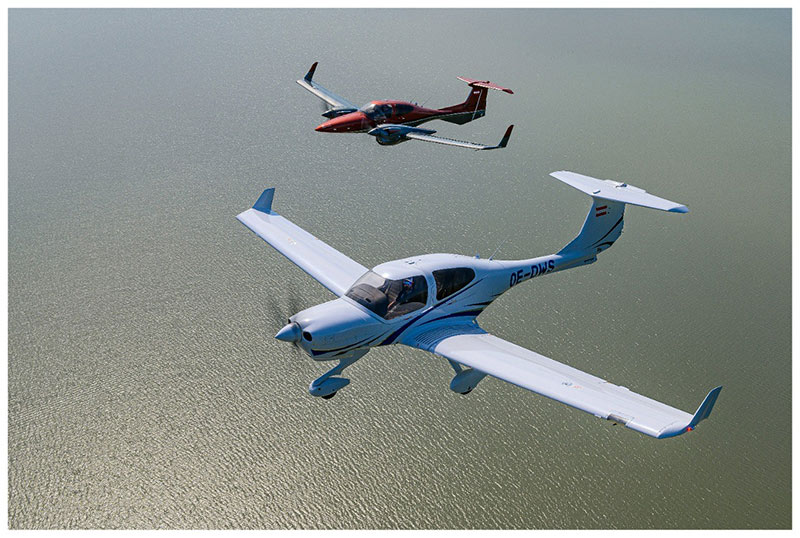 Austro Engine- The Diamond aircraft are equipped with Austro Engines. These are the world leading engines in their class with the best power to weight ratio and extremely cost efficient. Diamond Aircraft are designed with these engines in mind and therefore the combination of airframe and engine is perfectly balanced and efficient.
The Diamond Aircraft various models are used for various applications, ranging from aerial sports (DA20-2seater), to flying training operations, (DA40NG single engine & DA 42NG- twin engine). In the Flying training operations, these aircraft are the most cost efficient in their class of aircraft to operate. Diamond Aircraft are the choice of leading quality flying schools all over the world.
They are also used by individuals for saving their time. For example, flying from Delhi to Jaipur on a Diamond aircraft would take less than an hour with the cost of fuel expended lower than what one would send if the travel was by car! Similarly, it is a very useful application for industrialists who have their residence in the main cities and units in relatively remote locations. Since the aircraft can land on a simple road like construction or even grass, it becomes very convenient, extremely efficient and time saving for the industrialist to fly in their Diamond aircraft to their unit rather than drive. The converse is also of course true whereby industrialists living in remote areas near their units with poor air connectivity can use their Diamond aircraft to fly to their business meetings in major cities.
Kasstech is also setting up a dedicated MRO facility for Diamond Aircrafts and Austro Engine. This is expected to be fully functional very shortly.
The DA62 is particularly suited for these type of applications with a large cabin and capability to seat 7 persons. The DA62 is rather referred to as the "SUV of the sky".
FLIR is the global leader in thermal imaging cores/camera manufacturing. It is part of the Teledyne group of companies. Teledyne itself is already synonymous with cutting-edge sensor technology. FLIR, the name is derived from the technical definition" Forward-Looking Infrared". As we can see, the name itself defines the company's products. The name FLIR itself is used now to define thermal imaging products of any manufacturer i.e. it has become a generic name and this fact itself speaks volumes to the capability, strength, and depth of the company.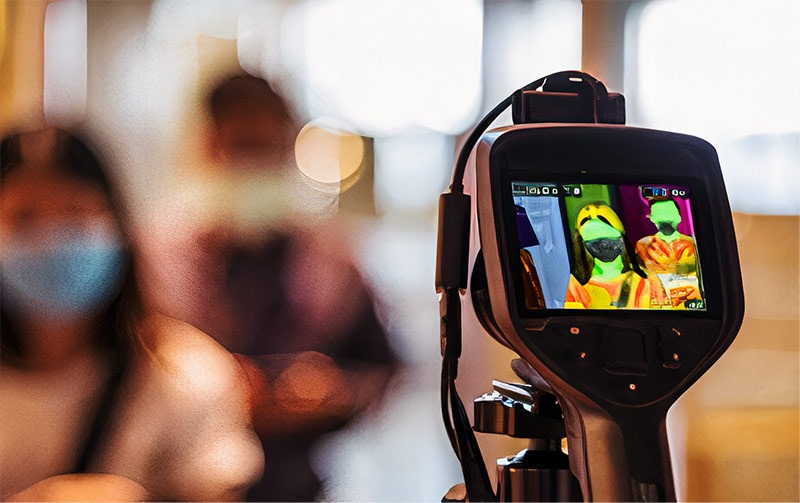 FLIR has numerous products spanning the whole range of thermal imaging products thus holding to its stated vision of "Infrared Everywhere"
The fact is that the concept of infrared allows us to expand our capability of vision in the electromagnetic spectrum. Basically, it allows us to see in darkness by passively sensing heat emissions. This ability to "see in the night "has a multitude of applications -from industrial predictive monitoring for need-based maintenance to defence applications of monitoring and surveillance amongst others. These systems can also be used for driver assistance systems, where these systems are already being installed by leading car manufacturers as they allow the driver to see clearly at night even beyond the range of the headlamps.
Teledyne Flir has recently also launched a game changer unit, the Neutrino SX8 which offers the best in class performance with 1280 x 1024 HD MWIR imagery. This find applications across various products.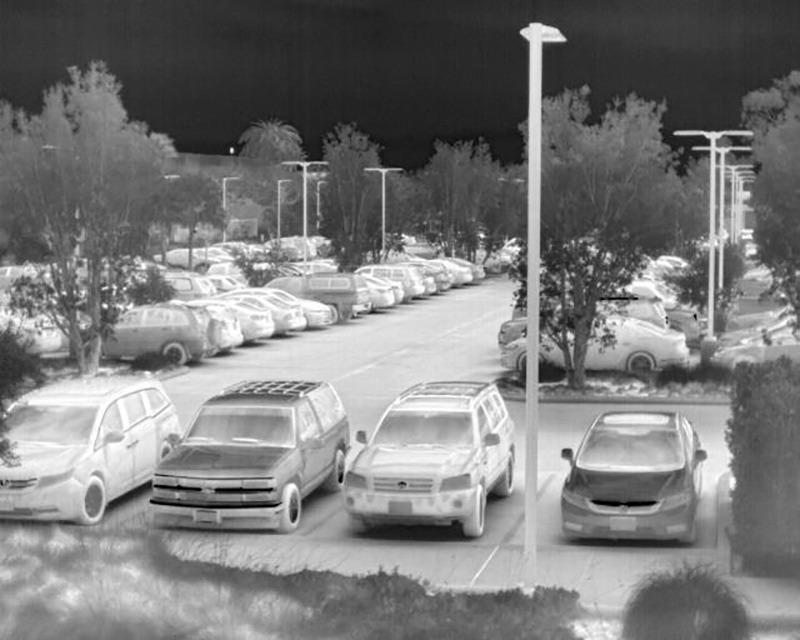 FLIR has products that are specially designed for UAVs and other airborne applications. These range from small thermal imaging cores weighing a few tens of grams to large complete systems which can be installed on helicopters /large UAVs and are used for monitoring activities up to tens of kilometres away! All products, whether they be the Boson and Tau thermal cores or the Star Sapphire Gimbals incorporate the latest advances in this sector of technology. Teledyne FLIR is the only thermal imaging manufacturing company in the world that manufactures all components in-house ranging from the FPA/Thermal imaging cores to the optics and the operating system software for these systems. Teledyne Flir is the largest global manufacturer of the FPA thermal imaging sensor. Several other manufacturers (including some who compete with FLIR in the complete camera sector) buy these sensors from FLIR! That fact itself speaks volumes for the technical superiority of the FLIR manufactured product. In India, several major system integrators use the FLIR-provided cameras for their drone systems as well as final products for the defence sector as part of the governments push to ''Make in India" and "Atma Nirbhar Bharat" initiatives. As a simple analogy with desktop computers, the FLIR Thermal cores inside Thermal Imaging systems made in india act similar as the "INTEL CPU" inside desktop computers made in India. Currently, thousands of FLIR Thermal cores are on order and under delivery. Kasstech is also developing industry specific solutions based on this technology.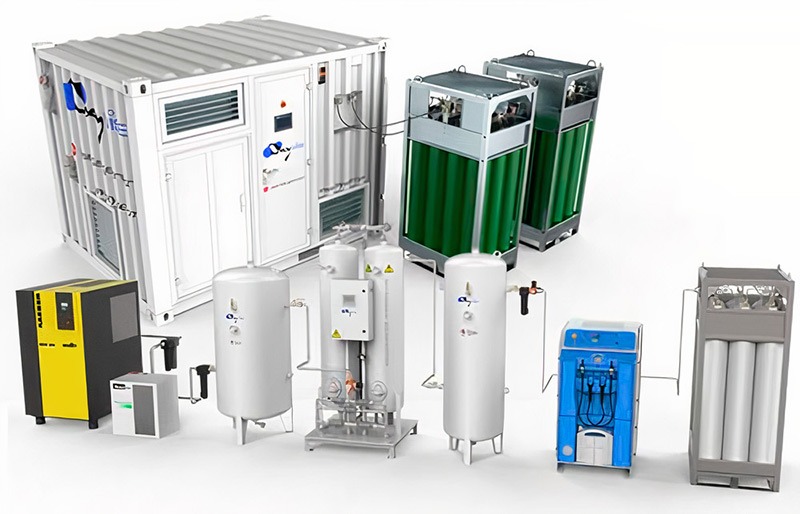 The recent events, especially the tragedy of the second COVID wave in NCR greatly highlighted the inadequacy of the medical oxygen infrastructure in the country. Consequently, Kasstech immediatedly moved to identify and tie up with a world leader in this technology space.. Our tie up with Oxywise brings the world's leading PSA technology plants to India. With over 30 plants under installation in this relatively short period,these plants are contributing to the medical oxygen infrastructure in the country. Oxywise designs and builds on-site oxygen and nitrogen generating systems based on pressure swing adsorption technology, cylinder filling systems, containerized systems, and gas control solutions. These PSA-based plants are highly reliable and cost-efficient with all necessary certifications. The processes have been certified to produce medical-grade oxygen with a purity of 93+/-3 percent.
Oxywise also provides some unique mobile cylinder filling stations built into ISO containers, these are relatively easy to transport and a boon in the rural areas where they can be easily transported on trucks and thus instantly add to the medical oxygen infrastructure wherever needed.
Overcoming Initial Market Challenges
Like any other successful brand, KassTech too endured its fair share of challenges in the initial days. Being a start-up, the challenges ranged from securing contracts as a new concern as well as funding for its sustained operations. Despite the daunting circumstances, Vivek was able to get the company off the ground thanks to his long-standing industrial reputation. He attributes this feat to the combined faith that his customers and suppliers placed in his brand. Vivek was already acquainted with many customers and suppliers, who were well-aware of his competence and knowledge of the industry. This gave him a decided edge while starting out; his ventures were viewed differently (as ventures with a high credibility)
The Brand's Emphasis on Trust Building
Since its inception, KassTech has placed great emphasis on the values of faith and trust. This is especially evident in the company's relationships with customers, who've always had unequivocal faith in its services. This faith was further strengthened by the company's consistency in delivering promises. According to Vivek, faith is the key ingredient behind any brand's market success. The moment you harbour doubts and negativity, your business (and the world at large) starts to reflect that through co-incidences. "Business revolves around the gravity of brainwork" – this age-old adage is at the core of Vivek's credo.
An Evolutionary Process: Vivek's Experience With Customers
Vivek believes that the customer is the driving force of any brand and thus, gives utmost importance to serving them. At the same time, however, he is very selective about the kind of customers he works with. Some of KassTech's most esteemed customers include the likes of DRDO (Defence Research and Development Organization). Vivek is especially enthusiastic about working with these entities. He likens such work to a "nation-building exercise", as it's conducive in redefining India's aviation and defence space. Furthermore, Vivek says that he finds the whole process of aerospace development to be very fulfilling. Achieving new technological feats with complex aircraft, engineering systems is a challenge, but at the same time, an exciting passion.
KassTech's Marketing Initiatives
KassTech adopts a multiarray approach to marketing with various online and offline strategies. The company deploys them tactfully based on the niche and specific requirements of customers. For its niche customers, such as DRDO, the company doesn't rely on outright marketing. Instead, it relies on the credibility it has garnered through professional competence. For its other customers, such as flying schools, industrialists, etc., the company deploys online methods like Email marketing and Internet-based research. On the offline front, the company recently did a huge nationwide newspaper campaign for its oxygen generator products. The campaign was done in light of the nation's oxygen demands amid the pandemic. The campaign had very positive outcomes.
Plans For The Future
Being an ambitious aerospace brand, KassTech has several ingenious plans in the pipeline. All of them, however, aren't finalized. According to Vivek, there are umpteen factors that determine the fruition of aerospace projects. As most of these factors are circumstantial, he prefers to not disclose his plans prematurely.
Vivek's Thoughts on His Entrepreneurial Journey
In hindsight, Vivek considers his so far two and a half -year entrepreneurial streak to be an emotional odyssey. He has many contradicting adjectives to describe it – exciting, nerve-wrecking, enthusiastic, lukewarm, etc. Sometimes, it was an ecstatic high, while sometimes an abysmal low. The most important think to keep in mind is persistence and to stay the course.
Vivek goes on to say that the most profound aspect of entrepreneurship is the way it changes your vision. Transitioning from the employee to entrepreneurial mindset is a transformative experience; it radically alters your paradigms.
A Message To Aspiring Entrepreneurs
Having an intuitive understanding of various industrial patterns, Vivek knows the importance of making decisions based on gut instinct. He mentions this in his advice to our readers: "Do your homework. Look at the numbers but act based on your gut instinct. Always, always view things long-term and holistically"
https://www.kasstechaerospace.in/
https://primeinsights.in/category/cover-story/