JUDGE INDIA SOLUTIONS: A PEOPLE-POWERED ORGANIZATION DELIVERING KEY IT AND TALENT MANAGEMENT SOLUTIONS
ICONIC BRANDS OF THE YEAR 2023
Technology has transformed businesses around the globe and no domain is left untouched by its power. From transportation to swift communication, robust healthcare, a progressive global economy, and remarkable connectivity, our lives have been transformed 360 degrees. Today, technology has empowered businesses to accomplish their goals by having the right strategies in hand. Be it enhancing organizational operations, understanding customer behavior to the core, or tapping the market gaps, businesses have leveraged technology in all aspects to make them future-secure. In such a scenario where technological changes are brewing every moment, businesses need to make fundamental shifts to adapting these changes at the earliest with proper action plans. Talk of the IT town- Artificial Intelligence, Machine Learning, and BigData Analysis amongst others, have played an integral role in elevating the HR & Talent Acquisition industry, thereby bringing innovative business solutions.
"True Transformation Through Technology to Empower Dreams"
These words accurately resonate with the impact created by an organization that we are about to discover today. An ever-growing trendsetter in the HR technology industry, Judge India Solutions is an IT, Learning & Talent Solutions provider. The company empowers organizations through its line of exceptional services. With 'Transformation & Beyond' as its motto, Judge India Solutions stands as a catalyst for bringing increased efficiencies to businesses through the elements of HR technology.
Well, that was a brief introduction about the firm, but the real box of knowledge is yet to be discovered. Our editorial team had the privilege of interacting with Mr. Abhishek Agarwal – President – Judge India & Global Delivery, The Judge Group to discover many knowledgeable nuggets about the company's journey so far. The dignitary holds vast cross-functional experience in domains like Global Strategic HR, Tactical HR, Talent Acquisition, Recruitment, Sourcing, Staffing, IT Strategy, Business Analysis, Functional Analysis, and Resource Management to name a few. For him, the true definition of leadership is about nurturing growth and focusing on simplifying complexities. Knowing that this fascinating entrepreneurial story has the potential to inspire many young minds, we decided to weave it into words for our readership panel. We are elated to feature Judge India Solutions under the exclusive edition of "Iconic Brands of the Year 2023". Without any further ado, let's dive straight into the read!
The Inception Tale
Judge India Solutions is a 100% subsidiary of "The Judge Group" and was established in 2016 as a key element of the group's global delivery strategy. The Judge Group has been delivering professional, strategic, and accredited business solutions for more than 50 years. With an extensive workforce of 10,000 employees, "The Judge Group" serves its clients through a network of more than 30+ offices in countries like the United States, Canada, Europe, and India. Since 2016, Judge India Solutions serves as a key component of the company's global delivery strategy.
In September 2016, "The Judge Group" launched Judge India Solutions, to provide its international clients with a high-quality alternative for IT consulting and offshore solutions. What started with a small team of 17 employees is now a community of magnificent talent comprising more than 450 people. Judge India Solutions has also expanded its footprints to various horizons in the Indian subcontinent with two new offices established recently in Bangalore and Hyderabad. The company was incepted with the vision of empowering enterprises to harness innovation, improve business resilience, and accelerate progress.
"With two new offices on the horizon in Bangalore and Hyderabad, the company continues to develop and upskill its talent, enhance offerings, and expand its capabilities into new business verticals and geographic areas. We aim to make your businesses future-ready with the help of our state-of-the-art AI-ML-RPA, Technology, Learning, SAP, Hardware, Cloud, e-Governance, Talent Solutions, and Global Managed Services. We understand the diverse IT, consulting, and managed service needs of the contemporary corporate ecosystem. The three I's- Intent, Intelligence, and Integrity are our guiding values. Transforming businesses through technology, we propelled to higher heights with our headcount hitting 50 from the initial headcount of 17 employees in just one year. Our company has propelled to newer heights by positioning our founding values at the core of our mindsets", asserts Mr. Abhishek Agarwal.
Mantras of Steadfast Expansion
The secret to the company's steer expansion is a culmination of progressive practices that have been followed all these years:
Autonomy is Powerful: Autonomy is a powerful aspect of a company's team dynamics. Employees are entrusted to make informed decisions and take ownership of their work. By providing individuals with the autonomy to make decisions within their areas of expertise, Judge India Solutions encourages creativity, innovation, and accountability.
Communication is the Key: Open and transparent communication is essential for building trust, fostering collaboration, and aligning everyone toward common goals. Believing in the same notion, the company encourages regular and meaningful dialogue among team members, across departments, and between management and employees.
People are the Pride: Judge India Solutions values the contributions of its employees. By investing in employees' growth, satisfaction, and development, the company has created a robust dream team. Various opportunities for learning and skill enhancement are provided to the workforce. The company fosters a positive work culture and prioritizes work-life balance.
By embracing these principles and practices, Judge India Solutions has succeeded in creating a resilient team spirit, attracting top talent, and expanding its operations across multiple locations. Such steadfast commitment to its people, autonomy, effective communication, and continuous improvement have been instrumental in tracing an exponential trajectory of growth.
Stamping a Mark of Quality
Achieving business outcomes, be it small-scale projects or enterprise-wide programs require cutting-edge and cost-effective technological solutions. Fuelled by emerging technologies and innovation, the solutions offered by the company are tailored to cater to the needs of its clients across industries. The team is committed to enabling reliable virtual environments and harnessing innovation- through its services, products, and people. The company prioritizes maintaining an exceptional quality of products or services and consistently surpassing customer expectations. Actively listening to their needs, understanding their challenges, and being responsive to their concerns help foster trust and loyalty is Judge India's mantra to gain clients' trust.

The Glory of Research and Development
Elucidating upon the imperativeness of Research and Development, Mr. Abhishek Agarwal said, "At Judge India Solutions, we are committed to achieving excellence in all aspects of our operations. Whether it's the products we create or the experience we provide to our customers, our unwavering goal is to deliver the highest quality. To propel our company to the next level, we place significant emphasis on Research and Development (R&D) as a driving force. Our R&D team comprises exceptional experts with brilliant minds and an insatiable curiosity.
They actively collaborate with academia, partners, and customers to gain a deep understanding of evolving customer needs and industry trends. By staying at the forefront of innovation, we ensure that our organization remains agile, adaptive, and constantly ahead of the curve. In summary, our investment in R&D is instrumental in propelling our company to new heights. It enables us to drive innovation, deliver unrivaled quality, and redefine the customer experience. We are poised to take Judge India Solutions to the next level and beyond by staying ahead of the curve and consistently pushing the boundaries."
Fostering a Value-Driven Work Culture
The company's culture is built on inclusion, collaboration, extraordinary performance, and constant innovation. This gears the talent community to learn from each other and make a difference individually and collectively. Judge India Solutions holds the ambition of setting new standards for DEI (Diversity, Equity, and Inclusion) by creating a culture that values every individual and empowers them to reach their optimum potential.
Keeping the Workforce High on Enthusiasm
As an organization, Judge India Solutions recognizes that different employees respond to different motivational techniques. Hence various strategies are implemented to cater to the diverse needs of its workforce.
The foremost step is establishing Transparent Goals and Key Performance Indicators (KPIs) beforehand, to provide clarity and direction to the employees. This allows them to understand how their work will contribute to the overall success of the organization.
The next step is to Recognize and Reward Exceptional Performance as an integral part of the company's motivational approach. Through the Rewards and Recognition programs, the sincere contributions of the employees are acknowledged and appreciated.
Another important aspect is to emphasize diversity and inclusion. This is done through the company's Diversity Programs, fostering a culture that celebrates and values individual differences.
Lastly, to create a positive work environment that promotes well-being and engagement, Recreational Areas, Quiet Rooms, and even a Gratitude Tree are present to create a sense of balance and gratitude among the employees. Additionally, the company regularly organizes Employee Engagement Activities such as:
FunFriday
JudgeFlix – Screening of a movie for all employees
Daily floor music to jazz up the day
Don't judge – A candid interaction with the company's leaders
Festival celebrations
Inclusion Week and much more
All the Heads of Departments (HODs) are given some flexibility in utilizing these motivational levers. To ensure the effectiveness of these techniques, the company's Talent Teams regularly assess their impact and make necessary adjustments to keep the employees motivated and engaged.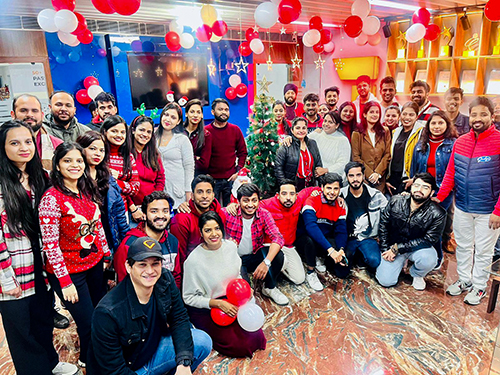 Sterling Achievements and Recognitions
HR Excellence Awards 2023 by PeopleFirst in 2023.
Great Place to Work by Great Place to Work® in 2023.
Brand of the Year by The CEO Magazine in 2022.
Top 50 Most Innovative Companies by CII Industrial Innovation Awards in 2022.
India's Most Trusted Brand Award by IBC in 2022.
Inspirational Performance During Covid-19 by SKOCH Awards in 2021.
Global Brand of the Year by Asia One in 2021.
Most Innovative Tech Company of the Year by Stevie International Business Awards in 2021.
India's Best Company of the Year by Berkshire Media LLC in 2021.
The Most Admired IT Company of the Year by The Golden Globe Tigers Awards in 2020.
Most Admired Company to Work for Award by ET Now in 2018.
Judge India Solutions has collaborated with business tycoons including over 60 Fortune 100 companies, and the team takes surreal pride in serving them.
From the President's Desk
With that, we have come to the end of today's fascinating read about Judge India Solutions. To conclude the article we asked Mr. Abhishek Agarwal to share some words of intellect for our global readership panel. The dignitary quotes, "Entrepreneurship is a transformative journey characterized by both successes and failures. Embracing failure as a stepping stone to success is vital. Instead of fearing risks and mistakes, see them as opportunities for growth and learning. Analyze failures, extract valuable insights, and adapt your approach accordingly. Every setback can serve as a valuable lesson, providing the wisdom and experience necessary to propel yourself forward. Remember, great achievements often arise from the resilience and determination to learn from failures, adapt strategies, and continue pursuing your entrepreneurial dreams with unwavering passion."