Indian Institute Of Management Nagpur: A Rising Institution Bringing High-Octane Advancements in Management Studies
THE 30 MOST TRUSTED BRAND TO WATCH IN 2023
Management is one of the most prominent and sought-after fields of academics. Students from every corner of India have aspirations of pursuing their dream management courses from the reputed IIMs of the country. No wonder, the top-notch quality of education under the guidance of exemplary professors and handsome job profiles, are the star attractions for the students.
Prime Insights Magazine has always been a vigorous appreciator of recognized educational institutions that are shaping the future of the country's brightest minds. The brand story that we are about to feature today has accentuated the little glory of our platform and we truly admire the legacy it has created over the years. We have the privilege to feature the Indian Institute of Management Nagpur, as the "The Fastest Growing Business School in India" under the segment of "30 Most Trusted Brands to Watch in 2023".
The leadership panel of IIM Nagpur joined us for a joyful virtual session and shared a plethora of amazing facts about the remarkable journey of the institution.
Dr. Bhimaraya Metri currently holds the designation of Director at IIM Nagpur. A colossal academic holder, renowned teacher, researcher, and magnificent administrator, Dr. Bhimaraya Metri has a significant role in guiding the path of IIM Nagpur. His contributions have prospered a beam of opulence for students across numerous other institutions. He is also a member of the acknowledged Indian National Commission for Cooperation with UNESCO (INCCU). Dr. Metri is also on the Board of NITIE Mumbai and a visitor nominee for IIT Delhi and IIT Jodhpur. The list of his achievements is beyond what words could express or hold. It left our editorial team in utmost infatuation! We immensely hope that this read will surely add serene values and optimism to the lives of our global readers and will encourage them to make out-of-the-box achievements.

Standing on Intellectual Values
IIM Nagpur's inception tale began in the year 2015. It was an outcome of a strong penchant for chiseling management systems and a fervent passion to innovate various other policies and governance strategies to scale the dynamics of the management domain. The pillars of IIM Nagpur are built with promises of providing avant-garde quality education, explosive research opportunities to students, and robust industry engagement. The institution spreads across a whopping 132-acre campus and lies in the heart of MIHAN, Nagpur. It also offers comprehensive classrooms with audio-video integration to facilitate smooth interactions between teachers and students. The curriculum is intricately designed under the indomitable industry and academic experience of experts. The curriculum is meant to ensure knowledge-driven professional careers and through it, students are given a close understanding of what amount of perseverance it takes to become a top-tier management professional.
Innovating Excellence with Astute Acumen
IIM Nagpur is constantly engaged in improving its performance. Overcoming the setbacks of the COVID-19 pandemic, the faculty/staff/administration is committed to progress. Both students and staff seamlessly transitioned from physical to online teaching during that phase. With such inspiring grit of its people, the institute started its operations from the new magnificently crafted campus. The campus offers modernistic infrastructure, eco-friendly structures that minimize the environmental footprint, state-of-the-art classrooms, and proximity to the industrial sector. Punctuated with exquisite recreational, residential, sports, executive education, and dining facilities, IIM Nagpur is a sight to behold.
The academic blocks, improved facilities, and convention centers are planned to generate an ideal atmosphere for student-teacher interaction. IIM Nagpur Library and E-Resource Centre (LRC) provides access to various information resources ranging from books, case studies, journals, statistical databases, newspapers, magazines, and audio-visual materials from world-renowned publishers like Harvard Business School Publishing, SAGE, Taylor & Francis, Emerald, EBSCO, ProQuest, and INFORMS amongst others. Students and faculty members have efficacious access to all the resources at their convenience.
Dr. Bhimaraya Metri is always at the forefront to embrace its staff, faculty, and infrastructure with new advancements. For this, many modern educational techniques and programs are regularly launched to maintain a pace with the wavering market trends and demands. A testament to this is its in-house built program in Cybersecurity Management.
Ensuring privacy in a digitally connected world has become vital. The institute offers a joint international PG Certificate Program in Cybersecurity, Management, and Data Science. The Cybersecurity Management program is reinventing the modern business ecosystem in this ongoing disruptive digital era. The course is curated under the collaboration of IIM Nagpur and The University of Memphis FedEx Institute of Technology, USA. The program is specially curated for Executive Education Department in choosing optimistic fields like those of Cybersecurity, Data Analytics, and Artificial Intelligence. Under this department, executives of various companies join these short-term certificate courses.
In recent times, IIM Nagpur revised the curriculum for its MBA program after considering the policy promoted by NEP 2020. A dignitary panel of experts was invited to pour in their inputs and essential changes were designed accordingly.
Following the aspirations to spread globally, IIM Nagpur has made strong collaborations with top universities across the world and has also initiated the International Immersion Module. Under this module, students have the opportunity to visit foreign countries and gain first-hand experience with how different countries conduct business.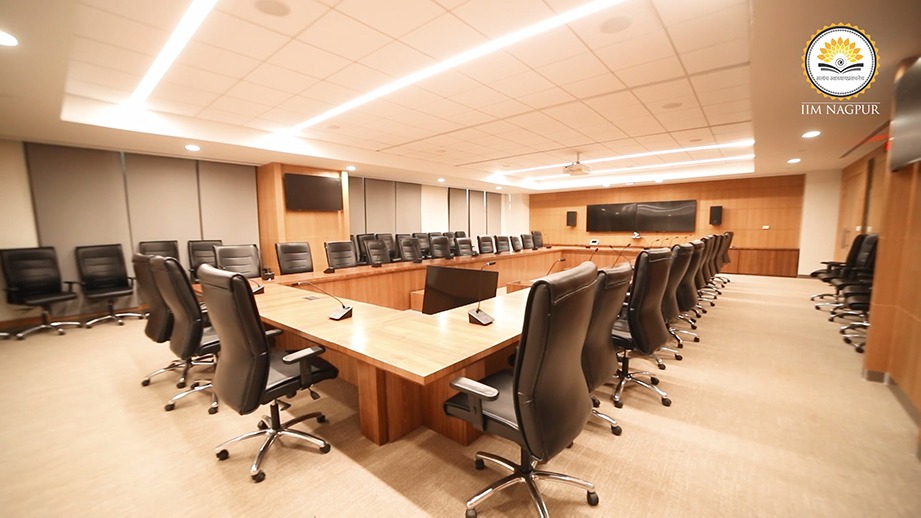 Differentiating Elements
Explaining this, Dr. Metri said, "The proactive vision is to establish IIM Nagpur as an irrefutable management institution that is committed to carving the best possible future of management systems through the power of knowledge, continuous research, and industry engagement initiatives. The Government of India laid the foundation of IIM Nagpur and entrusted us with the imperative responsibility of embellishing India's tomorrow. I would like your readers to know that this is the only IIM to have the privilege of being situated in the core of a multi-product Special Economic Zone. The assurance of our honorable Prime Minister, Shri Narendra Modi Ji, made it possible for us to witness and cherish IIM Nagpur MIHAN's foundation in 2015. Shri Ram Nath Govind Ji graced the inaugural event of the institution's new campus on May 8, 2022. The new campus will soon have the capacity to accommodate 600 students and over 2000 executives post three phases of its infrastructural development. With a zealous soul and eyes full of dreams, students across India come to study at IIM Nagpur. Being located at the center, it has various channels of connectivity. Because of this, our students find it efficient and convenient to seek admission here. Our institution holds a vibrant study culture and a multilingual environment."
"Satyam Cha Svadhyayapravachanecha" is IIM Nagpur's motto. The motto captures the spirit of constant striving for personal excellence, and a wholesome quest toward the continuous unfolding of brewing vistas of higher realities. While Arjuna's statue here inspires a streamlined focus to attain definite goals, the installation of "Spirit of IIM", indicates the qualities of courage, knowledge, endurance, and resilience a student must possess.
The learning process here helps connect the students to the industry and other stakeholders in a multidimensional way. A significant feature of IIM Nagpur is the Immersion Module, including Field, Rural, and International Immersion. It gives students an experience of working with all sectors of the organizations, handling real-life problems, and developing practical solutions for them.
IIM Nagpur also conducts an "International Week" for students to study courses from international faculty for cross-cultural industrial and global exposure. It has partnered with leading Business and Management Schools in the UK, USA, Canada, and Japan to provide a platform for students to garner international exposure and preferred placements.
The Institute has actively participated in nation-building by venturing into policy-making with dozens of bodies like the Indian National Commission for Cooperation with UNESCO (INCCU), Institutes of Eminence (IoE), and AIMA Board of Studies, New Delhi. IIM Nagpur has played a significant role in the higher education level policy-making and implementation of the New Education Policy (NEP) by participating in various committees set up for the purpose.
On various occasions, Dr. Bhimaraya Metri has represented IIM Nagpur as an expert committee member at the Institutes of Eminence, an Academic Advisory Committee member of the National Board of Accreditation, and a panel member for the selection of VC at Central Universities. The Institute has been making a positive contribution to education policy matters by being a part of various national committees of higher education like AICTE, UGC, NBA, and NAAC amongst others.

A Path to Niche Technological Advancements
IIM Nagpur is fully equipped with High-Tech classrooms made for riveting exchanges, immaculate presentations, and stimulating learning sessions simulating almost the ideal teaching methods of the revered Gurukul system.
IIM Nagpur has established a section 8 company named InFED (IIMN Foundation for Entrepreneurship Development). It is the business incubator of IIM Nagpur. InFED works with important stakeholders at regional, state, national, and international levels to create an enabling ecosystem for entrepreneurs and associated stakeholders. InFED works as a bridge between potential entrepreneurs, academia and researchers, R&D institutions, domain experts, businesses, investors, and the government.
MoUs Signed for Fortifying Management Careers with Brilliance
IIM Nagpur has signed an MoU with Maharashtra Agribusiness Network Project (MAGNET) Society.
The project targets to support FPOs by improving a network of post-harvest marketing and value chains focusing on the horticulture crops identified in the pre-feasibility study.
IIM Nagpur signed an MoU on Monday, 26 December 2022, to collaborate with VAMNICOM, Pune.
IIM Nagpur has signed an MoU with Indian Navy to conduct customized courses for Naval Personnel.
IIM Nagpur has signed an MoU with Atlas Copco (India) Ltd. for skill development, and R&D.
IIM Nagpur has signed an MoU with Govt of Maharashtra to design disaster management strategies.
Coal India Limited (CIL) signed an MoU with IIM Nagpur on August 16, 2022.
HPCL and IIM Nagpur signed an MoU to promote academic and industry interactions.
IIM Nagpur's InFED has been selected under Startup India Seed Fund Scheme.
InFED has signed an MoU with Toronto Business Development Centre, Canada.
Accolades to Admire
IIM Nagpur was awarded the prestigious GRIHA 4 Star LD Award from Hon'ble Bhupender Yadav, Minister of Environment, Forest and Climate Change of India, on December 10, 2021, at India Habitat Centre, New Delhi.
Dr. Bhimaraya Metri, Director, IIM Nagpur, was awarded the prestigious Dr. P.N. Singh Memorial Award by Higher Education Forum (HEF) for Outstanding Academic Leadership for the year 2021.
IIM Nagpur was awarded the Competition Success Review (CSR) – India's premier current affairs and career publication, the Top Institute of India Award for the year 2021.
IIM Nagpur has bagged the prestigious Competition Success Review (CSR) Top Institute of India Award for the year 2022.
IIM Nagpur was awarded the Best B-School for Industrial Training in the Future of Management Education Conclave 2023, organized by BW Businessworld on Thursday, January 19, 2023.
Dr. Bhimaraya Metri was awarded the Ambassador of Green Planet Award 2022 for his exemplary contribution to promoting EV Ecosystem, Impacting Environmental Protection, and Supporting Mission LiFE in India. The award was conferred during the EY4EV INDIA SUMMIT 2023 held on January 20, 2023.
The batch for 2021-23 has witnessed 100% placement, while the highest CTC offered is INR 64 lakh per annum. The CTC saw a rise of 10.05% in the average CTC to INR 16.74 LPA. The median CTC stood at INR 16.85 LPA.

Eminent Goals for Future
For the year 2023-24, IIM Nagpur has many programs lined up. To list a few:
IIM Nagpur has set up a "Centre of Excellence for Corporate Governance CSR & Sustainability – CGCS". The CoE CGCS aims to work independently and in collaboration with the government, academic institutions, expert industry practitioners, consulting organizations, public sector organizations, and corporates.
Beholding the essence of opulence, numerous national and international conferences, seminars, round tables, management development programs, guest lecturers, and other similar events will be organized.
IIM Nagpur's COUNCIL FOR LOGISTICS, INFRASTRUCTURE AND PROJECT MANAGEMENT (CLIP) has submitted a proposal on humanitarian logistics to the Government of Maharashtra.
The organization has also submitted a proposal on traffic analysis for the Government of Uttar Pradesh.
They will also be developing courses for the certification of project managers and courses on efficient logistics planning & execution.
IIM Nagpur will be implementing the chief minister's fellowship program in the coming years.

Culminating Words by Dr. Bhimaraya Metri
Carrying the ardent faith of its stakeholders and promising to stimulate intellectual learning environments for future careers, IIM Nagpur and Dr. Metri is on a mission to discover, procure and disseminate surreal knowledge in the management domain. He quotes "It is essential to gain a thorough understanding of the Indian education system. It paves a road to endorse grounded methods of working while fulfilling the responsibilities of a leader. In this dynamically revolutionizing world, there are unlimited opportunities to create and pursue. Leverage these endless opportunities and think of creating an accustomed niche for yourself. IIM Nagpur's excellent academic delivery has set a benchmark for a holistic learning environment and we manifest to continue taking the legacy ahead."