In today's dynamic business world, disruptive innovations are an absolute necessity for progress. All galvanizing trends follow a common cycle: disruption -> innovation -> evolution. This has been especially true for some growing brands, which continually deviated from the norm to bring about market reforms.
Seven Twenty Ten Network is a brand that has been attentive to disruptive innovations since the start, including a sustainable 'under-promise -> over deliver' model. The brand's Founder, MD & CEO, Mr. Sheetal Paknikar is a vastly experienced communication professional who acknowledges the disrupt -> innovate -> evolve approach.
Let's have an overview of the brand to understand its unique modus operandi.
Seven Twenty Ten Network: A Goal-Driven Company
Seven Twenty Ten Network is an Integrated Marketing Communications & Sports Consulting organization that's headquartered in Mumbai. The brand's outlook has been elaborated below:
Mission:
To work towards solving communication problems across diverse segments, industries & verticals, blending a creative, analytical & research-driven approach in its work methods. Also, building a network of expert consultants in communication, integrated marketing, media, and sports consulting.
Vision:
To create a sustainable organization that has a culture of honesty, sincerity, and excellence, while collectively working towards creating a better world.
Service Differentiator:
Accountability; ready to work with clients as partners rather than just suppliers or service providers.
Over the years, Seven Twenty Ten Network has created a strong foundation of trust with clients by providing them immense value. It has also ensured that it stayed connected with them through regular interactions and knowledge-sharing initiatives. The brand has always preferred to look at the bigger picture over short-term objectives.
The Brand's Initial Struggles
Seven Twenty Ten Network was incorporated in 2010 in Mumbai. Back then, the first clients were procured when the team was recommended on a "free trial" basis.
Like any other startup, the brand faced umpteen challenges when it entered the market. Its team, however, had faith in its values and vision. They also had the patience to wait until they got market acceptance. Above all, they were prepared to surmount any challenge that came their way.
The brand's most significant struggles were related to finding the right talent pool. In the business of communication, clarity of thought and good problem-analysis skills are essential. The employees needed to have patience, belief in the organization, and a willingness to work hard, year after year.
Seven Twenty Ten Network was eventually able to live up to the trust of its employees while growing its financial returns & the challenge of diverse projects. The brand has evolved through a well a motivated team. It has resulted in better turn-around times for its clients. In terms of its offerings, too, the brand has achieved significantly by creating the ideal blend of expertise and experience. It has been able to deliver clients a broad array of need-appropriate digital products, applications & services.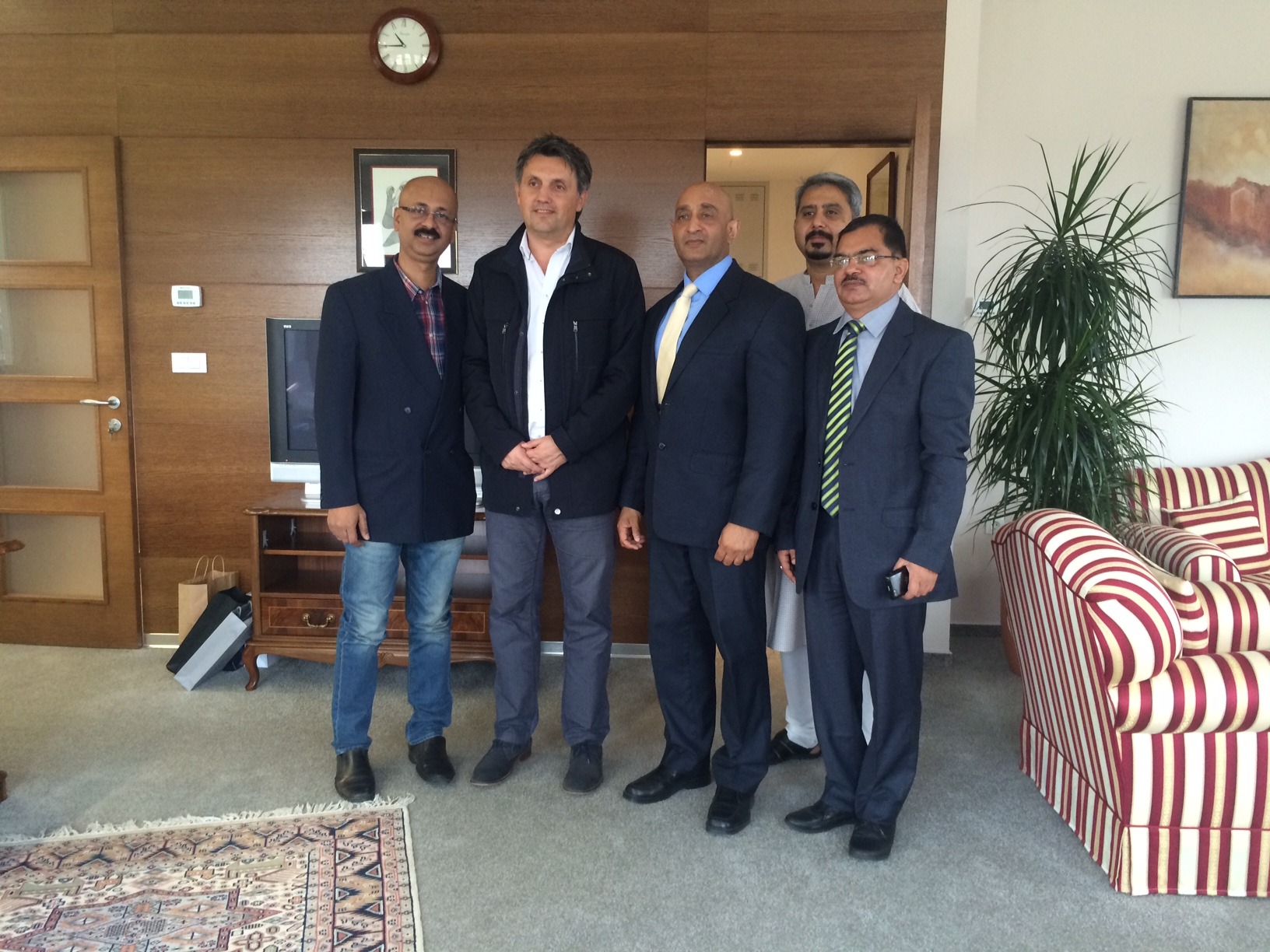 Seven Twenty Ten's Multifaceted Growth
In the last decade, the company has grown horizontally across diverse domains. Owing to its proven expertise in the media industry and a highly experienced core team, it has built an impressive list of National and International clients.
In 2015, the company diversified into Sports Education & Consulting – in an effort to target the younger generation and enrich them with career opportunities in sports.
A joint venture with Dr. Romeo Jozak, the former Technical Director of the Croatian Football Federation, was established by the company in 2018. Dr. Romeo is regarded as one of the most respected Football Administrators & Coaches in the world. He is also no stranger to the Indian Football scenario. In 2015, he was invited by the Uttar Pradesh Government to evaluate the football activities taking place at the grassroots in UP. His brief stint caused him to develop a strong fascination for the talent he saw in the country. He realized the latent potential of the sport in India and thus, in 2018, he partnered with Seven Twenty Ten Network to give an impetus to its development.
In 2018, Seven Twenty Ten Network also partnered with Light Infotainment, one of Mumbai's most respected and well-known entertainment and sports brands. Light Infotainment has rich experience in organizing celebrity events and sporting initiatives. Martin D'Souza, the Executive Director of Light Infotainment, has been instrumental in readying the ground for the brand's sports academia. It is expected to be operational in the near future.
"I have known Rajesh, Arun, Martin, and Sheetal for long, both as friends and business associates. I think they're great professionals who completely understand what it takes to have a vision and execute it" – Dr. Romeo Jozak, Former Technical Director, Croatian Football Federation; Owner, Blast Football Club Columbus.
How The Brand Gauges Its Success
Over the years, Seven Twenty Ten Network has acquired a steady clientele. It considers repeat orders from its customers to be the true measure of success, for they signify the quality of its delivery model. The brand believes that recommendations and referrals are the most fundamental of all recognitions. The brand has also achieved significantly concerning more formal recognition, such as awards in Digital Innovation, Business Excellence, and Social Initiatives. They've spurred its team to take greater risks and seek new challenges.
Plans For The Future
Industrial transformation is an ever-evolving process. The pandemic has severely disrupted several businesses in event management and hospitality while spurring the growth of E-commerce and app-based businesses.
Seven Twenty Ten Network is utilizing the business disruptions in this pandemic by investing in AI and developing Digital IPS for knowledge-sharing, music, culture, sports & education. The brand has a few key projects in this space that'd potentially be ready by 2025.
The Management Team Behind The Brand's Success
The extent of a brand's success is largely defined by the competence and cooperativeness & experience of its team members. Seven Twenty Ten Network, too, has attained its current station due to its highly effective team.
The Management Team at Seven Twenty Ten
Mr. Sheetal Paknikar, Founder, MD & CEO: A post-graduate from Industrial Design Centre at IIT, Mumbai, Mr. Paknikar is a respected professional having worked with leading Corporates, Brands & Media Houses for 25+ Years
Dr. Romeo Jozak, Partner – International Business Consulting: Dr. Jozak, a Ph.D. in Football from the University of Zagreb, is a world-renowned Football Coach & Administrator for 25+ Years
Mr. Rajesh Dube, Business Development Advisor: A Graduate from BITS Pilani & PGD from S P Jain College of Management, Mr. Dube is an industry veteran having 30+ years of work experience with eminent brands like HDFC. He handles the International Business Development for Seven Twenty Ten.
Mr. Arun Gupta, Executive Producer & Director – Operations: An Alumni of FTII, Mr. Gupta has 23+ of cumulative work experience. He looks after the National & International Fim Production Business of the brand.
Mrs. Hemangi Paknikar, Director – Academia & Skill Building Initiatives. Mrs. Hemangi Paknikar, a Gold Medallist from SNDT University with an MA in Music and 18+ Years experience, she is also the Founder of Sur Sanskaar Academy of Music, Seven Twenty Ten's Self Funded Skill Building Initiative.
Mr. Akshay Kagilkar, Account Director – Brand Services & Design: A soft-spoken, clear-minded & goal-driven professional, Mr. Kagilkar has worked in the Graphic Design & Advertising Industry for 18+ years.
Mr. Sanjay Chowdhary, Director – Creative & Content: A greatly experienced professional, Mr. Chowdhary has 20+ years of experience working with Corporates & Brands on Content & Events.
Mr. Pritam Borkar, Director – Digital: After 18+ years of experience in Digital Engagement, Web Design & Software Applications, Mr. Borkar is an Open Source Expert who guides clients for the best ROI.
https://seventwentyten.org/
https://primeinsights.in/category/the-30-most-trusted-brand-to-watch-in-2021/