Pertinax Solutions Celebrates 12 Years of Excellence and Community Engagement
A Glimpse of the Celebration
Pertinax Solutions Private Limited, a renowned ISO-certified security and Internet marketing software development company, recently celebrated its 12th anniversary, walking on the path of adding value to people's lives. The milestone celebration took place at Aangan aur Aanchal in Vasundhara, Ghaziabad, where the Managing Director, Mr. Bipin Kumar, and the entire Pertinax family cohesively came forward to spread smiles on the faces of underprivileged children by providing them with stationery items essential for their education along with other amenities.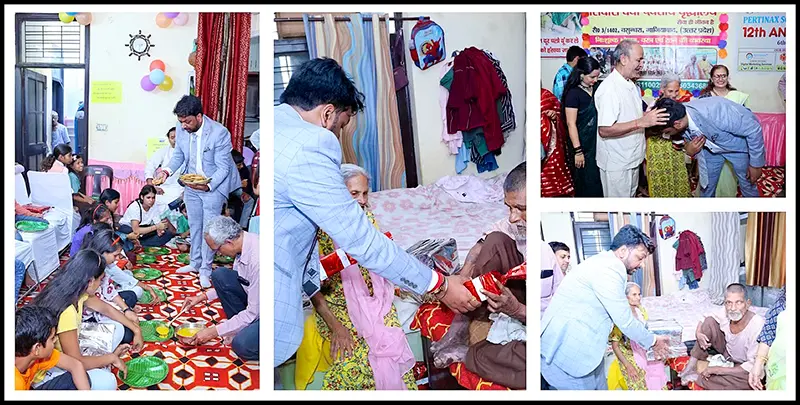 Illuminating this fruitful journey of over a decade, Mr. Bipin Kumar, Founder & CEO of Pertinax, elucidates, "Our outstanding 12-year journey is a testament to the strength of our corporate values. Through our values, we have been able to come this far, and the journey to excellence is still to be traced. The team has poured in the best of their efforts to deliver services that stand true to what they claim, and their perseverance is evident in Pertinax's successful journey. When we founded this company, our ultimate manifestation was to take it on an exceptional pedestal of professionalism, and today, as we celebrate this milestone of success, our hearts are filled with pride and exuberance."
Concluding these celebrations on an enticing note, Mr. Bipin Kumar promises that Pertinax Solutions Private Limited will continue to redefine the digital marketing industry in India by working on innovative strategies and moving along with technological advancements. In this ever-evolving competitive market, Pertinax emerges as a trustworthy partner for companies looking to expand their business via a digital approach and reach their target audience effectively.
About Pertinax Solutions Private Limited
Pertinax, a 2011-founded Delhi-based start-up, is an internet-marketing software development company with international security standards. Boasting an amazing track record of successful collaborations, high rate of client retention, and impressive customer loyalty, Pertinax has been facilitating B2B digital marketing solutions. The team has a proven track record of fulfilling all commitments made to customers beyond their expectations. The team comprises seasoned professionals specializing in Software Development, Sales and Marketing, Advertisement, Promotion, and Support, to help businesses reach out to their potential audience with the utmost efficiency.
Pertinax has traced a legacy of fineness by implementing a strategic e-marketing approach and consistently guiding its clients toward optimal outcomes. Their well-established four-phase workflow, covering Planning, Design, Development, and Launch, is proven to consistently generate remarkable success across diverse campaigns. This approach is churned out of rigorous market research, analyzing the client's business model, gaining deeper insights into their product's market, and crafting the ideal e-marketing strategy.
The company was also recognized as the Best Digital Marketing Company by the AIAC Awards in 2014. For his eminent standards of leadership, Prime Insights recognized Mr. Bipin Kumar as the "Business Leader of the Year 2023".