Insnap Technologies Pvt. Ltd: A Front-Runner in the Fields of Business Intelligence Data and Digital Marketing
Entrepreneur Of The Year 2023
Insnap Technologies Pvt. Ltd

.
With a mission to upgrade the digital marketing industry with profound practical expertise and innovation, InSnap Technologies started its operations in 2018. Founded as a subsidiary of Spokesly INC (based in California USA), InSnap has grown to be a family of some of the best talent from around the world who empowered thousands of businesses to achieve their digital marketing goals. Driven by business intelligence data, vision, and out-of-the-box thinking, InSnap provides innovative solutions and tools to rest all the business intelligence and digital marketing worries for every B2B enterprise.
Hence our editorial team took the opportunity of highlighting the phenomenality of InSnap Technologies Private Limited. We arranged a virtual conversation with Mr. Syed Abrar Ameen– Co-Founder and Managing Director of InSnap Technologies Private Limited. In addition to his inspiring business acumen, we were immensely inspired by the incredible insights from InSnap's journey so far. Hence we decided to feature the dynamic leadership story of Mr. Syed Abrar Ameen on the cover page of the enticing segment of "Entrepreneur of the Year 2023".
A Quick Snapshot of the Company
InSnap's story is one of foresight and determination. The journey began in 2016 when a group of forward-thinking professionals saw a gap in the market for niche business intelligence (BI) Data solutions, and Digital Marketing services. At the time, the market lacked promising players who could provide these high-quality services at an affordable cost. Motivated by this market gap, the Founder of Spokesly (parent company of InSnap) Mr. Junaid Syed decided to build a team of experts that could offer comprehensive BI Data solutions and Digital marketing services. Since its inception, the team of InSnap has dedicated itself to offering unparalleled solutions to its clients. Indeed, the journey of InSnap is a testament to the power of a bold vision and unwavering commitment to excellence.
InSnap holds indomitable experience in delivering high-quality Business Solutions, Digital Marketing, and Software Development services. The company's vision is to secure better business opportunities for its clientele to experience tremendous growth in their revenues while lowering their marketing and sales costs. Despite being a continuously evolving player in its industry, InSnap has always stood true to its core founding principle: "Better solutions and convenient services at lower prices."
The Inception Tale
Being born into an entrepreneurial family, Mr. Syed Abrar shared that his grandfather was an entrepreneur. He was his first inspiration. He didn't have any clue how to be any other way. He also hadn't been employed for a longer period in his professional career.
"Being from a developing country people quickly learn that they cannot depend on others if they want to be successful in life and not just be a survivor. Here you either find your way to become successful or suffer the consequences of being a survivor. A common man surviving on a 9 to 6 job was never my forte. Also, I always had the natural inclination towards serving the community at large and not just thinking about myself and my immediate family's needs. Hence that mindset became the driving energy to begin my journey as an entrepreneur and lay the foundation of InSnap Technologies Private Limited."
A Sneak Peak into InSnap's Prolific Work Culture
At InSnap the work culture is all about curating new opportunities for growth and learning. Sincere dedication is poured into building the talent of its workforce irrespective of the background or location they're coming from. This eliminates all circumstances of the urban-rural divide. InSnap embraces a collaborative and apolitical culture that grounds its business strategy. Making realistic predictions and promises, based on astute strategies, guides the final financial results.
Elucidating this further, Mr. Syed Abrar Ameen says, "The company holds negligible attrition rates, credits to the culture fostered by our founder Mr. Junaid Syed. Our founder has always laid strong emphasis on providing excellent employee care, an adaptable team navigating sociotechnical changes, and a commitment to serving the world's top organizations. We are proud to say that InSnap Technologies Private Limited has served some "Fortune 500" clients and our dedication speaks for itself, as evidenced by the company's success so far. InSnap has a strong support of a technologically adaptable and energetic team of professionals who share a common vision of serving clients with the best of the best! Our work ethics motivates the entire team to address the needs of the consumer most cost-effectively and engage with them through authentic communication."
Standing Strong In Challenges
Amidst the changing market trends, flexibility becomes indispensable. These changing facets of the corporate ecosystem demand an inventive mindset and openness toward making improvisations. When it comes to keeping up with the changing market trends, InSnap Technologies establishes an ardent balance between its core strength in BI Data and Digital marketing service offerings. The company offers a diverse service portfolio that is well-equipped to cater to any new market demands. InSnap leverages its "Augmented Analysis" to gain knowledge and prepare beforehand to tackle the changing market trends swiftly.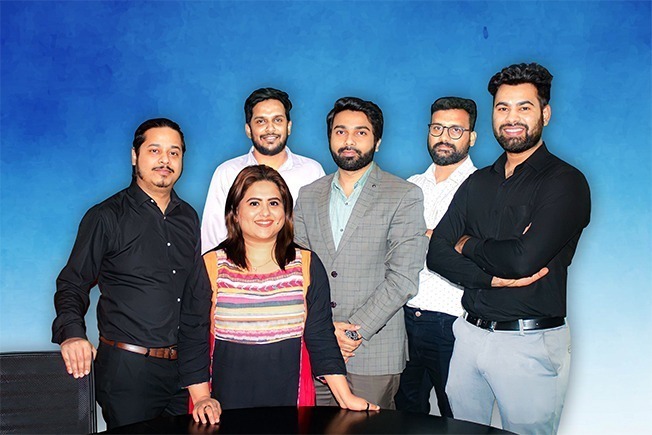 Implementing Assertive Team-Building Initiatives
Behind any successful organization, there is a team built of like-minded people who are passionate to deliver services that add value to businesses. But building the "dream team" that delivers what it promises, requires dedicated mentorship and persistent efforts. For InSnap Technologies, finding the right talent committed to the company's vision was a challenge, especially in the early stages.
But once obtained, the top brass of the company also needs to ensure that employees enjoy a productive and fruitful workplace. InSnap acknowledges employee contentment as an essential contributor to its success. The company invests in hiring, building capabilities, and forming partnerships to retain and engage its employees, even during challenging times. To strengthen employees' existing potential, the company provides developmental support through training, mentoring, and a broad spectrum of growth opportunities.
"Frequent feedback is also taken from the employees to further elevate the work environment. Based on their respective performances, InSnap values their efforts through monthly and yearly rewards under their Rewards and Recognition programs. This further motivates the employees to thrive back and forth. InSnap's commitment to its employees' growth and happiness is unwavering as we believe it is the key to our continued success as a company. We strive to create a positive work environment where our employees feel valued, appreciated, and motivated to contribute their best", says the Managing Director Mr. Syed Abrar Ameen.
InSnap balances the old and new generations of employees to achieve corporate goals by providing individualized attention. Department-level strategies are given a free hand to realize corporate goals, ensuring stickiness and buy-in. Workforces must be adaptable to the changing technology ecosystem, and resources must be cross-skilled to stay relevant to customers.
InSnap Technologies has established the trust factor in the market by constantly fulfilling the promises made to employees as well as customers. Building a strong reputation in the market comes through honest communications, transparent business practices, and high-quality products & services. The company has succeeded in making an ebullient mark in the industry by providing a unique value proposition that addresses the needs of the consumer and engages with them via authentic communication.
Effectual Marketing Initiatives
InSnap's most effective marketing channels are in the digital sphere. The company profoundly relies on organic search and also invests occasionally in paid search and other social media advertisements such as LinkedIn, and Facebook. Right from the beginning, InSnap Technologies has been a digital-first brand and deploys the maximum of its marketing budgets on a digital medium, as it is the most ROI-positive medium for their digital marketing teams.
Future Prospectus
InSnap is spearheading the path of excellence. The team is working comprehensively to increase revenue, profits, and market share along with expanding its business portfolio with new products and services. Various action plans that are intended to establish better branding are in the pipeline. InSnap is strategically positioned for growth, including expanding its workforce and exploring opportunities for mergers and acquisitions to gain a competitive edge in the market. In line with its expansion plans, InSnap is also committed to establishing fully owned office space in Bangalore, India to secure and support its long-term growth trajectories. In addition, the team is working diligently on improving recruitment and retention strategies, offering employee training and development opportunities, and fostering a positive work environment.
Admirable Achievements
InSnap boasts an impressive track record of achievements, including serving Fortune 500 companies in the first 3 years of its operations. The company currently employs 130+ successful professionals, with little-to-no attrition in its five years of operation, establishing a reputation for delivering exceptional digital marketing solutions.
CSR Activities
InSnap is committed to corporate social responsibility (CSR) and strives to give back to society in various ways. This includes offering internships to candidates, donating to NGOs, and conducting programs that provide educational and learning opportunities to underprivileged communities. The company also actively recruits from Tier 3/Tier 4 cities, creating job opportunities for talented individuals and improving employee retention. InSnap promotes diversity and inclusivity in the workplace through diversity programs that raise awareness of civil rights.
A Thoughtful Memento from the Managing Director's Desk
"As the top brass of the organization, define your corporate culture and communicate to all concerned. It comes extremely beneficial in encouraging the overall performance of the organization. It brings every associate under the nutshell of the company's values and streamlines their ideologies in the correct direction. Employee empowerment and business alignment should go hand-in-hand. Be the best manager of your own time and that of your organization. When it comes to Organizational Time Management, doing the right things at the right time is key without harping on time constraints."
The Magnificent Entrepreneurial Journey of Mr. Syed Abrar Ameen
Having traced a dynamic entrepreneurial journey over these years, we asked Mr. Syed Abrar Ameen to describe in a few words, what he feels about the same.
"A strict interpretation of the word entrepreneur would disqualify me from eligibility – after all, the financial risk and investments are not mine. Having said that, our investors and my CEO Mr. Junaid Syed have been very clear in how they outlined my deliverables to the company. It was a 25-year horizon to build a legacy for future generations and an expectation to create a valuable company and not a valuation-driven company. This has allowed me to take every decision with a long-term benefit in mind thereby creating a solid foundation on which we can scale at pace and with the confidence of doing the right thing by all our stakeholders – our customers, our team members, and through them, our investors. We are currently at the scaling stage of our business, my journey through our ideation, validation, planning, launch, and growth stages has been nothing less than a roller coaster ride with challenges so exhilarating sometimes making me reach my 'burnout' levels. However, with persistence, resilience, and willingness to learn and adapt, I'm grateful for the opportunity which the Almighty has bestowed upon me to make a positive impact in the world from the business."
Words of Intellect for the Readers
There is no better way of wrapping a magnificent read like this, with some words of wisdom coming right from the dignitary. Hence to enlighten the young minds of our global readership panel we asked Mr. Syed Abrar Ameen to share some insights from his corporate journey so far.
The dignitary quotes, "The secret yet common sauce of expanding your business is to be ardently passionate about your idea. Starting a business is not a cakewalk; it requires extreme levels of hard work and dedication. Build a persona that sees failures as an optimistic opportunity to tap those weak points. Seek the right mentorship, surround yourself with productive people, build a strong team, and embrace innovations.
For entrepreneurs and young individuals facing doubts during challenging situations, it's important to remain resilient, focused, and open to feedback along with sidelining negative people around them. Embracing a long-term vision, staying decisive under pressure, and investing in continuous learning are keys. By staying engaged, adaptive, and resilient, leaders can navigate the dynamic business landscape and achieve remarkable achievements. Remember, challenges are inevitable, but with determination, perseverance, and a forward-thinking approach, entrepreneurial endeavors can thrive."