ENCRAFT INDIA PVT. LTD: CREATING AN EXCLUSIVE STANCE IN THE WINDOW & DOOR MANUFACTURING LANDSCAPE
THE 30 MOST TRUSTED BRANDS TO WATCH IN 2023
Today every industrial segment is touching the skies of success creating impeccable tidal changes in the lives of people. Leaders today are relentlessly working to enlighten people on the power of dedication and passion. These powerful entrepreneurs have created magnificence that will be remembered for years ahead. Recently, Prime Insights had the wonderful opportunity of sharing a conversation with Avanish Singh Visen- Director & CEO of Encraft India Private Limited. The brand deals with the manufacturing and designing of gilt-edge windows and doors brewed with the latest technology.
More than 2 million windows & doors have already been installed and over 300 clients both national and overseas are associated with Encraft for its quality services. While interviewing the leader, we could see a steer reflection of his excellent business acumen. Right from the inception journey to the service portfolio and plans for the future, we had a detailed go-through of the company. He also walked us through the inspiring legacy of the company's late Chairman and Founder, Shri D.C. Jain. Shri Jain's journey was one-of-its-kind and the values he incorporated into the company's business model remain the guiding path for Encraft. Imbibing the same momentum, we have elegantly placed all the key takeaways in this article right here under the special segment of "The 30 Most Trusted Brands to Watch in 2023."
Prime Insights: Please tell us about your company.
Avanish Singh: At DCJ Group, we provide innovative and cost-effective solutions that are tailored to our customer's individual needs. Our experienced team of professionals is committed to delivering quality uPVC products and services that are designed to improve the lives of our customers. With uPVC's durability, low maintenance, and versatility, our solutions offer unparalleled quality and can be chosen from a variety of colors. Not only that, the uPVC material provides insulation against rain, be, and other weather conditions, making it the ideal choice for framing solutions. With Encraft, you can rest assured that you are getting the best solutions to meet and exceed your expectations
Prime Insights: Kindly tell us about the company's inception story.
Avanish Singh: In 1961, our late Chairman, Shri D.C. Jain committed himself to begin a journey that would change the industry forever. Starting with the extrusion of HDPE strips for cane furniture, he quickly ventured into PVC pipes and developed a technology for water hand pumps, ensuring that access to water was made available for everyone. Not content to stop there, he went on to expand into flexible PVC extrusion and even developed patented magnetic sealing systems used by the refrigeration industry. Today, the company is a key supplier to well-known household names like Samsung, Godrej, and LG and it is purely because of our late Chairman Shri D.C. Jain's endurance and passion.
Prime Insights: What was the motivating force behind the company's inception?
Avanish Singh: The driving force behind the inception of this project was the desire to create a product that could make a positive impact on people's lives. We wanted to create something that would provide real value to our customers and make a difference in the world. We hope that our product will continue to inspire and motivate people to take action and create meaningful change
Prime Insights: What challenges did the company face during the initial years?
Avanish Singh: There were a lot of initial hurdles that we overcame to succeed. These can range from finding the right location to ensuring that the right licenses and permits are obtained. All of these can be daunting, but they are necessary steps to get your business off the ground. Some of the most common challenges that businesses face are developing a business plan, obtaining the necessary funding, and finding qualified and experienced personnel. Additionally, marketing and networking can be a challenge, as well as managing the finances of the business. By addressing these initial hurdles, you can ensure that your business is set up for success.
Prime Insights: How is your brand defining the "trust factor" in the industry?
Avanish Singh: The brand is defining the trust factor in the market by building strong relationships with customers based on transparency and reliability. We strive to establish trust with our customers by providing them with high-quality products and services that meet their needs. Our commitment to customer satisfaction helps us build trust with our customers and ensure that our products and services are of the highest quality. We also ensure that our customers are aware of our commitment and core values. By exhibiting trustworthiness and reliability, the brand is establishing itself as a trusted partner in the market.
Prime Insights: What are your brand's USPs?
Avanish Singh: Our key differentiators include:
Our commitment to high-quality products and services
A personalized approach to customer service – we take the time to understand our customers' needs and tailor our solutions to meet them.
Our commitment to innovation – we are constantly developing and implementing new strategies to ensure our customers benefit from the latest technology.
Our extensive network of partners, allows us to provide our customers with a wide range of options.
Our focus on sustainability – we strive to adopt practices that minimize our environmental impact. We are dedicated to providing our customers with the best possible experience and are proud to stand out from the crowd.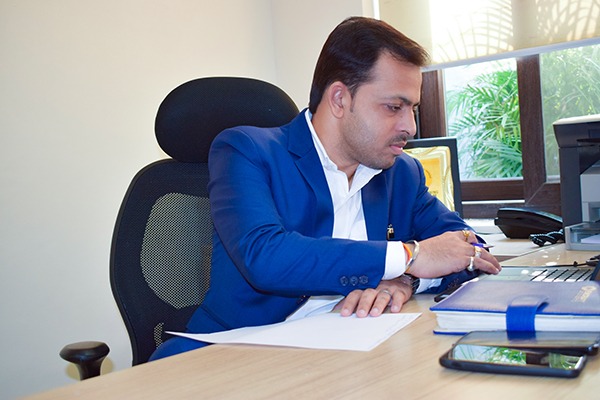 Prime Insights: Please throw some light on your company's service portfolio.
Avanish Singh: Our brand offers a full suite of services to our clients, from consultation and design to installation and maintenance. We specialize in providing tailored solutions to meet your individual needs and provide a range of services including
Consultation and Design: Our team of experienced professionals will work with you to create the perfect solution to meet your needs.
Installation: We provide a full-service installation to ensure your system is up and running quickly and efficiently.
Maintenance: We offer ongoing maintenance services to keep your system functioning perfectly and respond to any problems quickly and efficiently.
Support: We provide comprehensive support and assistance to our clients, including technical advice, troubleshooting, and repairs.
Our team of professionals is committed to providing the best service possible to ensure complete customer satisfaction. Contact us today to get started!
Prime Insights: In an age of mistrust, is the brand seeing an evolution in how consumers trust its services?
Avanish Singh: As mistrust in brands grows, consumers are increasingly looking for evidence of trustworthiness when it comes to services. In this age, brands must evolve to meet the changing needs of their customers, who are increasingly relying on them for quality, reliability, and trustworthiness. From transparent pricing and clear communication to customer service, brands must demonstrate their commitment to trustworthiness to stay competitive and build loyalty.
Prime Insights: How did the brand succeed in establishing a mark in the industry and the heart of the customers?
Avanish Singh: The brand's success in establishing a mark in the industry and the hearts of its customers was achieved through a combination of hard work, dedication, and an unwavering commitment to excellence. They cultivated an ethos of quality and innovation, which has been embraced by customers across the globe. Additionally, the company has used strategic marketing tactics to build relationships with its customers, ensuring that each interaction is tailored to their individual needs. This combination of strategic marketing, product excellence, and customer service has resulted in a loyal fan base that continues to grow and a brand that is both respected and beloved.
Prime Insights: How well are clients connected with your brand?
Avanish Singh: Our clients are deeply connected with the brand. We prioritize building strong relationships with our customers, focusing on trust, transparency, and empathy. We strive to create a community of loyal customers who understand the value of our products and the importance of our mission. We aim to provide personalized, tailored assistance to each customer and are committed to responding to customer inquiries promptly.
Prime Insights: Please tell us about the most effective marketing initiatives that the brand has taken to promote its services.
Avanish Singh: The most effective marketing initiatives or programs that we have used to promote our initiatives, offerings, and services vary depending on the specific need and its goals. However, some of the most successful approaches we have included are- targeted advertising campaigns, leveraging influencers and influencer marketing, creating engaging content, and leveraging social media. Additionally, we are planning to create partnerships with other business owners and organizations that can be a great way to extend the reach and draw the attention of our brand.
Prime Insights: Have you measured how much trust consumers have in your brand?
Avanish Singh: Measuring consumer trust is an essential factor for ensuring the success of Encraft. Knowing how much trust your customers have in your products and services can help us to create better customer experiences and develop more effective marketing strategies. Analyzing consumer trust can help us identify areas to improve and better understand what our customers look for when making purchases. Take the time to measure consumer trust in your brand and use the insights to enhance our brand's success.
Prime Insights: What's the first thing that enters a consumer's mind when they see your brand?
Avanish Singh: When consumers see our brand, the first thing that comes to mind is trust. Our brand represents a promise to deliver high-quality products and services, and a commitment to meet the needs of our customers. Consumers recognize your brand as a reliable source of quality, and they trust that you will continue to deliver on your promises. That's why it's so important to make sure your brand is communicating the right message and building trust with your customers.
Prime Insights: What is a customer for your brand?
Avanish Singh: We evaluate the value of a customer based on a variety of factors, including, but not limited to customer loyalty, purchase frequency, consumer feedback, and the value of their purchases. The brand also takes into account customer engagement, including social media interactions, customer service inquiries, and website visits, as well as other customer experience metrics. By assessing all of these metrics, we can effectively determine the value of each customer, allowing them to tailor their marketing and advertising strategies accordingly
Prime Insights: What plans does the brand have for the future?
Avanish Singh: In the coming years, our key targets and plans for success must be identified and concrete plans must be developed to ensure that we reach them. We will develop measurable objectives and strategies to reach these goals and create a plan of action to effectively track our progress and guarantee that our objectives are achieved. By utilizing this plan, we will be better equipped to measure our progress and ensure that our goals are achieved. We are introducing some new categories and making changes to existing ones this year, so be sure to stay tuned for more details. Our goal is to create an even better experience for our users, so we look forward to hearing your feedback on our new categories and launches.
Prime Insights: What advice would you like to give to young entrepreneurs?
Avanish Singh: DCJ Group/Encraft is committed to supporting young entrepreneurs who strive to make an impact in their communities and beyond. We believe that young entrepreneurs bring much-needed energy and creativity to the marketplace. We are here to help unlock their true potential and reach their goals. With our resources and expertise, we will help them achieve success. Let DCJ Group be your partner in success!
https://primeinsights.in/category/cover-story/
https://primeinsights.in/category/ceo-insights/