Diamond Parks Lohegaon connects Pune East and West through Monsoon themed events with a cause of empowering women.
Diamond Parks
Pune (Maharashtra) [India], September 02:
Diamond Parks, Lohegaon always expresses its gratitude towards society in many ways. This time, Diamond Parks grabbed an opportunity by organizing a fascinating one day event of competitions with a theme of Monsoon dedicated to women empowerment, representing Maharashtrian Culture.
An event was organized by Diamond Parks, Lohegaon in association with Lokmat Sakhi Manch and Udaan – Ummeed Unchaiyon Ki, along with "Kalyanam Silks", as gift sponsor for the event. An event was held at Copa D'e Colina, The Hilltop Multicuisine restaurant and bar, which was the perfect destination for such a grand event.
The one day event had 7 types of competitions, for women named as Manglagour Khel, Marathmola Fashion Walk, Solo Dance, Group Dance, Nathicha Nakhra, Pak-kala competition and Pooja Thali decoration competition. An event got a massive success with the entries over 130 participants from different parts of Pune.
Mr. Arjun Indulkar and Mrs. Raveena Indulkar, who are working in the capacity of Managing Director and Director, of Diamond Parks were energetically present for the complete event, from start to the end.
What flaunted the event was the presence of as well as famous reel star, Mr. Aditya Satpute, Mr. Chetan Chavda, a well known Director and Actor, as well as Miss. Rutundhara Mane, a renowned Choreographer and artist, as Chief Guests. Also, the team of "Sindhu Sagar", as Mr. Yogesh Kardile, famous Writer, Director and Cinematographer, Mr. Rishi Khedkar an eminent actor and model, and K Raginee Yogesh, an exalted actress and model, had their remarkable and charming presence as Chief Guest for the series of competitions. An event made an impression with the presence of Mr. Mayur Kemse, Dep. Editor, Lokmat. It is nothing wrong to say that, an event was full of engaging stardom and limelight.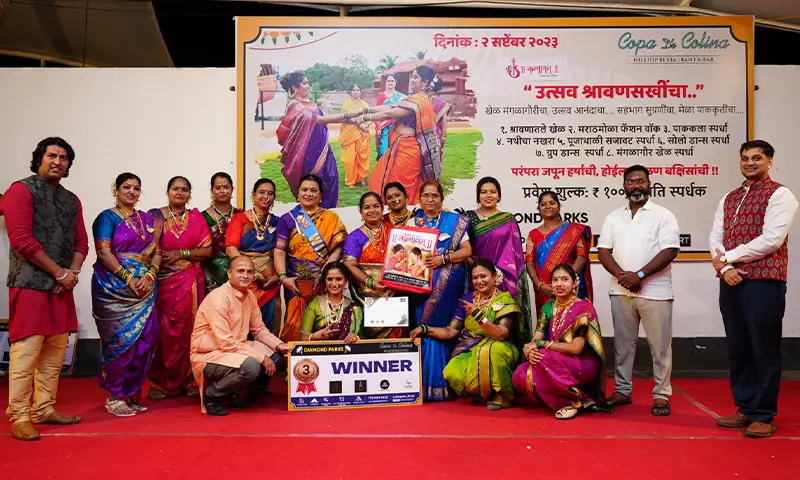 Utsav Shravansakhincha raised their curtains on 02:30 pm, with registration of participants. The participants felt full hearted after receiving complementary coupons from Diamond Parks. The competition was held in in the Goa like feeling ambience of "Copa D'e Colina". Spectators were amazed to know that, the menu of Copa D'e Colina is available on Zomato and MagicPin. Participants were engaged in Copa D'e Colina, whereas, the kids were enjoying rides and activities at Hop-A-Little, dedicated Kids' Play Zone. There was the time to honor the Chief Guests for their valuable presence. Diamond Parks, being passionate towards environment and social commitment, honored the guests by gifting a plant.
Then thereafter, it was the time to have a fusion of energy and tradition. Marathmola Fashion Walk and Naathicha Nakhara were the competitions, providing the same. There were so many sparkling participants, who were experiencing ramp walk in the ethnic wear. Solo Dance and Group Dance were full of engaging vibes, with the participants ranging from 13 years to 70 years. It was the moment to watch. Then the event reached its climax with "Manglagaur Khel" competition. There were more than 7 groups, which showcased coordination, synchronization and traditional reflections through their performances.
As some participants were amazed with the serene nature of Diamond Parks, they availed the facility of accommodation at Diamond Parks in the Farm House and Camping.
During Prize Distribution, Hon. Mr. Arjun Indulkar was congratulated and felicitated for getting awarded as one of "The 20 most inspiring CEOs to Watch in 2023". Then the winners went on cloud 9 after receiving grand prizes in association with "Kalyanam Silks". Mrs. Sangita Chavan was entitled as "Shravan Sakhi – 2023" with Mrs. Yogita  Baalsaraf as a winner of Nathicha Nakhra and Rajeshwari as the winner of Solo Dance, Mrs. Nisha Sonar grabbed winning title of Cooking competition.
All the contestants and their family members were happy with the taste and deliciousness of Snack Shack and Jungle Cafe, which offers snack food and Pure Veg food in the premise of Diamond Parks, Lohegaon, Pune. The event was very nicely compered by Mrs. Kanchan Gadakh.
Earlier, on 27th August, there was an event organized by "Udaan – Ummeed Unchaiyon Ki" called "Shravansari", which was based on the same theme. Diamond Parks was the title sponsor for this event. As that event was held at Kakade Palace Mangal Karyalaya, at Karve Nagar, Diamond Parks connected Pune East and Pune West with their bonding and committment towards Cultural belongingness.
To know more about the upcoming happening events and features of Diamond Parks,
Visit – https://www.diamondparks.com