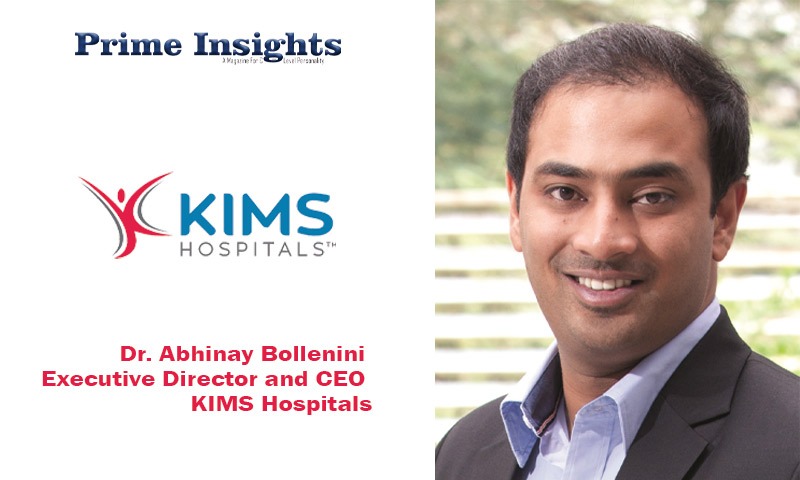 The Indian healthcare industry is amid a great metamorphosis. Conventional healthcare models have become obsolete in the face of new and diverse patient demands. Hospitals today are becoming more and more inclined towards holistic healthcare services with a multispecialty approach. This shift has been particularly noteworthy for some hospital chains, where the services have grown exceptionally diverse.
KIMS Hospitals is one such hospital chain that has placed a strong emphasis on holistic healthcare. It offers a comprehensive range of healthcare services across over 25 specialties and super specialties, including cardiac sciences, oncology, neurosciences, gastric sciences, orthopedics, organ transplant and mother & child care.
Thus far, KIMS Hospitals has successfully treated thousands of patients for a broad range of maladies. According to the CRISIL Report, it is among the largest corporate healthcare groups in Andhra Pradesh and Telangana in terms of number of patients treated and treatments offered.
Let's unravel the various elements that've shaped the KIMS Hospitals success, including its service versatility, driving ideals, and medical milestones.
KIMS Hospitals Inception and Expansion Story
KIMS Hospitals was founded by Dr. Bhaskara Rao Bollineni, a renowned cardiothoracic surgeon who has over 27 years of experience in the field. He started KIMS Hospitals, Nellore in the year 2000, with a vision to create a cutting-edge hospital system in his home state of Andhra Pradesh. He wanted to attract top medical talent and provide high-quality patient care at affordable prices. KIMS Hospitals gradually expanded across eights cities in Andhra Pradesh and Telangana, through a combination of greenfield, brownfield, and acquisition-led expansion.
Dr. Abhinay Bollenini, the Executive Director and CEO of the brand, joined KIMS Hospitals amid this process in 2014.
Dr. Abhinay has played a pivotal role in the expansion of the KIMS Hospitals network in the last 5 years. During his tenure, the brand launched KIMS Hospitals, Kondapur and gained acquisition of hospitals in Ongole, Vizag, Anantapur, and Kurnool. At present, the 9 hospitals of KIMS network are strategically located across Andhra Pradesh and Telangana. They serve the diverse healthcare needs of different areas in these states. The hospitals in Secunderabad and Hyderabad cater to the needs of urban Tier-1 cities, while the ones in Vizag, Nellore, Rajahmundry, Ongole, Anantapur, Srikakulam and Kurnool serve more rural Tier 2-3 cities. The brand is further seeking to expand its network in other parts of South India. It aims to revolutionize the dynamics of healthcare in the region.
The Brand's Impressive Service Portfolio
As mentioned earlier, KIMS Hospitals feature a comprehensive service range covering 25 specialties and super specialties. It has numerous full-time consultants that offer timely medical assistance to patients in need. The brand has Robotic Surgery machines, O- Arm scanners, 24 hour (3 Tesla) MRI Scan, CT Scan, Lab, Pharmacy, and Ambulance Services available to meet the diverse medical requirements of patients. It also provides diagnostic, surgical, and rehabilitative care across a full range of acute and chronic conditions.
KIMS Hospitals focus, through its multidisciplinary integrated healthcare services, is on primary, secondary, and tertiary care in Tier 2-3 cities. In Tier-1 cities, it focuses on primary, secondary, tertiary, as well as quarternary healthcare.
The 9 Multi-specialty hospitals of the KIMS Hospitals brand have an aggregate bed capacity of 3064, including 2500 operational beds as of March 31, 2021. According to the CRISIL Report, this figure is 2.2 times higher than the second-largest provider in AP and Telangana.
Mission and Vision
Like all other long-standing brands, KIMS Hospitals is driven by a strong "why". This manifests itself as a powerful vision and mission statement.
Vision: "Quality does not happen by chance. It is a relentless pursuit of perfection. It is our endeavour to provide the highest        quality of care to our patients."
Mission: "Quality services, quality performance to every patient, every time. We always strive to:
Satisfy clients on each and every project/plan we execute.                                         

Provide support and services that exceed customers' expectations. Scale greater heights, set new standards, and redefine the lifeline of healthcare."
The brand's staunch driving ideals have helped it carve a niche for itself in South India's healthcare space. They've also inspired other hospitals to follow suit and ensure robust service standards.
KIMS Hospitals Steady Growth Trajectory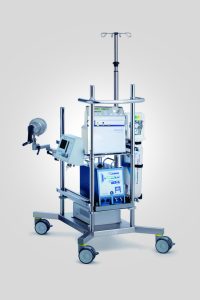 Since its inception, KIMS Hospitals has witnessed a steady growth trajectory. It has expanded from a single hospital to a chain of multi-specialty hospitals through organic growth and strategic acquisitions. The first hospital in the network was established in Nellore in 2000. It has a capacity of nearly 200 beds. The flagship hospital, which is in Secunderabad, is one of the largest private hospitals in India at a single location (excluding medical colleges). It boasts of a capacity of 1000 beds. In recent years, the brand has significantly expanded its network through acquisition of hospitals in Ongole in FY 2017, Vizag and Anantapur in FY 2019,
and Kurnool in FY 2020. During the same period, it has improved its bed occupancy rate in these hospitals from 71.83% to 80.49%. In the Fiscal Year 2020, KIMS Hospitals had a total income of ₹ 11,287.28 million and an adjusted EBITDA of ₹ 2510.79 million, which were the highest in Andhra Pradesh and Telangana, according to the CRISIL Report. In 2021, the total income was ₹ 13,401.02 million and the adjusted EBITDA was ₹ 3810.48 million. The brand is striving to further improve these figures and set new performance benchmarks in the healthcare space.
A Timeline of Significant Events
Given below is a timeline of all the significant events that've occurred in the brand's journey so far.
2000: KIMS Hospitals, Nellore was established by Bolineni Ramanaiah Memorial Hospital (BMRH). The business division of BRMH, including the hospital, was transferred to the company under the 2012 scheme.
2004: KIMS Hospitals, Secunderabad was established by the company.
2010: Milestone Private Equity Fund (MPEF) made an investment in the company.
2014: KIMS Hospitals, Kondapur was established by KHEPL, a subsidiary of the company. Acquisition of 57.83% of the equity shareholding of Arunodaya Hospitals Private Limited.
2015: India Advantage Fund (IAF) and Emerging India Fund (EIF) made an investment in the company, while MPEF made an exit.
2017: KIMS Hospitals, Ongole was acquired by way of slump sale agreement.
2019: Acquisition of 51% of the equity shareholding of ICIMSPL.
2019: Acquisition of 80% of the equity shareholding of SIMSPL.
2019 : General Atlantic made an investment in the company, while IAF and EIF made an exit.
2020: Acquisition of 55% of the equity shareholding of KHKPL.
Noteworthy Awards and Accreditations
In its 21 years of existence, KIMS Hospitals have garnered a multitude of awards and accreditations. Some of the most notable ones have been listed below:
2008:
KIMS Hospitals, Secunderabad received its first ISO 9001-2008 Certification from AQA International LLC.
2011:
KIMS Hospitals, Secunderabad received its first accreditation from NABH.
2015:
KIMS Hospitals, Secunderabad was awarded the 'Healthcare Excellence Award' by the Indo Global Healthcare Summit and Expo.
2016:
The neurology department at KIMS Hospitals, Secunderabad was ranked third in India by the Neurology India Journal for the number of epilepsy surgeries carried out in 2016.
2017:
KIMS Hospitals, Secunderabad was conferred with the title of a 'Patient Friendly Hospital' by AHPI.

KIMS Hospitals, Secunderabad was awarded 'Best Hospital of the Year' in the multispecialty hospital category in Hyderabad and eight other specialties by Times Healthcare Achievers Awards.
2019:
A certificate of excellence was conferred upon KIMS Hospitals, Secunderabad in the category of 'Best Super Specialty Hospital in Telangana" at the National Quality Excellence awards, 2019.

KIMS Hospitals, Kondapur was awarded by MOHFW under the Kayakalp Guidelines for its efforts in promoting cleanliness, hygiene, and infection control in the hospital for the year 2019-20.

KIMS Hospitals, Nellore was issued a certificate of accreditation by NABH for being compliant with its pre-accreditation entry-level hospital requirements.
2020:
KIMS Hospitals, Secunderabad was ranked the third best hospital in Hyderabad by The Week Magazine.

KIMS-Livlife Center was ranked third in Bariatrics Category (Hospitals) in Hyderabad at the Times Excellence Award 2019-20 Hyderabad.

KIMS Hospitals, Kondapur was accredited with a certificate of assessment for exhibition of its intent and commitment towards ensuring safety and hygiene at workplace by IRClass Systems and Solutions Private Limited.
An Overview of The Hospitals' Institutes Institute of Cardiac Sciences
This institute is ranked among the nation's foremost cardiac care centers and the top ten cardiac hospitals in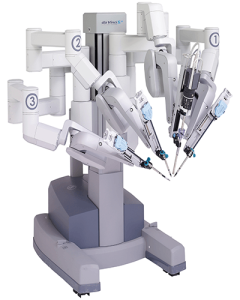 Hyderabad. It is a pioneer in the field of minimally invasive bypass surgeries and angioplasties. It has also elevated the standard of cardiac care across the nation at large.
The Institute of Cardiac Sciences at KIMS Hospitals is especially renowned for its distinguished team of cardiac specialists and surgeons. These professionals have decades of experience under their belt. Thanks to their efforts, the lives of thousands of cardiac patients across India have changed for the better.
The institute provides a complete continuum of care for cardiac patients. All of its physicians, surgeons, nurses, and staff work collaboratively to ensure high-quality, advanced patient care.
Institute of Gastroenterology and Hepatology
This Institute of Gastroenterology and Hepatology at KIMS Hospitals provides patients an array of procedures for the prevention, diagnosis, and treatment of gastrointestinal conditions. These conditions include benign and malignant tumors, inflammation, infection, hernia, ulcers, anatomical disorders, etc.
The most noteworthy aspect of the institute is its expert team of gastroenterologists and hepatologists. They're experienced in treating numerous diseases of the esophagus, stomach, pancreas, liver, colon, and rectum. These include Gastrointestinal Reflux Disease (GERD). Barrett's esophagus, IBS, viral hepatitis, fatty liver, to name a few.
Its high-quality, multidisciplinary care has set an example for other hospitals across the country.
Liver Transplantation Centre
KIMS Hospitals offers a comprehensive and multidisciplinary approach to the treatment of irreversible liver disease, which has fostered excellent results in patient survival and quality of life. Team includes liver transplant surgeons, general & transplant hepatologists, transplant intensivists and anaesthetists and a host of allied support specialties including interventional radiology, pathology, specialized nursing, transplant coordinators and nutrition team. The team is supported by state of the art infrastructure including dedicated operation theatres, ICU's, endoscopy suites and dedicated transplant wards. There are several situations where a liver transplant may be considered a viable option.
These include, but are not limited to: end-stage liver disease, autoimmune hepatitis, Hepatitis C, liver damage from overdose of medications toxic to the liver, including alcohol, primary sclerosing cholangitis (PSC), primary biliary cirrhosis (PBC), acute hepatic necrosis, biliary atresia, metabolic disease and liver cancer. The development of effective immunosuppressive drugs and the refinement of surgical procedures have led to remarkable improvements in the long term success of liver transplantation. This procedure is now widely recognized as an effective, and preferred, therapeutic option for the treatment of end-stage liver disease. Liver transplants are routinely performed at KIMS Hospitals for infants, children and adults, focusing on innovative surgical techniques, advances in immunosuppressive drugs and quality patient care.
Institute of Neuro Sciences
The KIMS Hospitals Institute of Neurosciences is a comprehensive care and research centre that treats both children and adults. Its subspecialty centres offer specialized care for a range of neurological diseases, including Alzheimer's disease, Parkinson's disease, multiple sclerosis (MS), amytrophic lateral scelorosis (ALS), epilepsy, and brain tumours.
The Neurological Institute has over neurologists, neurosurgeons, in addition to several other specialists. For collaborative endeavours, the physicians are organized into overlapping programs based on their areas of expertise and research interests.
This department treats over a staggering 50000 patients annually. It is equipped with the most advanced neuro-imaging and monitoring technology available in the world and is regarded as a hub for medical innovation.
Institute of Heart and Lung Transplantation
Probably the most outstanding feature of KIMS Hospitals, this institute is a pioneer in the field of solid-organ transplantation. It is India's First Fully Integrated Heart and Lung Transplant Institute. Its team is led by Dr. Sandeep Attawar, an eminent Heart and Lung transplant Surgeon with numerous intricate procedures to his credit. In a first of its kind procedure in India, KIMS Hospitals Lung Transplant Doctors successfully performed a double lung transplant surgery on a Covid-19 patient.
The KIMS Heart and Lung Transplant team has performed 12 Covid Double Lung transplants and overall 50 Lung and Heart transplant procedures between September 2020 and April 2021.
This is by far the highest number of procedures performed at a single healthcare institute in Asia in the past eight months as far as COVID Double Lung Transplants are concerned.
What sets them apart, though, is their remarkable ability to handle the most complex and difficult cases. They also ensure to stay in touch with patients throughout their lives, offering them transplant-related assistance and education.
Institute of Renal Sciences
KIMS Hospitals Institute of Renal Sciences provides quality care for the treatment of all types of kidney diseases. For patients with renal failure, it provides acute and chronic Renal Replacement Therapy in a variety of settings, including in-centre, satellite and home-based haemodialysis and peritoneal dialysis.
Known across India as a pioneer in Kidney Transplant program having performed over 1000 transplants, the Unit offers comprehensive and end to end treatment for all Kidney related procedures. The dedicated team of Kidney Transplant Surgeons, Nephrologists, Urologists and critical care team along with State-of-the-art infrastructure at KIMS Hospitals makes it one of the best Kidney Transplant unit in India.
KIMS Hospitals has been at the forefront of the living Kidney Transplant programme for many years now, having one of the best success rates in the country. It is also leading the way in home dialysis treatment, offering patients the option of dialysing at home with dedicated team from staff to support them.
Institute of Orthopedic Sciences
The Institute of Orthopedic Sciences at KIMS Hospitals offers holistic care for all injuries and diseases of the musculoskeletal system. In addition, the department provides subspecialty clinics in the specific areas of major joint reconstruction, sports medicine, pediatric orthopedics, foot, hand, spine, trauma, oncology, reconstructive microsurgery and rehabilitation.
The department adopts a multidisciplinary approach, which links the expertise of specialists in orthopedic surgery, reconstructive plastic surgery, radiology, physical therapy, occupational therapy, and orthopedic nursing. This ensures that each patient receives the most appropriate and responsive treatment for their ailment.
Institute of Oncological Sciences
The KIMS Hospitals Institute of Oncology is one of the leading cancer hospitals in India, with many national accolades to its credit. The department collaborates with other departments and divisions at KIMS Hospitals to provide patients with comprehensive cancer care.
The expert team at the department comprises of clinical oncologists, surgical oncologists, medical oncologists, gynaecological oncologists, amongst others. They have extensive experience in the diagnosis and treatment of all kinds of cancer, including Brain Tumours, Head and Neck Tumours, Sarcomas, Melanoma, Kidney Cancer, Ovarian Cancer, Hepatoma, Biliary cancers, etc.
The Power Players Behind KIMS Hospitals Success
The key differentiators for KIMS Hospitals market success are its senior management team and strong shareholder support. They've helped spur immense financial growth for the company. In addition, they've been instrumental in successfully driving major business strategies, such as the rollout of greenfield hospitals, integration of KIMS Hospitals acquisitions, and execution of affordable healthcare models in Tier-1 and Tier 2-3 markets.
The company's senior management team consists of multifarious professionals who have a long and proven track record in the healthcare services industry. At the forefront of the team are Dr. Bhaskara Rao and Dr. B. Abhinay, two prominent figures in South India's healthcare space. Dr. Bhaskara, as mentioned earlier, has a rich experience of nearly three decades as a cardiothoracic surgeon. Dr. Abhinay, too, is an experienced professional who was featured in Businessworld's BW 40 Under 40 list in 2019. Since his joining in 2014, Dr. Abhinay has led several of the company's growth initiatives, including setting up the KIMS Hospitals, Kondapur facility and hospital acquisitions in Vizag, Anantapur, Kurnool, and Ongole. He is also responsible for KIMS Hospitals strategy, growth, marketing, and operations. On the financial front, Mr. Vikas Maheshwari, the CFO, has been running the show very efficiently and strategically. Vikas has over two decades of experience in finance and accounting and has worked in leading companies across different sectors. The other members of the senior management team have over 15 years of experience in their relevant fields. They cover various aspects of the company's operations, from information technology to biomedical services.
The Power Players that fuel KIMS Hospitals have ushered in a perspective-shift in the healthcare industry. They've not only set new standards for monetary success but also ethics and values in business. Thanks to their efforts, other hospital chains are now placing a strong emphasis on sustainable growth – a stark contrast from the usual 'numbers-chasing'. This has paved the path for several new models to holistically approach healthcare.
https://www.kimshospitals.com/