Webcap Technology: Leading Digital Marketing company in the country
Webcap Technology
Digital marketing is extremely important in today's age. One important goal that every business strives to achieve is expanding the business by increasing its customer base. It provides a medium for businesses to connect with customers in the online mode and is almost prevalent in every industry. Unlike traditional marketing, the scope of digital marketing is vast yet focused. With the splendid results gradually, everybody is growing with it. A leader in this domain offering exceptional digital marketing services, finest communication & high-quality deliverables at the best affordable price is Webcap Technology.
The inspiration behind starting the company
The promising market was filled with demand but an unsatisfied customer was waiting at the other end. After understanding the gap, Webcap Technology was formed as a Full Stack Digital Services company under a single roof. They offered multiple levels of services with an in-house team with maximum levels of client satisfaction. Their vision was always to help businesses in the domain of digital marketing services, drive results at an affordable price.
Initial hurdles
The market has drastically changed and looks very different from what it was yesterday. People have started understanding the importance of digitalization more than ever before. Initial when Webcap Technology started, not many people believed in the power of digital marketing and their dreams looked distant. The shift seen in those people now is tremendous and reflects the power of marketing over the years.
Being unique in a competitive world
Since its inception, client & employee centricity has been its core value. The brand ensures that the support team is always happy and motivated at all times that in turn ensures the deliverables sent to the client are of exceptional quality. The practice of delivering more than what was expected sets them apart from other players in the market. The channels of communication with the clients are always unhindered. To support all this, there are some strong strategies to organically promote business to get better visibility online.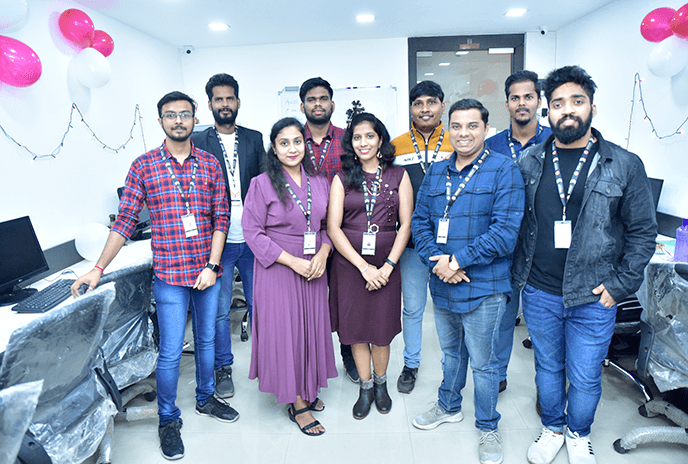 Webcap Technology | Team
Services provided by Webcap Technology
Webcap Technology provides some of the most effective and cost-friendly that one can implement to market the business and guarantees satisfying results far as business marketing is concerned. The core services are Website Development & Digital Marketing services. There are several digital marketing strategies that a business can implement to ensure that these goals are achieved. Among them, the most effective ways to market the business that are provided by the brand are mentioned below-
Digital marketing services
Search Engine Optimization
Social Media Marketing
PPC Services
Website Designing
Mobile Apps
Software development
These methods have also proven to be successful and using this, people have achieved the desired results with as minimal costs as possible.
Building a trustable brand
Why would people trust a brand? The simple answer to this is that they trust brands that are more consumer-centric and who share valuable content for their viewers. Personal and corporate bonding now plays a very important role in getting trust from prospects. Being available for the customers on all social mediums where they are active is paramount.
Winning the hearts of the customers
Webcap Technology's core values reflect a strong propensity toward being a customer-first attitude & employee-centricity brand. They have always had a long list of loyal clients who have stayed with them for long years and are actively contributing to their long last relationships. They can proudly say that they are privileged to get loads of referral work from their existing clients. The trust consumers have in the brand is immense and can be easily gauged with the frequent service feedback meets as well as survey forms for the customers to know how they can improve their offering and delivery. The first few things that enter the minds of their loyal customers are trusted providers, unmatched experience and high-quality services.
Keeping a close connection with clients
The clientele of the brand is very strong and with good tenure, their main focus is to ensure the end customer gets benefits from the services they provide. They have been fortunate enough to have clients who are very well connected with ethics and the vision of their business.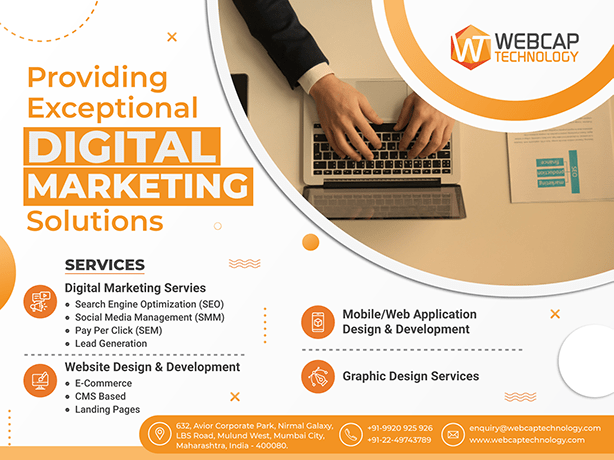 Webcap Technology – Leading Digital Marketing company in the country
Some of the effective marketing initiatives
If the company had to pick up from many, word of mouth and references have always been their best marketing strategy. Besides that, they also indulge in doing continuous organic and paid marketing for the company to reach out to the correct audience. The brand believes in a strong content marketing strategy to reach out as well as help the target audience and existing clients.
Future plans
The company intends to open their offshore branch in the middle east region with full tech capacity providing even better and faster support to the clients.