BitTRACK Foreign Education Consultants: A Dynamic and Trustworthy Leader in the Foreign Education Consulting Industry
COMPANY IN FOCUS 2023
Studying in foreign lands is a dream for students and finding the right guidance for the process is a task in itself! For this segment of "Company in Focus 2023," we have brought to you the magnificent story of a company that has made a distinct position in the foreign education consultancy domain. Today, BitTRACK Foreign Education Consultants has become the voice of students and individuals who wish to sail an enticing educational journey across boundaries. Under the leadership of Mr. Hemant Agrawal – the CEO, the company has grown exceptionally well. To have a free-wheeling conversation about the business model, vision, USPs', future endeavors, and a lot more, we invited Mr Hemant Agrawal to join us. It was quite thrilling for us to know about the different elements of international education services. We certainly believe that our readers will benefit from this tale and might as well start planning for their intake of studying abroad.
Motive Behind Company's Inception
Our first interest was to know about the company's inception journey. Mr Agrawal comes from a family of remarkable academics. Hence quality education has always been of utmost importance to him. To cater to those needs of quality education became his inspiration. During the 90's era, specialist education choices in India were not so prominent. It was a challenging task for every such aspiring student who wanted to pursue a program other than the regular programs available in India. They were mired in the hassles of looking for higher study options outside. Knowing the potential of Indian students, he believed that our students require international exposure to compete at a global level. In 1999, the opportunity of foraying into Foreign Education Consulting knocked on his doors. At that time there were very few consultants in the industry. Even the information on the internet wasn't sufficient to guide students planning to study abroad.
He knew what he could offer to the students and wanted to contribute significantly to helping those talent-rich students in making appropriate higher education choices abroad. All these years of excellence, the brand has witnessed numerous students making their journeys successful and takes immense pride in those endeavors!
Facing the Challenges
In a knowledge industry like this, there is a constant need for transparency at every single step. Without a well-trained workforce, a level of trust and authenticity can't be built. BitTRACK needed staff to have an astute knowledge of the education systems of different countries, their admission criteria, and visa conditions. During the team building process, they ensured that every member of the team had the maturity to provide appropriate career guidance to students based on their academic profile, career aspirations, and funds available to them. Agreeing with it, Mr Agrawal said that the biggest initial struggle was to build a dedicated and trained team. Nevertheless, even today, many of those challenges are still a big cause of concern for the foreign education industry. This happens due to the insufficiency of a formal vocational education system that would provide training in this area and generate the needed manpower as per the industry's norms.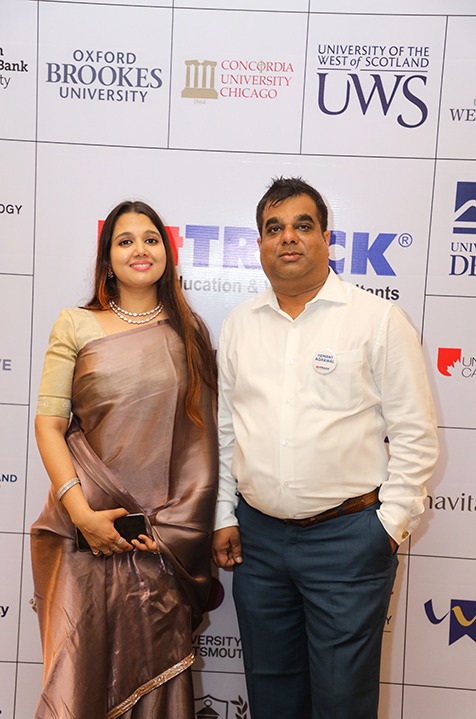 Secret Sauce to Customer Trust
When it comes to securing their child's future and investing their hard-earned money, parents are naturally yet immaculately skeptical about hiring anyone's services. The chances of denying those services are more unless there is a strong reference. Highlighting the testimonial of BitTRACK's quality services, Mr Agrawal said that more than 70% of new students come through the reference of their old/existing students.
BitTRACK's uniqueness lies in the accurate assessment of a student's case. The team gives ample time in understanding the essential requirements of every student. Afterward, they evaluate students' profiles and give comprehensive guidance to deliver what was promised. The team does not hesitate in saying 'No' if something is not possible. This ensures no compromises are being made to the brand's reputation and customers' trust in them. The team pours serious efforts into ensuring that customers feel valued in all aspects as their value is way more than the commercial aspects of the business.
Customers today are aware of what they need and do not rely on what a brand claims to be. They go by what they see, read, relate or experience about a brand. Customers know how to leverage review services and social media platforms to know what claims are true and what goes in the false box. They can easily find out about a brand's authenticity and performance from its existing customer base. The experiences of existing consumers become the guiding path for new customers. The retention of existing customers relies on their past experiences with a brand. The parents of BitTRACK's existing students robustly refer new students to the team. The brand also has existing associates referring its services to new associates thereby decimating the doubt factor.
Fundamental Principles of Corporate Integrity
Parents perceive BitTRACK as the flag bearer of supreme and streamlined guidance about their child's higher studies and career plans. They see the brand as a pillar of support and not as a commercial entity. The majority of the students and their parents have smiles on their faces after attending a counseling session and they leave remarks of triumph at the end. One common thought amongst all is that before coming to BitRACK they were so confused but after having a deeply-guided session, both parents and students gained clarity about the way forward. The brand's only algorithm for establishing its mark in the industry and lives of many is, by being transparent in their work and honest while dealing with all the stakeholders – students and their parents, employees, associates, vendors – everyone! The team feels profoundly blessed to get the opportunity to witness parents of their old students visiting them with new students and their parents. As mentioned above, all of that customer's trust is the major driving force for the organization.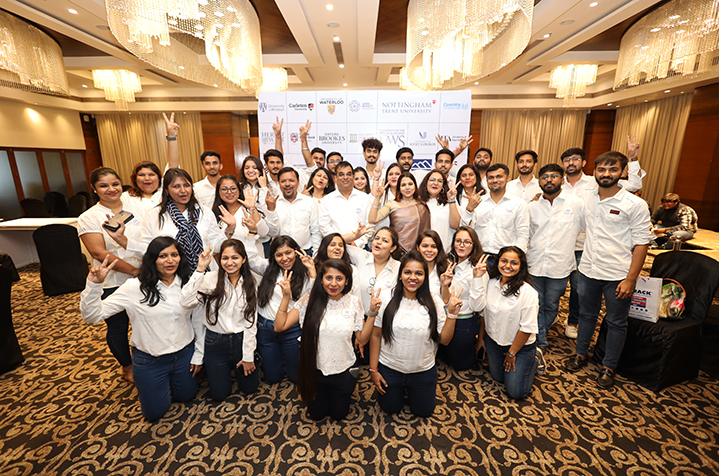 Ingredients to BitTRACK's Success
BitTRACK never had fancy marketing strategies for putting their services out in the industry. The work speaks for their brand's potential. The team believes in serving their existing customers with the best services possible and that promotes the business through word-of-mouth. For the sake of information provision, the brand has endorsed some online campaigns whenever they have reputed universities visiting their offices. Such auspicious occasions are used to call students to the offices to get their profiles assessed and to hear all the vital information from the authorities of these colossal universities. In addition to it, they also organize twice a year; the BitTRACK International Education Fair where BitTRACK invites delegates from 500+ represented institutions to its city. In this fair, both new and old students are given an imperative opportunity of meeting with these delegates and get all their queries resolved on a personalized basis.
The Road Ahead
Mr Hemant Agrawal shares a fact from the recent survey conducted by Leap and Global Market Research Company. The report says, "It has been projected that 57% of the Indian middle-class families aspire to send their children abroad for higher studies. Fuelled by the student's growing aspirations, the Indian overseas education market is expected to grow multi-fold and will see over two million Indian students fly out by 2025 spending over $100 billion on their international education."
Continuing further he says, "The survey also highlighted a new format of learning called hybrid format – where an overseas course is delivered partially in India and partially abroad. This has brought magnificent results in huge cost savings for the students without affecting their post-study visa rights or final qualification. Interestingly, even when this survey was not conducted, we were already working in the direction of talking to institutions about the hybrid learning format. Our focus in the coming years would be to make this hybrid format successful for our partner institutions and students. We have been a participant in the foreign education industry for almost a quarter of a century now and we enjoy the reputation of 'A Visionary' in the market."
Talking about the upcoming aspirations of 2023, BitTRACK manifests to become a pioneer leader in the industry. Knowing the power of technology, various plans for automating certain procedures within the company via technology, are in the process of making. The team is undertaking a major hiring campaign to provide a better level of service to their students and associates as well. Efforts are already in action to position BitTRACK on a higher pedestal of credibility. Indeed these efforts will make BitTRACK an avant-garde consultancy that people will trust when planning to send their kids abroad. Our Prime Insights team congratulates the brand on fabricating such empowering plans for the future.
Words of Wisdom
Mr Hemant Agrawal has tried and tested advice for all young professionals and he wishes to propagate the same via this article. He believes that there is no proven substitute for hard work, precision, discipline, consistency, patience, and honesty. These qualities are the simple yet holistic ingredients to anyone's recipe for success. To be successful, an individual has to imbibe these qualities. The sooner you realize this, the faster you will be able to reach your goals in life.