Mr. Sudhir Gurtoo: An Impactful Leader On A Mission to Redefine The Technical Outsourcing Industry
CEO OF THE YEAR 2022
Mr. Sudhir Gurtoo
A splurge in the demand for a reliable outsourcing provider which assists the automotive and manufacturing industry in an efficacious manner has grown to another level. Leadec is the name that knows how to do this with excellence. Today we have with us a noble paragon- Mr. Sudhir Gurtoo: Managing Director of Leadec India Pvt. Ltd. Our team had a wonderful time sharing a conversation with the leader who enlightened us with many intriguing insights about his company and the industry they're working in. Additionally, he also gave us insights on his impeccable entrepreneurial journey so far. This read will truly fascinate our wide readership panel and motivate them to break the barriers and fulfill their dreams.
Prime Insights: Please brief us about your company and its offerings.
Mr.Sudhir Gurtoo: Leadec India Pvt. Ltd. is a German-based MNC and is by far the most trusted technical outsourcing services company in the market. Our company provides KPI-based services for various manufacturing plants. We serve all Manufacturing sector clients from industries like Automotive, F&B, Pharmaceutical, Chemical, and Tyre amongst others. The range of our technical services includes the following:
Production Equipment Maintenance
Project and Automation Solutions
Production Support
Technical Facility Management
Reliability Centered Maintenance
IoT Solutions
Reusable Crating Services
We currently serve more than 60+ customers across PAN India and offer value additions such as Cost Savings/Kaizens, the highest safety standard, compliance, and deploying the latest processes.
Prime Insights: Kindly tell us about what motivated you to begin your business venture.
Mr.Sudhir Gurtoo: While working at Auto OEMs earlier, I was always looking for opportunities to improve service providers deliveries inside plant. I got an opportunity to join this new entrant in India. The Company was formerly known as Voith Industrial Services started 60 years ago. Our first customer collaboration was with Daimler in Germany. Our first Indian operation started in 2010 at Fiat, Pune when we had no team and today we are 3000+ employees in India.
Prime Insights: What are your mantras for maintaining a balance between the professional and personal fronts?
Mr.Sudhir Gurtoo: As digitalization and the flexibility of working from home are being widely accepted on a global base, all the operations and processes have become quite seamless for us. This allows me to spend quality moments with my family without compromising on decision-making. I can even share an incident of me handling work and adventure while I was on a trek to Kedarnath. I had to attend conference calls with a customer and my team while I was on the mountaintop.
Prime Insights: Is your story of struggle different from others?
Mr.Sudhir Gurtoo: Yes absolutely! I enter an industry where not many people stride. But we have sailed through the entire bubble of struggles and made Leadec stand where it is today. We are majorly focusing on professionalizing services which are seen as low-end in India like facility management, plant maintenance, etc. which is challenging in its own way.
Prime Insights: How do you align with the current market trends?
Mr.Sudhir Gurtoo: Staying ahead of the competition has always been our cup of tea. We profoundly invest efforts in Industry 4.0 development, Battery Services (EV), and participate in technology-related conferences regularly.
Prime Insights: What are your thoughts about the essentiality of Research and Development?
Mr.Sudhir Gurtoo: Research and Development are of utmost importance for our company. The team is down-pouring all the required efforts to enhance our R&D footprint in India. Leadec also pitches in future services in manufacturing and the wavering environment impacting our services.
Prime Insights: Do you feel CEOs today face equal competition?
Mr.Sudhir Gurtoo: Every entrepreneur has struggles to deal with. Competition has a different intensity in the products v/s services arena. The whole atmosphere in the manufacturing industry is still not safety, ethics, and compliance centric. So as the Managing Director of Leadec, I have an advanced competitive edge over my other Indian competitors.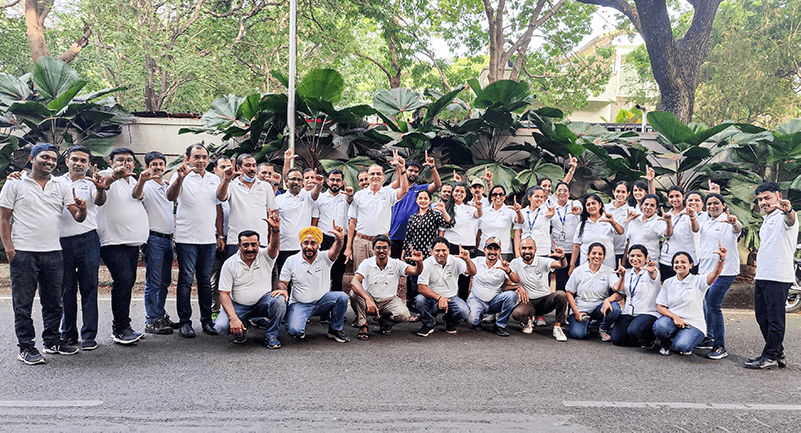 Prime Insights: How important is it to ensure employee contentment in your opinion?
Mr.Sudhir Gurtoo: Employees are an indispensable treasure for any business firm. Their contentment is directly proportional to the success of a service provider. So with that thought, we always seek opportunities to express gratitude for our employee's consistent dedication. We have multiple schemes to empower our employees. At Leadec, we believe in furnishing grounds of trust and pay a premium to teamwork. We practice an open and productive work culture where employees are encouraged to spend time with families and avoid night lamp burns.
Prime Insights: What is your source of motivation? What do you convey further to the ones who look up to you?
Mr.Sudhir Gurtoo: For me, I always admire and look up to those magnificent people who've done exceptional deeds for the betterment of society. People like Martin Luther King are my biggest source of motivation because the way they've impacted people's thinking approach is par excellence. I like to see my teammates be independent, confident and teamwork oriented in all aspects.
Prime Insights: What is your take on CEO's participation in the entrepreneurial world?
Mr.Sudhir Gurtoo: CEOs have an impertinent role to play in building the organization's culture and environment. CEOs need to have that openness towards new ideas even if these ideas originate from the lowest rung of the organization ladder.
At Leadec, we follow the same ideology and keep open listing sessions to pick up the best possible entrepreneurial ideas.
Prime Insights: What plans does the company hold in the coming years?
Mr.Sudhir Gurtoo: At present, Leadec is working in IoT and Industry 4.0 services. We are also in continuous engagement with our manufacturing customers to develop and build numerous services as per the anticipated trends of the future. For example- Assembling and Repairing EV batteries.
Prime Insights: Please tell us about the milestones and achievements made so far.
Mr.Sudhir Gurtoo: Leadec is proud of its contribution to working with the same clientele for over a decade in India and over 60 years across the globe. Leadec in India has witnessed a CAGR growth above 20% in the past decade. Now we have more than 3000 employees spread across India.
Prime Insights: How is your company giving back to society?
Mr.Sudhir Gurtoo:
We frequently visit and speak to students in colleges on various topics to guide and make them future ready
Leadec globally had arranged 60days challenge where employees had to Walk, run, jog and collect kms to which Leadec has donated 6060 euros to various NGOs as Leadec completed 60years of inception.
We have taken many conscious steps toward the change for the better of society. To talk about a few we support orphanages, blind schools, Organize blood donation camps, Tree plantation etc
Prime Insights: Is there any message you would like to share with our Prime Insights Readers?
Mr.Sudhir Gurtoo: My message for all the readers must be to continue with what you're doing with all faith and perseverance. A small failure means that you're going right on the road to success and your goal is not far away.