SPINE INFRATECH PVT LTD: An Illustrious Architecture Brand with a Flair for Innovation
The architecture and design industry in the country has witnessed an unprecedented boom in the past few years. Thousands of architectural firms, both big and small, have innovated structural models that've expanded the dimensions of design. While earlier viewed as a rigid science, architecture now is considered an adventurously creative front owing to their efforts. They've not just encouraged out-of-the-box thinking; they've completely transformed peoples' perception of the field.
Spine Infratech Pvt Ltd is one such sought-after Architecture and interior Design firm that is based in Delhi. The company offers customized, unconventional, and affordable solutions for corporate, residential, and retail spaces. In its 8 years of existence, the brand has successfully served hundreds of clients across a broad spectrum of industries and niches.
Spine Infratech

's Diverse Service Portfolio:
Spine Infratech is a brand that believes in combining functionality with aesthetics. Their ultimate goal is to optimize any given space in the best way possible. By conveying the client's vision to their team of professionals, the company aims at providing only the best possible outcomes. The following are some of the services the brand offers to meet the expectations of its clients:
Design Consultation: Exclusive Design Consultation services to effectively reflect the style quotient and lifestyle of the client. The team of professionals at Spine Infratech ensure that the soul of the client's philosophy is revived through their designs.
Turnkey Solutions: Comprehensive implementation services of civil and design schemes like flooring layouts, woodwork, false ceiling, lighting, plumbing, etc.
Bespoke Solutions: Tailor-made furniture pieces and lighting solutions to utilise the full potential of any space.
Project Management: Seamless coordination with multiple vendors to ensure timely execution of superior quality designs.
After Sales Services: Specialized solutions for any post project completion issues to ensure that the client is a 100% satisfied.
On-Time Deliveries: Timely delivery of all projects, thanks to the company's unmatched management skills.
PMC Services: Thorough consultation and monitoring of each project.
Workshops: Workshops to customize furniture pieces as per the client's requirements.
Owing to its irreproachable service, Spine Infratech is regarded as one of the highest-rated Architecture & Interior Design companies in Delhi. It has also won several accolades and recognitions for its immense contribution to the architectural field.
The Brand's Inception Story
Spine Infratech was conceived back in 2012 by two entrepreneurs, Alka Srivastava and Kapil Tyagi. They aspired to build an all-encompassing architectural services and design aesthetics brand. Prior to this, Kapil had collaborated with Alka on a few freelance projects. Inspired by their previous successes, they decided to undertake this venture. Their idea was to offer a one-stop-shop for all possible architectural, furniture, and design needs.
Since Kapil had a strong technical background through his experience in the architecture and infrastructure industry, he provided insightful ideas for the company. On the other hand, Alka took on the role of the Creative Director who ensured that the creative designs matched the client's vision.
Previously, both Alka and Kapil were involved in consultation work for the most part. Alka had worked as a designer in a design firm. Taking projects on a turnkey basis was quite challenging for them, as it demanded a huge team and strong project management skills. They also had to handle material procurements and source managing. Collectively, all this was extremely difficult to manage.
Despite the difficulties, however, Alka and Kapil managed to get the company off the ground. It gradually grew and began to attract more clients. Today, after 8 years since its inception, Spine Infratech has emerged as one of the most eminent architectural firms in all of North India. It has mastered the art of offering timely and efficient services while handling multiple vendors.
The Industrious Team at Spine Infratech
As the architecture and design industry mainly runs on word of mouth, it is very important for firms to have a reliable team.
The hardworking and diligent team of interior designers and architects at Spine leave no stone unturned while working on a client's project. All members are backed by over a decade of experience in the industry and are greatly adept at handling clients. Their goal is to not only fulfil the client's needs but also exceed their expectations in every way.
What makes the company unique?
Unlike other architecture firms, Spine tries to make the process of turnkey projects as transparent and flexible as possible. At every step of the way, the client is free to communicate with the experts regarding their work. For this very reason, the company has even introduced a PMC model through which the client is informed about the day-to-day progress. So far, the model has garnered quite a few positive reviews from the clients.
Trust is another major factor that the company aims to bank upon. "In our field, trust is extremely important as a home, office or a commercial space involves sentiments. In such cases, people generally would like to go with references. We are fortunate that we have repeat clients, which reiterates the fact that we are trustworthy," says Alka.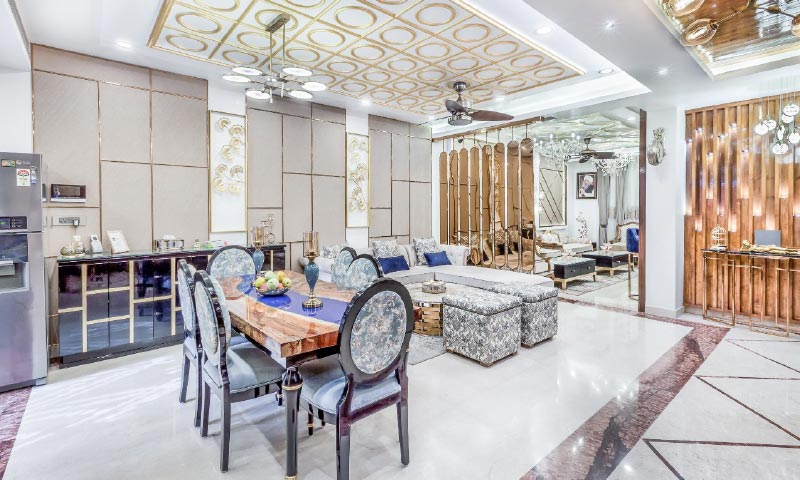 How the Company ensures Utmost Customer Satisfaction
The brand places great emphasis on customer satisfaction. According to the company, the customer is equivalent to a teacher, as every project teaches them about unique situations, experiences, and learnings.
To ensure utmost client contentment, the company focuses on after sales assistance, something that only a handful of design and architecture firms provide. "Since the beginning we have focused on timely delivery and after sales assistance, this has helped us achieve a unique position," says Alka.
Spine Infratech's Plans for The Future
Being a rapidly growing firm, Spine has numerous ambitious plans in the pipeline. Last year, the company had extended its services to PAN India. However, due to COVID-19, some of those projects were suspended.
As things are gradually falling back to normalcy, the company will be resuming those projects very soon. It will also be entering into the segment of luxury villas in North India. For this project, the company will be collaborating with a very senior and reputable architect over his highly prestigious project.
A Message to Aspiring Entrepreneurs
Emphasising on the need for consistent growth, Alka encourages young entrepreneurs to do things that seem difficult and inconceivable. She sums it up in 6 short words: "Step out of your comfort zone."