SkillDzire: A Real-Time Knowledge Platform That Helps Students Accelerate Their Career
SkillDzire
Online education has become a widely popular phenomenon amidst the pandemic. While some may complain that it deprives student of a "real classroom experience", there's no denying that it comes with a fair share of advantages. For instance, it enables students to learn at their own pace. It also adds more flexibility in the education system, allowing students and teachers to work around their schedule, as per their convenience.
At present, there are thousands of learning platforms available on the internet. Each of them make tall claims about their competency, however, only a handful live up to it. To add to this, most of these platforms charge exorbitant course fees and additional charges for subscriptions. Furthermore, they offer no guarantee of placements. Only a handful of learning platforms actually ensure that their services offer utmost value for money.
One of the e-learning forums that has been leading the way on this front is SkillDzire. Over here, students are trained by a multitude of industry experts. It is India's largest real time learning platform that offers guaranteed placements and certifications.
SkillDzire's highly competent experts, well-planned courses, and high student success rates have garnered immense recognition from the industry. Its exceptional record has earned it a place in our list of "30 most trusted brands to watch for in 2021".
An Overview of SkillDzire's Unique Features and Courses
SkillDzire is a sought-after real time learning platform that bridges the gap between industry experts and students. It offers a plethora of advanced courses, specifically designed to meet various industry's standards.
With the help of industry experts, the brand has curated a host of Technical and Non- technical courses like:
Electrical Online Course
Mechanical Online Course
Civil Online Course
Cybersecurity
Medical Terminology
Strategic HR Management
Digital Marketing
Investment Banking
Unlike other e-learning platforms, SkillDzire focuses on imbibing interactive features in its courses to help students grasp knowledge at a cellular level. By offering Online Live Sessions, Grooming sessions, Technical Quizzes, Virtual Industry Visits, Doubt Checking, etc., the brand aims at holistically priming students for success.
The Brand's Inception Idea & Success Story
SkillDzire was launched by Sreedhar Thokala and Srikanth Muppalla. Their idea was to help graduates hone their industry skills and offer placement opportunities thereafter. By launching a real time knowledge platform, they intended on connecting students with genuine industry experts at affordable charges.
Initially, SkillDzire started off with only one branch, i.e., Electrical engineering. Back then the founders found it difficult to convince people that real time skills were a lot more credible than normal degrees. Eventually, however, the soaring success rates of the brand spoke for itself. After getting an overwhelming positive response from students, the brand decided to add more industry-specific courses to the mix.
At present, SkillDzire has 25+ technical as well as non-technical courses taught by leading industry professionals and experts. The kind of success the brand has yielded in such short time has been unprecedented in e-Learning.

Real Time Knowledge, Real Time Results
What sets SkillDzire apart from its competitors is its unique learning system. The brand's course contents are prepared carefully, in adherence to industry relevancy and needs. By allowing students to ask their doubts and queries to experts in real time, the brand aspires to make all their courses more engaging and fun.
In addition to the fun-centric focus, SkillDzire's services are also characterized by their ardent customer care approach; it is perhaps the most powerful determinant of the brand's success thus far.
SkillDzire's Customer-Centric Approach
Many learning platforms on the internet are not so much concerned about customers growth as their monetary targets. For SkillDzire, however, a customer's satisfaction comes above all. "We always look out for our clients without any barriers. We see to it that we are there for them whenever they need our help," says Sreedhar
To ensure optimum client satisfaction, the company asks its customers one important question, "What are your specific requirements?". Based on their response, the company curates a customized solution within 48 hours. Sreedhar feels that asking such exact details can go a long way in the process.
Further elaborating on the core service components, he adds, "Almost all the operations in SkillDzire are based on trust and transparency. I can say strongly that we have India's best tech team who is dedicated to train our candidates with the latest skills and technologies."
Partnerships With Eminent Universities
SkillDzire's brand integrity is further strengthened by its collaborations with Top Universities in India. Given below are some of its leading educational partners:
Out of these, the brand's most noteworthy milestone is the MoU with SRM University, Chennai. It has also established an exemplary standard for ingenuity through its students' innovations.
Innovative Projects By Students
Over the course of the past few years, SkillDzire's students have come up with multifarious designs for innovative projects. Given below are some of the most exceptional ones:
A Chair Without Legs: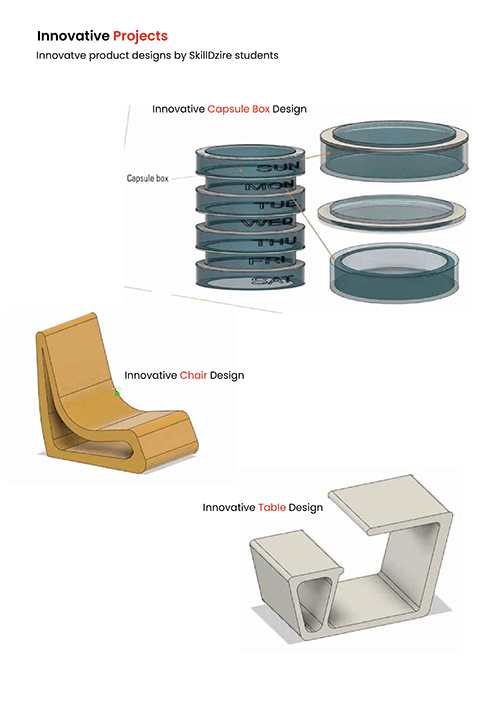 This design model features a minimalistic chair without legs or any such extensions. It is designed in a 3D Modelling Software called Fusion 360. The chair, made of pinewood, is lightweight, durable and can be used by people of all ages.
A Laptop Table Without Legs:
Also designed with Fusion 360, this helps prevent the inconveniences of a common Laptop Table, such as neck pain, muscle aches, and laptop overheating. The table is environment-friendly, portable, and can he used at home, office, as well as worksite.
Medicine (Capsule) Box
This design is especially beneficial for the elderly who have trouble recalling their medication routine. Each capsule box here is stacked over another displaying different days of the week: Sunday, Monday, Tuesday, etc. The boxes are used and placed at the bottom consecutively. A proposed improvement for this product entails further division into the compartments of Morning, Afternoon, and Evening.
Innovative Table Design
This laptop table has been designed using 13 components for assembly. It allows for a great range of movement for the laptop in rotation, extension, and inclination. The multi-component assemblage can be flexibly adjusted to accommodate various spatial and size requirements.
Heading Towards a Brighter Future
Being an educational platform, SkillDzire constantly updates its course materials and content per market requirements.
Having rapidly grown in a matter of just a few years, the brand has numerous ambitious plans in the pipeline. It has already added 5+ job oriented courses and 20+ SkillShots this year.
Speaking of the brand's ultimate vision for the future, Srikanth says, "We want to make more students industry-ready by providing real time skills. We also wish to expand our activities out of India this year."
Srikanth and Sreedhar are both confident that their growth trajectory will be robustly remarkable in the near future as well.

A Piece of Advice for Entrepreneurs
Having achieved so much in such a short span, there's no doubt that SkillDzire is maneuvered by some competent professionals. Both founders of the company are well-versed with entrepreneurship; they know exactly what ingredients are needed to achieve market success. Here's their short yet impactful message to our readers:
"Work towards change and money will follow automatically. Remember one thing, 365 days and 12 months aren't the same. You always have to be ready to any hurdles."