PAUL MERCHANTS: LEADING THE FOREX INDUSTRY FOR 3 DECADES
MANAGING DIRECTOR SHARES JOURNEY :
When an Indian dreams about the United States, Canada, London, and any other foreign country, there are not a few reasons that stress him before even going there. The stressing reasons could be expensive flight tickets, unfair currency exchange rates, unknown housing charges, etc. No one gets a free passage for life troubles. Still, some companies have been specifically established to help such people regardless of their nationality.
According to the historical reports, most people are unaware of the legal foreign exchange process and charges. It is among the reasons that sometimes the honest charges seem illegitimate or vice versa to the user. Recently, a study has shown that many Indians are moving or expanding their business to foreign countries. It gives rise to the demand for foreign exchange service providers who can help such users fulfil their dreams with honest prices.
Can A Single Company Render Multiple Mainstream Services?
Upon finding the companies that may offer foreign exchange companies, we came across Paul Merchants Limited, an established company that has been running the business for almost three decades. The company offers Forex services and International Money Transfer, Outward remittance, travel, Domestic Money Transfer, Gold Loan, and Tour services. Being established in 1991, it is appreciable that the Group has 130+ branches and over 8000 network partners to cover and serve all Indian cities. Paul Merchants Limited has a registered office in New Delhi, India, and a corporate office in Chandigarh, India. The branches are spread across the country from Leh Ladak to Cochin.
Although as an interviewer, we can only anticipate the possible positive outcomes from the mentioned-above services in general. It also increased our curiosity to meet and ask a few questions to the Managing Director of the company to find the secret mantra for handling an existing business and expanding to a large scale. Finally, we have received this opportunity to interview the most experienced and knowledgeable Managing Director, Mr. Rajneesh Bansal of Paul Merchants Limited.
In this interview, Mr. Bansal has shared light on the company's existence, offered services, his struggles, mottos, plans, and, more importantly, interestingly, CSR (Corporate Social Responsibility) initiatives of the company. However, it is not the company's achievements and accolades that we will be discussing today. Paul Merchants Managing Director's' skill set, struggles, efforts, and accomplishments are covered today.
Before beginning the interview, we asked Mr. Bansal about the passion that helps him work continuously, innovatively, and cost-effectively. To our surprise, he answered, "I always wanted to do something that can benefit society as a whole. I work towards delivering the finest services and products to Indian customers. "I am happy to carry forward the legacy of this business which my father started."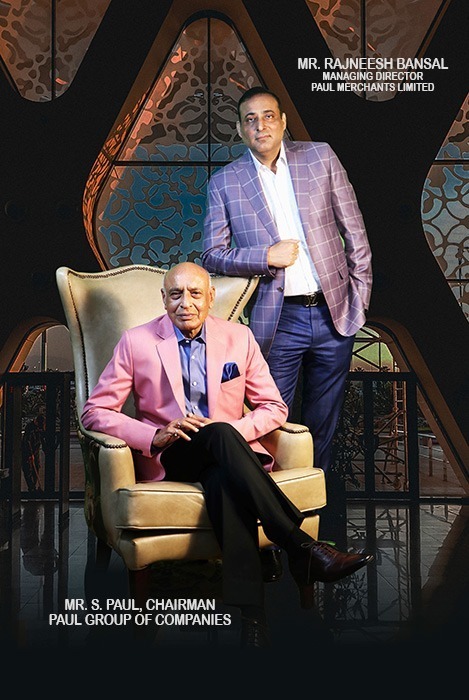 How It All Started?
Mr. Rajneesh Bansal began participating in the company's day-to-day operations at a young age. He began as a regular employee, where he discovered the value of customer involvement. Later, he was immersed in the company after earning his Master's degree at Victoria University of Technology in Australia. He has exhibited leadership skills by developing new product lines, integrating IT into the business model, and developing infrastructure. He was also engaged in the company's general strategy, management, and business operations.
In 1991, his father, Mr. S. Paul, acquired an existing firm and changed the company's name to Paul Merchants Limited. He went on to accomplish exceptional achievements in a short time. He began modestly, had a clear vision, and dreamed of achieving his goals.
What's The Current Status?
Paul Merchants Limited is a publicly-traded company whose shares are traded on the BSE (Bombay Stock Exchange). The firm has been around for 30 years and serves millions of customers across the country. To improve its operations efficiently for a better client experience, the group company always works with the greatest standards, high-tech tools, and cutting-edge technology.
The company's headquarters are in Chandigarh. It has 130+ branches and 800 workers throughout the nation, from Cochin to Leh. Paul Merchants Limited also has a network of 8000+ agent partners that assist the company in reaching out to even the most distant parts of the nation.
The Reserve Bank of India (RBI) has granted the company authorization to function as a Category II Authorized Dealer. Paul Merchants is a large conglomerate with diverse interests in industries such as Foreign Exchange, International Money Transfer, Tours & Travel. The Group Company is involved in the services of Gold Loans, Prepaid Cards, Domestic Money Transfer, Digital Lending, Insurance, etc. The objective of the company is to become a one-stop-shop for all financial and travel solutions.
The Needed Balance
As per Mr. Rajneesh Bansal, the daily schedule should include personal and work activities. One should make a to-do list to provide themself with a manageable range of chores to do. He also added that we face problems in business. Still, we can prepare for and overcome any circumstance with a good attitude, strategic dialogue, and an effective thinking process.
On the company's clientele list question, Mr. Bansal smartly answered us. He said that the financial industry is the most rapidly changing in today's civilization. Hence, He wants Paul Merchants to be renowned as the fastest evolving financial company. Total COMPLIANCE and Total QUALITY are two religions that the company follows, this has gained the confidence and trust of millions of customers. Depending on the services and products, he anticipates that the company's audience may change.
Paul Merchants – R&D
Mr. Bansal has a strong belief that any corporate's success hinges on its ability to do R&D. Before introducing new products, he believes that companies must research to ensure that their technology meets the needs of their users. At Paul Merchants, we put much effort into inventing and researching innovative methods to enhance the services and products based on user feedback that keeps us competitive in an ever-changing business by providing technological updates following client requirements.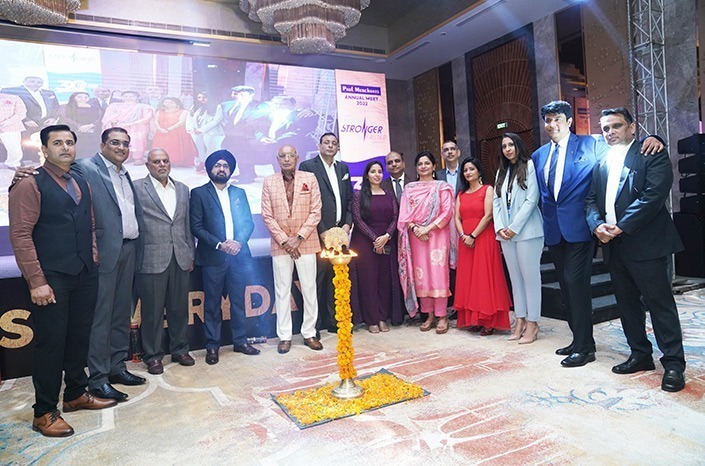 Cordial Work Environment
According to Mr. Bansal, the company values relationships. He has always believed that the value addition delivered by the company's co-workers is the key to business success. The company creates tight relationships with its staff and works closely with its business partners.
Tactics Needed for Today's Competition
Upon asking how Managing Director helps the company stay up to date and ahead of the competition, our belief of Customer First has put us ahead of our competition, our bundled offering and excellent customer services make Paul Merchants a preferred Choice. We believe in improving ourselves by continuously working on our strategies, services, and business plans. Use of technology also has helped us move ahead, with services offered through digital medium and services offered through physical location which takes us closer to our customers It is among the reasons that Paul Merchants' services and products are tuned to cope with every scenario, so the company can function with the needed efficiency that its customers have anticipated over the years!
Paul Merchants – Corporate Social Responsibility (CSR)
Not alone the company's Managing Director but the company itself is passionate about giving back to the communities. Mr. Bansal shared that the company has made it a goal to reach out to society As a result, the company provides a better way of life for the weaker members of our society and enhances India's human development index.
Mr. Rajneesh Bansal also mentioned that the company is devoted to inclusive growth and sustainable development. The company's CSR projects greatly influence people's lives and benefit the general public at large.
CSR Initiatives and Projects by Paul Merchants
DAWAI (Drugs and Wellness for All Indigence): This project aims to repurpose unsold, unexpired medications alongside reducing the financial load on needy patients.
DOST (Doorstep Oral Screening & Testing): This project aims to deliver community-based oral tobacco cessation and pre-cancer screening to at-risk people in society.
RAHAT (Rehabilitation at Home and Community Treatment): Under this project community-based treatment and rehabilitation services are offered for those suffering from mental illnesses.
Education of Girl Children: The Company has been sponsoring the education of Girl Children and it aims to provide scholarships to bright and deserving girl students.
The Company also operates a 70 bedded shelter in Chandigarh Medical College for patients coming from far places for treatment.
Provisioning of medicines and fodder for cows, Free Food Distribution, Medical help to the needy, Education Support, etc. are a few initiatives.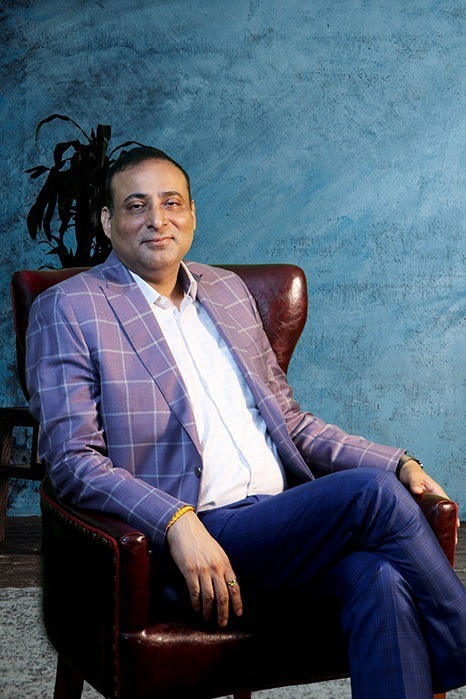 "A happy customer is a long-term asset, and a satisfied employee is the foundation of customer satisfaction". – Mr. Bansal
Future Plans
As said above the vision of the company is to become "one stop shop for all financial and travel solutions". The company will expand its physical presence by adding more branches and compliant agent partners to make its services available to the last mile. Many new product lines are also in pipeline which shall introduced in 2022-23.
The world is becoming digital. As a result, Paul Merchants' services are now going digital. The company will be adding a few more digital options in the future.
Mr. Rajneesh Bansal shared during the interview that the company is planning to launch many new digital applications. Upgraded Payment App Paulpay, with integrated Rupay Prepaid card and Gift Card. Alongside this application, the company will also be launching Coverpay (an insurance portal), Vridhi (a digital lending platform), Mayaa (a digital app for young generation), a Travel Portal 'PML Holidays' both in B2C and B2B models.
Message for Prime Insights' Readers!
Mr. Rajneesh Bansal before closing down the interview shared some inspirational words. He said that one must endeavour to attain objectives with an optimistic attitude, smart preparation, and an effective cognitive process. It is among the reasons that Paul Merchants has established itself as India's top travel and foreign exchange organization after servicing clients for 3+ decades. He also added that a responsible company should have corporate and self-regulating governance to ensure openness with business associations and customers alongside ethical standards.