OP JINDAL UNIVERSITY: ENLIGHTENING AND EMPOWERING INDIA WITH NEW-AGE EDUCATION CURRICULUM
THE MOST PRESTIGIOUS UNIVERSITY TO WATCH IN 2023
Gone are those days when education was seen as a score based academic qualification. Today, it is seen as a process of enlightening and empowering the citizens with their quality of life and economic development. Precisely, the quality education has been redefined as a process of building a holistic competence on the collective wisdom instead of mere conventional academic scorecards. The insights ushered with OP Jindal University, Raigarh follows this philosophy and truly empowers the Indian youth under the inspirational leadership of its Chancellor, Ms. Shallu Jindal.
Before moving ahead with the read, our Prime Insights team would like to pay immense respect to the momentous lady Ms. Shallu Jindal- Chancellor of India's first Private Steel University "OP Jindal University", President of Flag Foundation of India, Founder of National Bal Bhavan, and also the Chairperson of JSP Foundation and Jindal Art Institute. As surreal as her achievements are, her hard work over decades is the same.
Ms. Shallu Jindal is a true embodiment of charisma and excellence. Her passion for uplifting the marginalized sections of society with education and socio-economic powers is worth admiring. As the wife of another legendary leader Mr. Naveen Jindal, she is like an extension of dynamism. From Business to Education, from Arts to National crisis, she has contributed in many other numerous fields to strengthen the global education system. Her resilience and personality are like a diamond in themselves. We are enthralled to see our readers witnessing what true and symbolic women's entrepreneurship looks like!
Q1. Can you kindly express to us the inception ideology of OP Jindal University? What is the vision and mission of the University?
OP Jindal University was established in 2014 with the dream of the founding personality, Shri Om Prakash Jindal Ji, to empower the younger generations in India through pure learning. The objective is successful since each member and faculty of this university has been filling students with knowledge. Since its inception, the university has contributed to creating the best leaders for India and the world.
Vision: To become a role model among higher educational institutions globally aims at nurturing young minds to lead a sustainable transformation of society through excellence in value-based education, research, innovation, and entrepreneurship.
Mission: To empower India by educating younger generations with a solid education system and establishing the university among the top global private universities. It will include international collaborations to create partnerships to enhance the institutional building.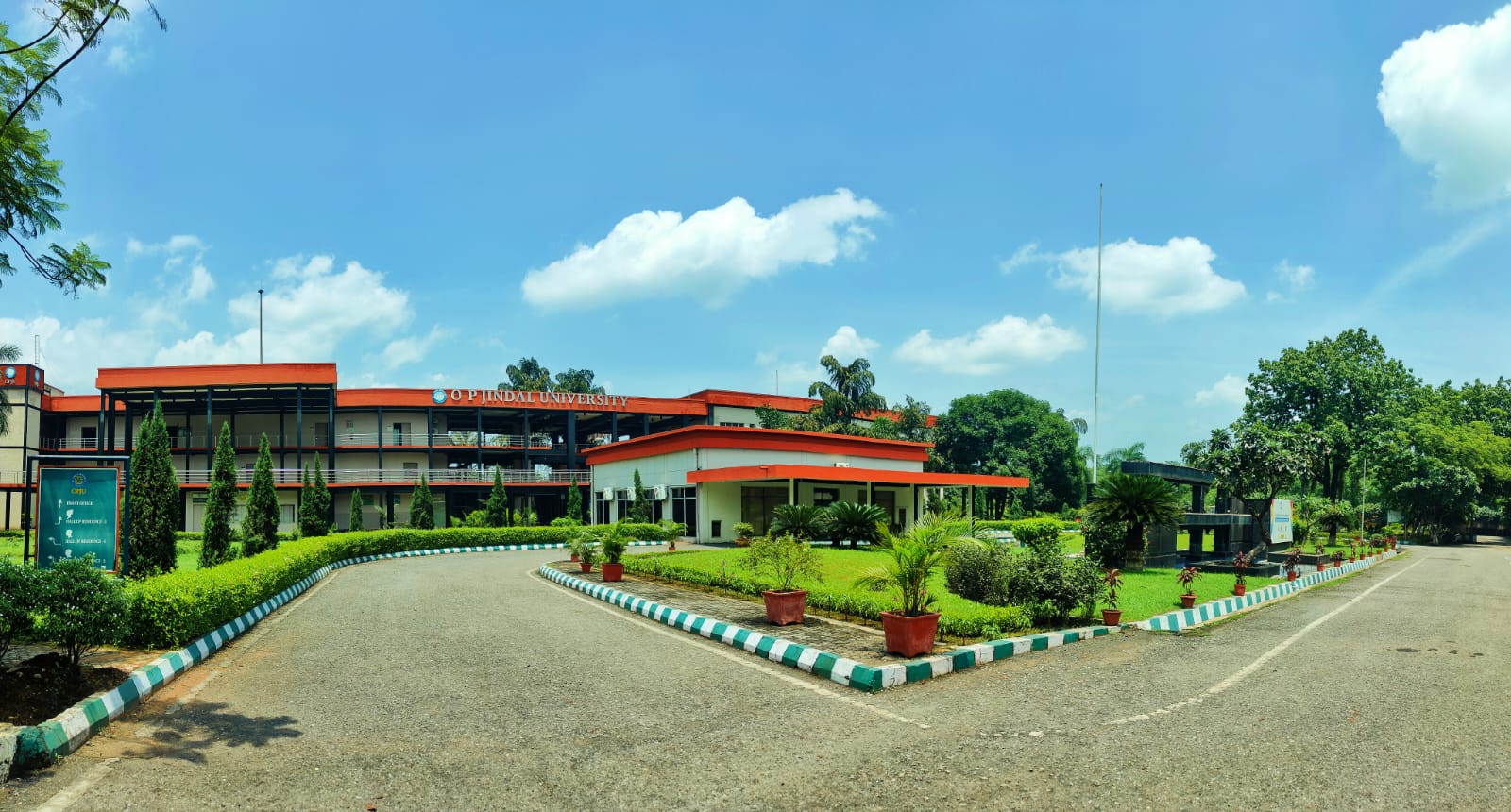 Q2. How OP Jindal University is addressing some of the pain points that exist in the education sector in the country?
OPJU believes in an education system that works to improve lives, lifestyles, careers, characters, and culture; grows the generation up; offers proper employment to each educated person; supports and develops technology; innovates and grows the world.
OPJU has shifted its learning techniques due to the emergence of hybrid learning sources that help young professionals acquire multidisciplinary skill sets and reduce their reliance on linear skills. If we go back, learning was restricted to the book's syllabus, but now OPJU is adopting modern educational content for the students. Also, equal importance is given to theoretical and practical methods to open up the minds of students. Instead of quarterly assessments, students practice participating in class assignments, real-life scenarios, industrial visits, etc.
Q3. What are the major benefits provided by OP Jindal University to the students when compared to other multidisciplinary universities in the country?
In Chhattisgarh state, OP Jindal University is the institute from where industry-linked learning and learning by doing pedagogy are streamed. The university was awarded as the best industry-linked institute in 2021 according to the AICTE CII survey. It is India's Top Emerging University, One of the Cleanest universities in India. The university offers an advanced curriculum that is affiliated with the best institutes in the world. It is the only steel university in India to offer an advanced industry-focused metallurgical and materials engineering program. One can feel an industrial buzz at this university as the faculty members are Ph.D. doctorates with industry experience. The university offers project and practical-based learning with the collaboration of the Jindal group of industries, Intel, Siemens, and other global industries.
Q4. What are the courses you provide to the students and how do you ensure the uniqueness of the courses?
OPJU provides courses that can fulfill students' and current industry needs and expectations. The university offers advanced engineering courses (B.Tech, M.Tech, and Ph.D.) in Mechanical Engineering, Electrical Engineering, Computer Science & Engineering, Civil Engineering, and Metallurgical & Materials Engineering. The school of management at OPJU offers B. Com. (H), BBA, MBA, E-MBA, and Ph.D. The School of Science at OPJU has the Physics, Chemistry, Biotechnology, Mathematics & Humanities department which offers B.Sc, M.Sc, and Ph.D. degrees. The departments' uniqueness is their direct exposure to the industries, unique pedagogy, many digital initiatives & a vast library for better student learning opportunities, Spoken Tutorial Projects, the opportunity of using free and open software, time to time Individual Learning Workshops, and different skill enhancement programs.
Q5. What are the various infrastructural and modern-day facilities you provide to the students?
OPJU is the best university in Chhattisgarh in the aspect of infrastructure. It is lush green with modern facilities for students. There are facilities like advanced Computer labs, Sports facilities, Gym, Medical facilities, Cafeteria, Physical and Digital Library, Gym, Auditorium, Hostel, Laboratory, and a unique transportation system. The university established many centers of excellence such as Steel Technology, Industry 4.0, Weld 4.0, logistic management, Research Excellence, etc. 100% placement assistance and long-term paid internship opportunities in world-renowned companies like JSP, JSW, Infosys, Amazon, Tata Motors, Vedanta, Wipro, Mahindra, ICICI Bank, TCS, etc. The university provides a highly conducive and professional environment to its students through hands-on practice in modern state of art laboratories and training in the industry. The courses are designed and continuously upgraded based on the present industrial needs.
Q6. What are the pedagogical methodologies adopted by the faculties at OP Jindal University? How do you ensure the quality of faculties?
The pedagogical methodologies adopted by the faculties at OPJU are- Collective Thinking, developing critical thinking in students, classroom polling, mock tests, strong emphasis on the core content, and assessments. Careful planning on successful teaching, structured mentoring and career guidance, industry-driven curriculum, live projects, learning management system through models, exposure to the world through international collaborations and associations, and innovation and entrepreneurship through centers designed for the same. At OPJU, students are nurtured, created, and polished for an enriching future. The experienced faculty helps in building bridges between learning and career, thus chalking out a systematic path for the future. The educators ensure that every student develops the right kind of attitude, aptitude, and attributes for a good future.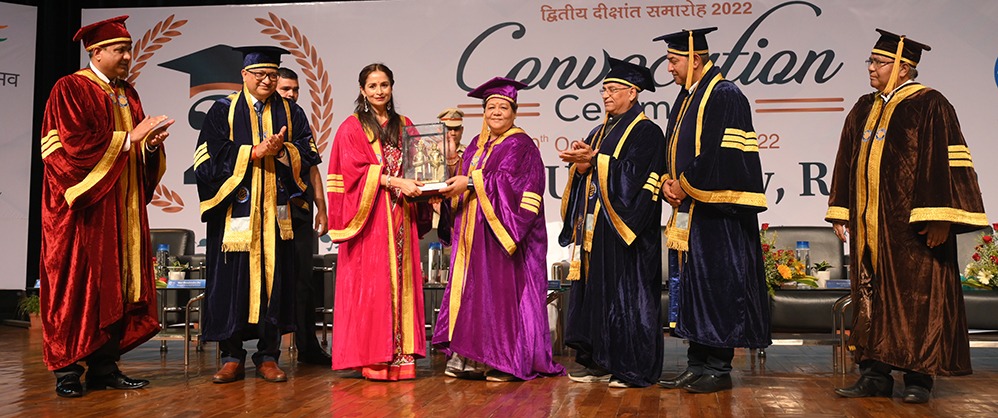 Q7. How is OPJU helping students from economically weaker sections of society – to continue with their learning journeys?
Shri O.P. Jindal believed that giving financial support towards education is the best possible way to strengthen the underprivileged section of society. In this way, they can come forward and fully realize their potential, uplifting themselves, their families, and their whole community.
OPJU, with the support of parent organizations JSP and the JSP foundation, provides a range of entry-level and merit-cum-means scholarships to deserving students who come from financially weaker backgrounds. The scholarship extends up to Rs. 75000 per annum depending upon the eligibility criteria of students. OPJU students are also eligible for appearing in one of the most prestigious national-level scholarships named OP Jindal Engineering & Management Scholarships (OPJEMS). These scholarships serve as a stepping stone for talented students so that their skills and aptitude can get the right exposure and recognition instead of suffering due to economic paucity. In the end, these promising students succeed on their merit and hard work; the scholarships are only to ensure that financial limitations do not become a hindrance for any deserving students of OPJU, Raigarh.
Q8. Do you have any industrial collaboration? What are the placements and internship opportunities students get at OP Jindal University?
Global businesses want to collaborate with the university because Working with the university provides businesses of all sizes and stages of development with access to expertise, skills, and facilities to help drive innovation and significantly enhance their competitive edge. We have collaborated with JSL, Capgemini, Aditya Birla, NECO Group of Industries, ALKEM, DS Group, Reliance, DRDO, BARC, and JSW Steel.
OPJU is a university linked with the Jindal group of Industries. Every year, the industry provides huge placement to engineering, management, and research scholars. The university collaborates with 10+ global partners. The university has top-notch recruiters from all over the world. The average salary package given by the recruiters is 6 to 7 LPA to the eligible students. The highest salary given by Amazon to a CSE engineering student is 33 LPA. The highest salary given to a management student is 10 LPA. Almost 80-85% of students get placements every year. A total of 46 placement drives had been conducted in 2021. You can visit the university site for more details. Apart from this, the university provides opportunities to students for internships in the last semesters. Our institute was placed on the first rank in Internshala internships while learning practical skills from different sectors of the industry.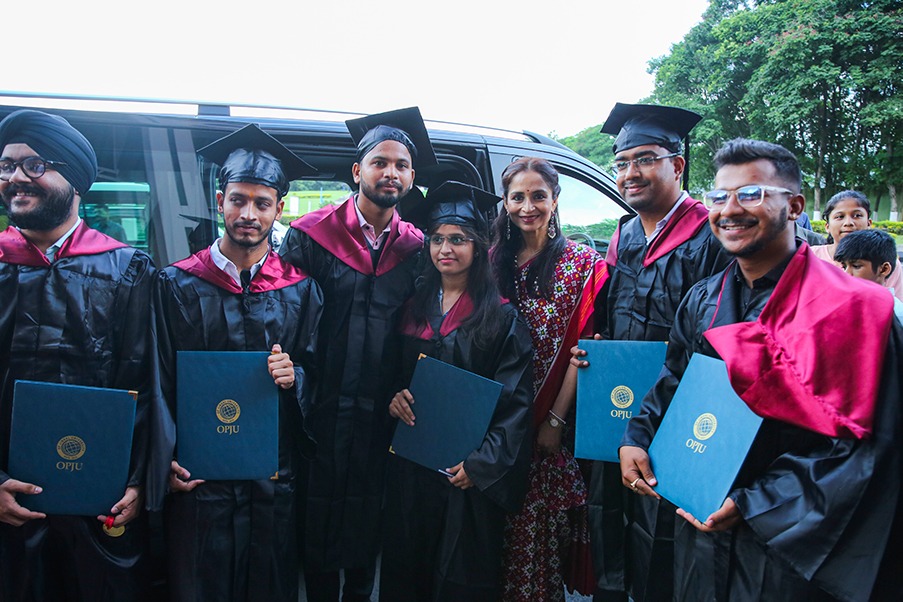 Q9. Do your students participate in any extra-curricular activities? Could you tell us about their achievements in those events?
OPJU has different clubs on campus that the students can join during their academic sessions, besides their competitive academic environment and co-curricular activities. We understand the importance of such clubs as these groups ignite students to become an overall package and be ready to face the real world. These societies help to develop soft skills, learn teamwork, provide various networking opportunities, etc. Participating in a student society teaches you these skills and helps you improve your existing skills. You will learn the best way to communicate with individuals and large groups and gain emotional intelligence as you develop new relationships.
Post the second wave of COVID-19; we have organized several club activities. SAE Collegiate Club activities under SAEINDIA are one of them. The department of Mechanical Engineering, OP Jindal University, Raigarh in association with the Institutional Innovation Council (IIC) and SAEINDIA inaugurated the OPJU-SAE collegiate Club through online mode on 10th June 2021. This club provides practical collegiate club provides practical exposure to a professional engineering society as well as a focal point for campus engineering programs and projects. SAEINDIA Collegiate clubs offer student members and organize programs and activities, fellowships, and leadership experience.
Q10. How do you ensure that your faculty members are completely aware of the latest developments in the education sector? What are the various faculty development programs available for the teaching staff in your institute?
Quality teaching is the use of pedagogical techniques to produce learning outcomes for students. It involves several dimensions, including the effective design of curriculum and course content, a variety of learning contexts, soliciting and using feedback, and effective assessment of learning outcomes.
OPJU ensures that the education we offer meets the expectations of students today and for the future.
We focus on new teaching and learning paradigms-
Continuous upgrading in pedagogy, use of technologies, and assessment models aligned with student-centered learning
Creating innovative learning platforms
Bridging teaching and research more intensively.
Q11. How does OP Jindal University intend to function at the end of the ever-changing industry scenario? What is your road map ahead?
At the core of the university's philosophy and approach lies the belief that students learn best when exposed to real-world situations and when nurtured through enriching interactions with practitioners and professors. We at OPJU believe that every student has innate potential that can be unlocked through quality teaching and mentorship. To sharpen more talents we are working to have more global partners and prestigious recruiters. On the other hand, we thrive to develop programs and courses aligned with new-age technologies to create an industry-ready talent pool that fuels the growth of society. We also look forward to maintaining the highest standards of ethics and integrity in all its operations. Develop sustainable practices and concern for the environment.

Following are the core values we are working upon-
To empower students with lifelong career decision-making skills.
To generate awareness in the students regarding future career options available to them.
To assist students to develop and implement successful job search strategies.
To help Upgrade the students' skill sets commensurate with the expectations of the industry.
To guide students to develop/clarify their academic and career interests and their short and long-term goals through individual counseling and group discussions.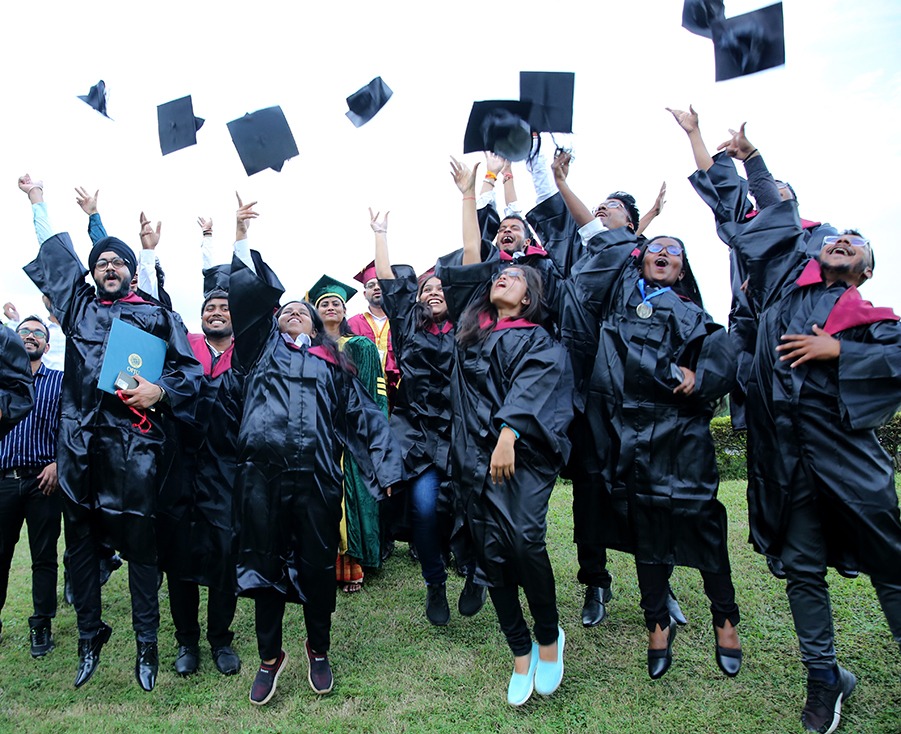 Q12. Finally, what do you want us to highlight in the story? Do you have anything further to add?
OPJU, as an institution has brought high-quality education by having committed faculty members, a world-class curriculum, and following the latest teaching methods. In the university's philosophy and approach lies the belief that students learn best when exposed to real-world situations and nurtured through enriching interactions with practitioners and professors. Our placement records are setting benchmarks for students every year. Our top recruiters will consider their capabilities and years of dedication at the time of placement. The five pillars of OPJU are – Industry linked programs, contemporary pedagogy, research excellence, collaborations and partnerships, and career support. We consider it the pillar of progress at OPJU.