Mr. Abhimanyu Khanna: A Dynamic Leader Determined To Take Employee Engagement Solutions on a Stellar Height
The 10 Most Inspiring Business Leaders In India 2022-23
Abhimanyu Khanna
It is evident that employees are the "roots of an organization". The deeper these roots grow, the stronger an organization can withstand any circumstances with a smile! Being constantly surrounded by work deadlines, multiple roles to handle, and working for that perfection becomes exhausting for real. Having a monotonous work life can hamper any employee's productivity. What if the employees have the opportunity to enter into a parallel workplace filled with enthusiasm? A world where they can handle these tasks with a joyous vibe and become the best version of themselves?
It may sound quite a lot to some but Take a Break (TAB) Consulting has been a true champion in revolutionizing an ordinary workplace to a hotspot of ebullience. Since the company forayed into the picture, they are on an ever-lasting mission of reforming every workplace that needed a productive and interactive environment for the betterment of employees. It is Mr. Abhimanyu Khanna- CEO of TAB Consulting joining us today for a captivating interaction. The leader discussed the roller-coaster ride of entrepreneurship and how his company delivers those peculiar engaging services. In the future, the company wants to add positive values on the professional and personal front. Our readers will be whole-heartedly inspired by his entrepreneurial journey featured in this special edition named "Entrepreneur of the Year 2022".
Before moving ahead with the article, we would like to give a brief introduction of the dignitary. Mr. Abhimanyu Khanna, an alumnus of University of Cambridge is a pioneer business graduate and his interest inclines towards creating things that are different from the standard images. The aura of his ambition, gratitude for his team, and perseverance make him an incredible entrepreneur. His team-building ideas are an added charm. His dynamic leadership and management lessons peek through the programs he conducts via TAB.
Prime Insights: Please tell us about your company and the inception story associated.
Mr. Khanna: The story began in 2008 when we understood the true gaps in the work-life an employee has to go through. We knew that just introducing some simple and practical changes in a workplace can accelerate employees' productivity n-times. The motive was to deliver Employee Engagement Solutions and work on the areas which needed a vigorous build. After analyzing a workplace we curate training modules, team-building activities, and resource management strategies accordingly. The special range of game shows focuses on many important skills like-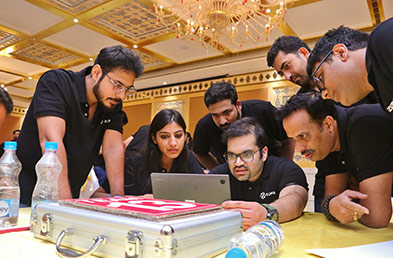 Team Work
Decision Making
Communication
Leadership
Time Management
Leveraging Resources
Strategy Planning
Tech-Building
Team Stimulation
Yearly Engagement Calendars
Event Management
Corporate Training
Fun@Work Programs amongst others
All of these skills need to be taken care of because they're vital for employees as well as for the company's growth. Today we are a major player of India's pioneer Corporate Outbound Training Providers and have served more than 185 clients across India. We are also managing 160+ events and 70+ game shows annually. More than 279000 participants have been a part of these game shows. These game shows focus on engaging employees with physical, mental, and innovative challenges in the form of interesting activities. This exercises their creative sides and makes them more confident of their potential. Our workplaces become an integral part of our lives and if it doesn't feel like one, then it leads to lesser productivity. Our activities are bound to upscale work morale, maintain that positive attitude, and generate job satisfaction.
Prime Insights: What challenges did your company face during the initial stages?
Mr. Khanna: Right after we began our journey in April 2008, we had to face the shadows of recession. Till August 2008, we were expecting our work to pick up its pace. Those months of manifesting for work were tough for the entire team. But we knew that even if companies aren't planning to spend on lavish meetings or awards, they will invest significantly in their employees. So that spirit kept us going! We never took our clients casually in any situation. We safeguarded that barometer of trust at all costs.

Prime Insights: What is your company's approach while serving the clients?
Mr. Khanna: Our Company is always on the front foot to connect teams with their purpose. We support our client's business objectives and bring a new edge to their brands with accuracy. Thrive for designing games is relentless, as we want our clients to build a team that can create wonders. All of it is customized for an effective impact and is driven by knowledge, intricate research, and dedication. The Tab Innovation Effect is maintained by a leadership team so that our clients enjoy a unique stratum of end-to-end employee engagement. We love conducting team-building programs because it reminds us of that good old spark every time! Moreover, we always leverage the latest technological trends showing up and incorporate them in the successful rekindling of the workforce. Every pointer of the client's demand is touched with attention and is discussed in detail while developing the activities for them. The team remains in touch with the clients round the clock and monitors the execution with proactivity.
Prime Insights: How did you stamp your mark in the industry and the heart of customers?
Mr. Khanna: We have made successful collaborations from various industries like Banking, Finance, Research & Analytics, Travel, Hospitality, IT, Pharmaceuticals, Healthcare, BPOs/KPOs, Real Estate, and many more. Our distinct events are categorized under Teambuilding, Innovation, CSR, Power of Play, Fun Game Shows, Sports, and Wellness.
Our industry mark is all about discovering modernistic ways to engage and entertain. Our ideology is always out of the box and our urge to innovate has made us trendsetters. We ensure that our customer ecosystem is filled with majestic ideas. Our company never had a marketing team in the past. Here the work speaks for itself and clients have no choice but to reconnect back for that spark!

Prime Insights: What are the distinguished facts about TAB's work culture?
Mr. Khanna: As we are prevailing in the contemporary business bubble, it is a conscious task for us to stay aware of all the tech forces in the market. For that, we make sure that our team is exposed to a strategic training process. It is a veritable example of "Be the change you want to see in the world".
Our work environment is inspired by a fun-loving culture. The ambiance has a recreational and energetic vibe to it. All the recreational elements and broad office space help our employees to un-rewind and create state-of-art ideas. That comfort zone of working with healthy pressure constantly motivates our employees to enjoy their professionalism rather than getting subdued under unnecessary pressure.
Prime Insights: What makes you stand out from the competition?
Mr. Khanna: We feel our honest approach towards work and innovative solutions makes us stand out each time. We make sure we thrive on every expectation with excellence.
Prime Insights: What is your take on the essentiality of technology for your business model?
Mr. Khanna: TAB Consulting has welcomed technology in all aspects. We are proud to be an outbound activity provider that has introduced interactive apps to engage and motivate users about our vision. Our apps have something for every taste and every personality! For example, our interactive technology-based apps like- Murder Mystery, Spy School, Corporate Escape, The Pitch and Level Up, City Explorer, and Pub Explorer are the destinations for adventure. While being fun to operate, these apps are designed to instigate logical thinking, decisive actions, entrepreneurial thinking, business acumen, and problem-solving urge. All these masterpieces are tech-driven!
Prime Insights: Please tell us about the milestones the company has garnered over these years.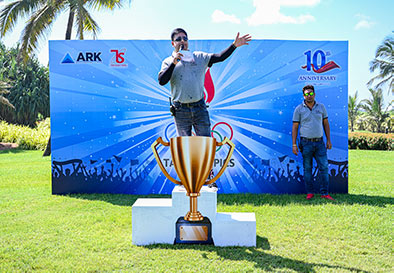 Mr. Khanna: The line of events that followed our success trajectory, are as follows-
In 2010 we secured our first international program. Our client from South East Asia facilitated our team to fly there for an offsite project.
In 2011 we established our first-ever office in Delhi. Before that, the team was confined to a room with a nominal setup.
After working for five years in Delhi, we shifted our office to Gurgaon in 2016.
The first-ever award came in 2018 when we were felicitated with "Best Team Building Activity of the Year Silver" in the prestigious WOW Awards Asia.
In 2021 we grabbed the award of "The Best Employment Engagement Solutions Provider in the World" from a well-known UK-based media house.
Prime Insights: How is your company working for the betterment of society?
Mr. Khanna: As we are on the road to shaping a better world to live in, our company has taken many CSR activities within its 100-acre township which include
Keeping the parks clean
Organizing Plantation Drives
Festival Celebrations
Serving the less fortunate people with meals and other necessities
During the COVID pandemic, we distributed concentrators and medicines