Meraki Projects (India) Pvt. Ltd: Sketching a New Horizon of Excellence in the Engineering Consultancy Domain
COMPANY OF THE YEAR 2023
Meraki Projects (India)
"The path of an entrepreneur in engineering consulting is marked by exercising creativity, exemplifying resilience, and showcasing a relentless pursuit of excellence."
For its illuminating editorial release "Company of the Year 2023", Prime Insights invited Mr. Manish Saxena, CEO at Meraki Projects (India) Private Limited. The conversation was intended to travel through Mr. Manish Saxena's entrepreneurial journey so far and imbibe empowering lessons from the excellence he has fostered. Our team had prepared a bunch of inquisitive questions for the dignitary, which helped us weave this enticing read for our global readership panel. We wholeheartedly hope that this release will bring valuable entrepreneurial lessons into the lives of our extended family.
The Inception Story
An ISO 9001-2015 certified company, Meraki Projects (India) Private Limited was founded in 2017 by Mrs. Madhvi Saxena and Mr. Manish Saxena, who observed and understood the rich potentiality of the engineering consulting market in India. They knew that the market will offer immense opportunities only to those inquisitive individuals having thorough knowledge of ABCs of the industry.
Being a dominant professional in the consulting industry for over 35 years, they have successfully delivered large projects throughout their professional sphere. Looking to the market potential, suggestions from various clients, and the immense support of their family, they embarked upon their journey of entrepreneurialism.
With these six years of operations, Meraki Projects has spread its horizons to the USA, Nepal, Sri Lanka, and Bangladesh. Meraki Projects envisions ranking itself among the top global engineering consulting firms by the end of 2025. The team strives to work within challenging time lines, adhering to rigorous quality standards, and bringing exceptional value to the table.

A Glimpse of the Company
Headquartered in Mumbai, Meraki Projects (India) Pvt. Ltd. is a leading consultancy firm offering multi-disciplinary engineering services to a plethora of industries like FMCG, pharmaceuticals, cosmetics, Heavy Engineering, State of Art Logistic Parks, personal care, and healthcare, amongst others.
The company conducts all services with close coordination for the integration of projects, resulting in cost-effective and timely project completion using the latest software such as AutoCAD, Revit, AEC-IC, Product License, Advance Staad Model, and Smart Plant 3D & 3D Max.
The company's sole aim is to deliver cost-effective, supreme-quality, and reliable engineering consulting services by showcasing complete transparency and integrity with the stakeholders, i.e., clients, suppliers, vendors, and contractors. The team comprises seasoned Head of the Departments, Lead Managers, Engineers, Architects, Interior designers, Schedulers, Commissioning Specialists, Technology Experts, Designers, and Project Management Experts with astute hands-on experience in the industry. To foster an organic arrangement within the organization, the team delves deep into clients' needs and customizes solutions to fit their expectations.

The Service Portfolio
Concept initiation and project development in consultation with clients
Preparation of Detailed Project Reports
Exclusive preparation of the architectural, civil, and structural, process, mechanical and piping, electrical and automation, HVAC and fire drawings, elevations, sections, perspectives, isometric projections, cut-sections, walk-throughs, and physical models.
Preparation of perfect, safe, and feasible structural designs, aligned with architects' imaginations
Review of detailed designs
Designs for alternative and innovative schemes
Review of drawings
Site-inspection
Preliminary designs
Detailed engineering investigation
Detailed designs for all disciplines
Detailed structural drawings
Stability Checks, NDT tests and providing the Strengthening Schemes with drawings for old structure to enhance the bearing capacity of new requirements.
Finalization of structural and finishing schemes
Quantity calculation and specifications
Approval of designs and drawings
Estimation of each item in detail
Deep market analysis for precision in finalizing the total project cost

Navigating Through the Initial Adversities
Any entrepreneurial journey is fueled by an unfazed determination to overcome challenges. During the initial days, Meraki Projects had to face its own set of challenges. Soon after its inception, Meraki had to endure the COVID-19 pandemic. But with consistent team efforts, a complete work-from-home model, inclusive strategies, and commitment, Meraki Projects overcame the pandemic and synchronized its financial situation. By delivering the projects successfully up to the client's satisfaction level, the company garnered the customer's trust, and since then there has been no looking back! The quality of the services reflected excellence and strengthened Meraki's market position.
"We at Meraki have always placed customer satisfaction at the core of everything we do. In the growing competitiveness of the market, we are grateful for regular work leads from our repetitive clients. It is a testament to our perseverance to fulfil the responsibilities we have on our shoulders, and we are moving forward with more ebullience to outperform", says the CEO, Mr. Manish Saxena.

A Closer Look at Admirable Achievements
To expand its footprint across global boundaries, Meraki Projects (India) Private Limited has registered itself in the USA under the name "Meraki Projects LLC". In 2024, the company will open its new office in New York. The team at Meraki is gearing up to offer its expertise and stamp its unwavering commitment to excellence, innovation, and customer satisfaction on the global landscape.
Meraki has endorsed successful collaborations with respectable companies like Hindustan Unilever Limited (India, Nepal, and Bangladesh), Lenskart, Lakme, Godrej, Huber Technology, Moreish, General Mills, The Rudraksh Group, and Cargill to name a few. The company is in line for its vender code registration in order to sign upcoming crucial collaborations with tycoons of the business landscape.


Mr. Manish Saxena: The Trailblazer Behind the Firm
Mr. Manish Saxena is a strategic leader with Mr. Manish Saxena is a strategic leader with profound expertise in handling challenging engineering projects, monitoring progress, reviewing contracts, and quantity surveying, amongst others. From design to implementation, he closely monitors that all the paradigms of the projects are implemented as per the specifications within the stipulated time.
Mr. Saxena is also a tech enthusiast who is proactive about exploring and using the latest engineering tools and cost evaluation methods for producing efficacious solutions for organizations. The dignitary has established an impressive record of excellence while facilitating clear and concise communications between design, architectural, and construction professionals, permitting agencies, municipal authorities, and project stakeholders.
Adieu and Advice from the Luminary's Desk
With that, we wrapped up our conversation with Mr. Manish Saxena. Our editorial team expresses gratitude to the dignitary for sparing his valuable time and collaborating with us. We are excited to see Meraki Projects India Private Limited unfurl the paradigms of its growth with flying colours. To conclude this read on an impactful note, we asked Mr. Saxena to quote some knowledgeable nuggets for our global aficionados and enlighten their minds. Here is what he quotes: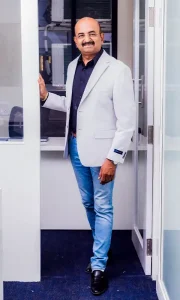 "For all the aspiring entrepreneurs and individuals seeking opportunities to venture into the entrepreneurial ecosystem, I advise you to remain confident about the purpose you have chosen to make a difference. During the course, you may find yourself surrounded by judgments and doubtful remarks about your decision. However, your confidence, capabilities, and commitment will lead you to great success. You'll make mistakes and fail despite putting in profound hard work. But these failures are only a testament to the 3Cs, which I just mentioned. Keep pushing your comfort zone and pay attention to learning new things."