ISUN Group: An Endeavor to Empower India with a Sustainable Energy Future via its Finest Product Line
The 30 Most Trusted Brands to Watch in 2023
"Successful businesses always start small but have a grand vision and a purpose behind them."
Prime Insights got the opportunity to feature an entrepreneurial tale that is filled with the essence of perseverance, positive ideology, and a resilient attitude to surpass challenges. ISUN Group was started by four individuals who came from humble farmer backgrounds, respectively. Resolute enough not to do any job in the corporate world, Mr. Prakash Patel, Mr. Akash Joshi, Mr. Ketan Gondaliya, Mr. Hiren Patel and Mr. Manoj Shekhat knew that either they would dedicate themselves to farming or doing their own business. During their graduation days, the panel of these four leaders decided to leap into the challenging and competitive business ecosystem without having many resources in hand. With ardent faith in their intellect, they took the road of entrepreneurialism and created a remarkable legacy. ISUN Group holds seven subsidiary companies and one trust that are listed as follows:
ISUN SOLAR PVT LTD: The company provides solar structures for industrial and ground-mounted projects for both Indian and International clients.
ISUN INFRASTRUCTURE: The company provides megawatt-scale Solar EPC projects.
ISUN ENTERPRISE: The company has set up its Hot Dip Galvanizing Plant at Shapar Rajkot, Gujarat.
IV SQUARE STRUCTURE PVT LTD: A factory at Padavala, Rajkot. In this, the team functions with a roll-forming machine for C and Z channels and Highway Crush Barrier.
ISUN BEVERAGES LLP: This is the latest venture of the ISUN Group to venture into India's beverage industry and highlight the importance of making healthy choices. The company launched its first natural product, "Jaldhi Tender Coconut Water" in a 200-ml variant. The company is also launching two new and completely natural products to its product portfolio, namely "Jaldhi Natural Nimbu Soda" and "Jaldhi Natural Nimbu Sharbat". These launches are lined up for the month of August 2023.
VSTAR SOLAR ENERGY: The company provides services around solar project installation work.
Shree Umiya Sheet Metal: This subsidiary of the ISUN group deals in the manufacturing of Aluminum Solar Module Mounting Structures (MMS). The company holds its in-house anodizing plant at Bakrol, Ahmedabad.
Jaldhi Foundation Trust: The guiding mantra of ISUN Group is 'Give Little, Get More'. As a part of its CSR activities, ISUN Group laid the foundation of the "Jaldhi Foundation Trust" with an endeavor to support the dreams of children coming from poor family backgrounds. Through this foundation, numerous children will be able to fulfill their dream of education, and no financial crunch could hinder their dreams. Through this serene endeavor, ISUN Group demonstrates its resolute mission to uplift society and make a meaningful difference.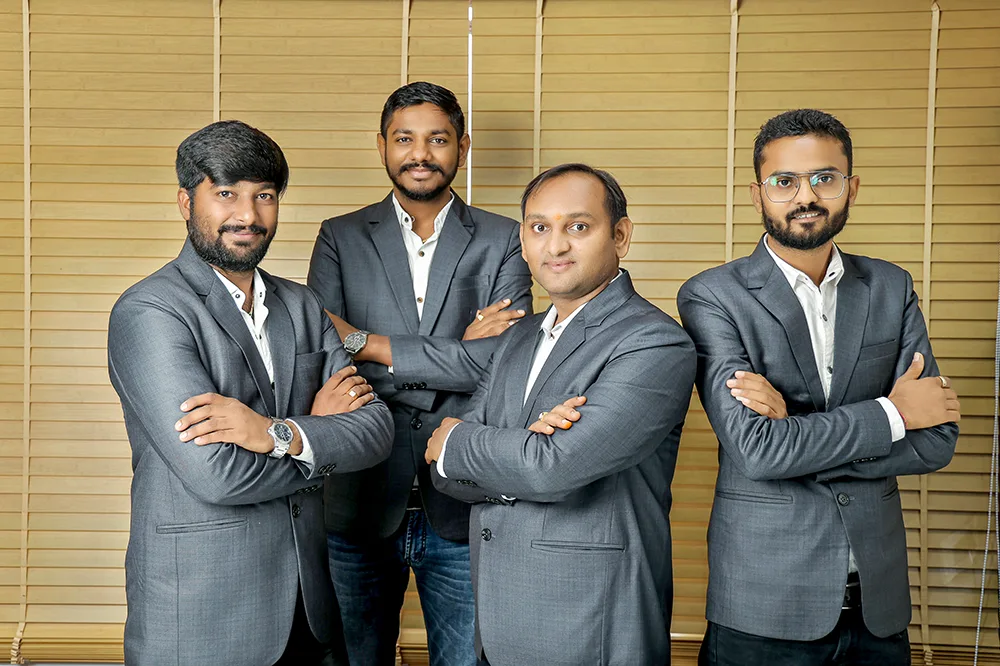 We invited the Board of Directors of the ISUN Group, Mr. Prakash Patel, Mr. Akash Joshi, Mr. Ketan Gondaliya, Mr. Hiren Patel, and Mr. Manoj Shekhat to have an enticing conversation with our editorial team. The dignitaries discussed the various aspects of ISUN Group's journey so far and walked us through their inspiring entrepreneurial tales. The conversation turned out to be magnificent, and we are elated to present the description of the ISUN Group, which, in addition to creating benchmarks in diverse industries, is also committed to delivering excellent customer experiences. Hence, we are enthralled to feature ISUN Group under the exclusive segment "The 30 Most Trusted Brands to Watch in 2023".
The Inception Tale
After completing their BE (Bachelor of Engineering), Mr. Prakash Patel, Mr. Akash Joshi, Mr. Ketan Gondaliya, Mr. Hiren Patel and Mr. Manoj Shekhat started doing jobs in a Solar EPC company. While working there, they gained valuable experience in the solar industry and worked closely on major solar projects. After gaining a considerable amount of expertise and work experience in the solar industry, they collectively started ISUN SOLAR PVT LTD. The company began its journey by endorsing numerous small-sized residential solar projects until it got a breakthrough in one of the industrial and ground-mounted projects.
Being completely bootstrapped, ISUN Group faced its own set of challenges. Finding the right manpower, skilled professionals, and financial support were some of the major challenges. The solar industry had grown crowded by the time ISUN Group ventured into it. There were already many established names in the solar industry that were taking the lead. Not only did ISUN Group take it as a healthy challenge, but it also curated strategic plans to create a benchmark of its own.
Building Robust Alliances with the Customers
ISUN Group has always been at the forefront of providing qualitative, comprehensive, and accurate services to its customers. The team believes in serving the clientele with transparency and adequate knowledge. The team at ISUN Group comprises skilled and knowledge-equipped engineers that hold commendable expertise in creating high-octane and sustainable deliverables.
A key differentiator is a brand's distinct and unique value that sets it apart from its competitors within the market. In an industry where competition is increasing, ISUN Group is implementing synchronized action plans to differentiate itself from others and increase its market share. An Integrated Project Management System is followed where the team has complete freedom to articulate their thought processes, come up with innovative ideas, and set swift paradigms of communication within the organization. The culture is family-like, and each employee upholds the firm's work ethics.
Talking about the marketing initiatives, ISUN Group has garnered a critical edge by delivering immense value to its consumers. Because of this, the firm's expertise is spread by word of mouth and organic advertising. ISUN Group ardently believes that word of mouth creates a trustable image in customers' minds and helps strengthen the faith of new customers in its services. The team sees its customers as prominent project partners. They also remain in proper touch with the client even after project completion to assist the client in various aspects. Even if any query arises in the future, the team takes the upper hand in supporting the client, which further solidifies the business alliances.
With a focus on bringing about a strong shift in the solar industry and shaping the vision of a sustainable India, ISUN Group has spread its horizons to different segments. Clients are connected with ISUN Group through different verticals like solar, fabrication, hot-dip galvanizing, and beverages. A huge portion (nearly 50%) of the new business leads come through referrals and repetitive orders. Whereas 30% of the orders come through digital channels and the remaining 20% come from exhibitions, events, and exports.

Adding New Categories
As discussed earlier, ISUN Group introduced a new segment of natural beverages under ISUN BEVERAGES LLP with the brand name "JALDHI". Jaldhi is the goodness of pure coconut water in a bottle. As coconut water holds an indispensable place in our Indian lifestyle, Jaldhi has the potential to become a versatile product in the Indian beverage industry. Packed with essential electrolytes, Sodium, Potassium, and Dietary fibers, Jaldhi promises to become the superlative drink to stay hydrated, energized, and prevent dehydration. Not only the nutritional benefits it gives but also the cost-effectiveness and travel-friendly packaging of Jaldhi make it a massively scalable product. The product will soon be distributed in many other states like Maharashtra, Rajasthan, Madhya Pradesh, Punjab, Himachal Pradesh, Delhi, Assam, and other states.
Future Prospectus
ISUN Group holds the serene mission of connecting the maximum number of people with the firm and creating umpteen employment opportunities for Indian youth. ISUN Group has established itself as a pioneer by keeping a vigilant eye on quality and consistently raising the standard of its services. In the realm of leveling up its current market position, ISUN Group is also working on upgrading its in-house services, bringing efficient engineering equipment, and garnering in-depth mastery of the industries the team is currently working in.
Wrapping up the read here, it was a privilege to feature the ISUN Group on our platform and inspire our global readership panel with its brand story. Prime Insights truly values the legacy that ISUN Group has created and manifests to see the organization unfurl many new chapters of success in the coming year.