Dr. Urvashi: A Visionary Educator on the Frontiers of Leadership Education
Global business is sitting on the cusp of a new momentum driving skyward. As e-commerce and global retail take an upward turn, business education institutions strive to deliver the next big stock of leaders and visionaries. IMS Ghaziabad is one of the biggest institutions in India's business leadership schools. Dr. Urvashi Makkar serves as IMS-G' Director and her vision is defining the most promising proteges in India's entrepreneurial and business management space. She reveals many key education industry and management market trends in an insightful review with Prime Insights. Here are its biggest ideas, opinions, and outtakes:
Overview of the Institution
IMS Ghaziabad has been an illustrious management institution for the past 32 years. Its PGDM program holds accreditation with the AICTE and the National Board of Accreditation (NBA) along with the ASIC from the UK while also holding membership with the AACSB Business Education Alliance in the USA. Further, the institution holds ISO 21001:2018 Certification for its PGDM program. This two-year program conforms with the Management Systems for Educational Organisations (EOMS) standard starting from October 2021.
Dr. Urvashi is IMS' Director and serves as the Master Trainer for the globally acclaimed 'AICTE- UKIERI Master Trainer's Programme. This is part of the Technical Education Leadership Development Programme (TELDP). She is also part of the Council of Management of All India Management Association (AIMA) which serves as India's apex body for management professionals. She currently serves as the Representative of Corporate/ Institutional Members for the year 2021-2023.
IMS Ghaziabad also has a rapidly evolved curriculum to which it has added several new specifications to keep up with market dynamics. Most recent introductions include Artificial Intelligence, Business Analytics, and Design Thinking. The institution has also added video conferencing setups for Cisco WebEx, ZOOM, Avaya Scopia app, and others. This is to help students, educators, and recruiters interact better and collaborate faster.
Leadership Decoded
Dr. Urvashi believes in leadership that excels through inspiration. She believes a true leader must have the capacity to inspire peers and subordinates alike. Any projects they undertake will be driven by their inspiration and zeal for working with others. This is a crucial element of business leadership along with learning agility. She explains that this is the ability to adapt to emergent market trends and patterns. Agile recognition and response measures enable leaders to execute smart strategies and deliver better results. Hailing from a family of academicians, Dr. Urvashi has witnessed how strong academic foundations make capable leaders. The blends the pedagogical elements of management education with real-world applications. Applying leadership to practical settings enables students to better actualize motivation in a streamlined and prepared manner. This gives them a head start in their careers and top picks for recruiters.
The Motivation Mantra
Dr. Urvashi considers holistic learning and application the core idea behind the motivation process. Keeping a steady working process and driving towards goals requires insights, adaptability, and an eye for what's around the corner. A creative thrust for nurturing and transformative process headed by leaders capable of learning, changing, and innovating is best poised for success.
At the same time, applying a democratic development process allows for creative innovation while bringing out the best in everyone. It also creates a sense of safety in the team and fosters greater teamwork and innovation. It is well-known that leaders who motivate team members individually get more out of them as a whole. This means establishing transparent and clear-cut aims, deliverables, communication, efficiency reports, and feedback including resource allocation and execution. The team runs the process while leaders can take a more leaned-back approach to address key performance points and the future plan. Dr. Urvashi asserts this dual-toned approach makes IMS grads a cut above all other management professionals fresh out of the lecture hall.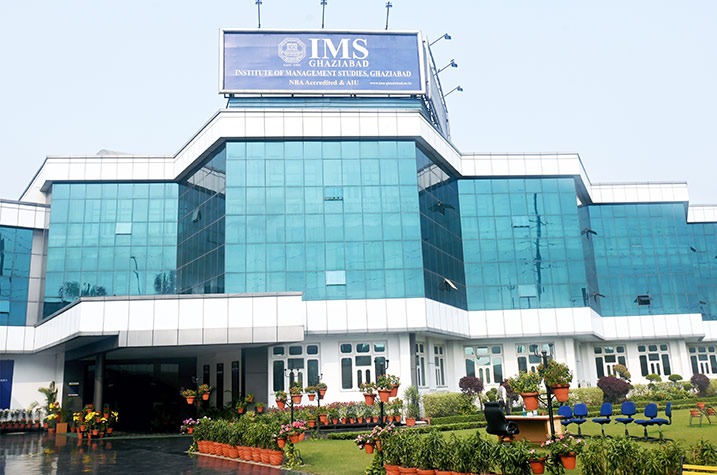 IMS Ghaziabad
Tipping Trendward
IMS Ghaziabad is a training ground for the best in management because of its Academic Excellence imperative. According to Dr. Urvashi, they take a triple dimensional approach that includes Corporate Readiness and Global Exposure. These core focus considerations are hinged on developing critical competencies of strategic thinking, analytical implementation, and specialized knowledge and management skills. The institutions also include Value-Added Certification Programmes from Microsoft, MSME, etc. to give students options for high-skill developing certification courses. Alongside, IMS has included Value-Added Short-Term Training Programs and a dedicated Centre for Innovation & Entrepreneurship.
Simplifying Success
The success mantra that illudes several top B-schools and grads is something of a matter of course with Dr. Urvashi and IMS Ghaziabad. She believes all their educational efforts are directed towards the process of nation-building. She defines success as a measure of holistic growth and processing efficiency. This idea blends into her every classroom discussion, course structure, and curriculum expanse. Her success mantra comes down to imparting quality education with a strong focus on right out of school corporate readiness. She also believes her family anchors her to his life's work and the ongoing pursuit of success.
Ideas to Drive Innovation
Dr. Urvashi Makkar pictures the future resting on the shoulders of the youth. She leverages this ability on what he calls the "Power of Anticipation" which basically pitches predictive foresight to update systems before they go obsolete. She recommends all management students understand and utilize emergent trends and respond to them realistically. This will help them address challenges of career and company growth easily. Preparing for unforeseen conditions will also get easier since they are in the habit of making agile responses to market conditions and growing against competition instead of comfort. She quotes her catchphrase as "To define is to limit!" and encourages students to pursue greater height with boundary-defying enthusiasm and a pursuit for excellence.
https://www.ims-ghaziabad.ac.in/