Diwali 2023 : Laxmi Puja Muhurt, Date and Time, Festive Sales, Offers & Muhurat Trading and more
All You Need to Know About the Festival of Light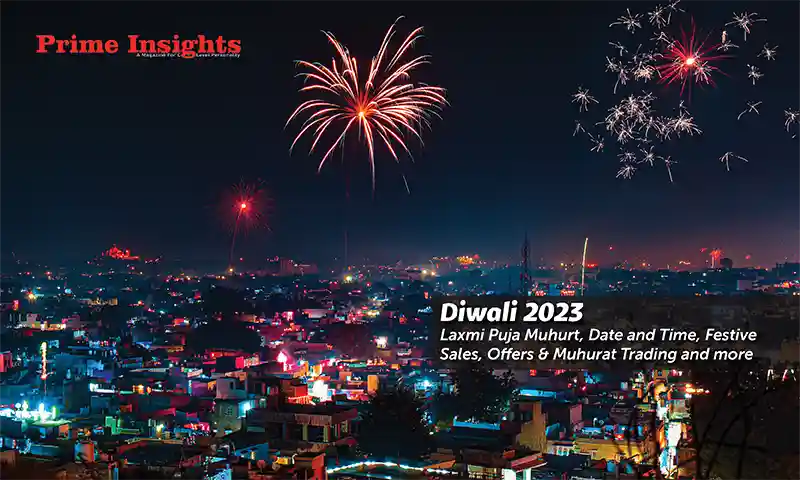 Diwali 2023 : Laxmi Puja Muhurt, Date and Time, Festive Sales, Offers & Muhurat Trading and more
Introduction
Diwali, or the Festival of Lights, is one of India's most beloved and widely celebrated celebrations. This ancient and lively celebration is culturally and spiritually significant. Families, friends, and communities gather to celebrate the triumph of light over darkness, good over evil, and wisdom over ignorance as the stars and moon align in the Hindu lunar calendar. Diwali is a time of enormous festivity and unity, with the mesmerizing glow of millions of oil lamps, colorful rangoli patterns adorning doorsteps, and thunderous laughter and joy.
We delve into the heart of Diwali in this article, uncovering its date, auspicious timings, holiday rituals, buying frenzy, and the importance of safe and meaningful celebrations. Let us go through the magnificence and light of Diwali, uncovering the cultural fabric that has made it a global beacon of hope, renewal, and shared enjoyment.
The Diwali Festival
This is the most important festival celebrated in the country, but it is also significant among Hindus living in other areas of the world. The rich symbolism underlying this light celebration represents the value of joy and harmony, as well as the triumph of light over darkness. The day is observed to obtain the blessings of Goddess Laxmi, the Goddess of riches and abundance. The event, which lasts five days, is commemorated on the fifteenth day of the Kartik Maas, according to the Hindu Panchang.
Diwali is a five-day festival
The Hindus' most important event is celebrated over five days. The following are the various festivals that are celebrated with great zeal during the auspicious Diwali dates and times.
| | | |
| --- | --- | --- |
| Date | Day | Event |
| 10 November 2023 | Friday | Dhanteras |
| 11 November 2023 | Saturday | Chhoti Diwali |
| 12 November 2023 | Sunday | Diwali |
| 13 November 2023 | Monday | Govardhan Puja |
| 14 November 2023 | Tuesday | Bhaiya Dooj |
Diwali's Astrological Importance
The Diwali dates and times have a lot of astrological significance. The new lunar calendar begins on this day, signaling the start of the harvest season in the country. The planetary placements at this period are so auspicious and beneficial that new enterprises can be started without a muhurat to obtain money and prosperity.
Furthermore, the Sun and Moon are conjunct at this time, bringing a period of harmony and abundance in everyone's life. These celestial bodies are located in the Libra zodiac sign, in the feminine constellation Swati Nakshatra. Libra is a sign of balance, therefore the arrival of this holiday season brings together love, joy, wealth, and health in people's lives.
The Importance of Diwali
Deepavali, which loosely translates to "row of lights" in Hindi, appropriately depicts this holiday since on this day, devotees decorate every part of their home with diyas, lights, candles, rangoli, and flowers.
It is significant not just because neighborhoods are ablaze with attractive decorations and captivating fireworks displays are a wondrous sight to see, but also because it represents the triumph of virtue over evil. The underlying meaning of Lord Rama's victory over the demon king Ravana is the triumph of knowledge over the darkness of ignorance.
This day is celebrated throughout the country, with the entire country bathed in a blaze of multicolored lights and diyas, creating an atmosphere of joy and excitement. This auspicious day is highly anticipated not only by Hindus throughout the country, but also by Sikhs, Buddhists, and Jains, highlighting the spirit of fraternity that is a key element of our society.
Rituals Related to the Diwali Festival
The festival of lights is widely celebrated, and the days leading up to it are eagerly anticipated by everyone. Here are some of the most well-known rites related with the festivities of Lord Rama's homecoming to Ayodhya-.
The festival is especially significant because of the significance of the cleansing ritual linked with it. It is done with care as people clean their homes to not only remove dirt but also to let go of their troubles from the past. It represents recreating oneself before entering the sunshine of this auspicious day.
In the days preceding the festival, family members gather to clean and decorate the house to rid it of all negativity.
To welcome prosperity, houses are decked with lights, diyas, and rangoli. With Diwali, the seasons change as winter approaches, signaling the start of a new season, and thus this festival and its decorations welcome newness into every area of our lives.
Another important tradition associated with this holiday is shopping. During this festival, new items like gold, silver, garments, electronics, and so on are purchased, especially on the occasion of Dhanteras, as it is considered auspicious and is supposed to promote abundance in our lives.
Sweets and sweets are abundant in stores and households alike. Gujhiyas, rasgullas, laddoos, barfis, and other celebratory treats make everyone's mouth swim. On this occasion, gifts, primarily containing sweets, are exchanged among close friends and family to lend a touch of sweetness to the day and our relationships.
While the cheerful ritual of blowing firecrackers is especially popular among children, it is traditionally thought to be significant in warding off evil forces. The lit sky with pyrotechnics is breathtaking. However, moderation is required because firecrackers are harmful to the environment and should be avoided.
Beautiful rangolis composed of colors and flowers are a vital component of the day's traditions. On this day, intricate patterns are built at the house's entryway to welcome Goddess Laxmi. Rangolis are further embellished with diyas to mesmerize visitors who come to visit on this day.
The Legend of the Diwali Festival
We are well aware that this festival is held to commemorate Lord Rama's return to the kingdom of Ayodhya after a fourteen-year exile in the kingdom of Ayodhya. On this day, however, there is another mythology about Goddess Laxmi's rebirth. According to legend, the Goddess of Fortune fled the divine world and plunged herself in the ocean as a result of Indra's pompous behavior. The world was in disorder without the graces of the Goddess of Prosperity, plunging it into darkness.
All of the Gods pleaded with her to return. Goddess Laxmi was reborn on the petals of a lotus flower after thousands of years. With her reincarnation, the world got her blessings once more, which is why Laxmi puja is so important on this day. Deepavali sends light and plenty into the hearts and spirits of all devotees. Every year, people gather to share their joys and happiness in this bewitching atmosphere during this five-day event.
Retailers are offering holiday sales and discounts
Diwali offers
During the Diwali season, retailers, both physical and online, offer significant discounts and special offers. Clothing and accessories, gadgets, home appliances, and even vehicles are examples.
Gift Hampers
Many stores curate special Diwali gift hampers to help buyers choose thoughtful gifts for their loved ones. These hampers frequently feature a mix of traditional and contemporary gift items.
Cashback and EMI Offers
In order to stimulate spending, retailers frequently cooperate with banks and financial institutions to offer cashback and simple monthly installment (EMI) choices. This increases the accessibility of high-value purchases.
Online Marketplaces
E-commerce sites such as Amazon, Flipkart, and others conduct Diwali deals where customers may find a variety of products at reduced costs. These platforms also provide the option of doorstep delivery.
Local Markets:
Traditional markets and street sellers also take part in the festivities, selling one-of-a-kind handmade products, decorations, and sweets.
Budgeting and Shopping Tips for Diwali
Make a Shopping List
Make a list of the items you need to buy, such as gifts, clothing, and decorations. To avoid impulse purchases, stick to your list.
Set a Budget
Make a Diwali purchasing budget and attempt to stick to it. Setting financial boundaries will assist you in avoiding overspending.
Compare Prices
Before making a purchase, research prices from many merchants to verify you're receiving the greatest value. Online price comparison tools can be really useful.
Use Cashback and Discounts
When cashback, discounts, and EMI options are available, take advantage of them. These can help you save a lot of money.
Shop Early
Avoid the last-minute bustle by planning ahead of time. Early shopping allows you to get the best prices while also avoiding the stress of congested malls.
DIY and Handmade Gifts
Consider making homemade gifts or purchasing handcrafted things, which may be meaningful and distinctive while also supporting local artisans.
Online Security
When shopping online, be sure the website is secure and only conduct transactions on reputable e-commerce platforms.
Plan for Emergencies
Be prepared for unexpected costs and avoid exhausting your resources completely throughout the holiday season.
The History and Importance of Muhurat Trading 2023
Muhurat trading is a one-hour trading session that takes place on Diwali, the Hindu festival of lights. It is a symbolic and cultural practice that the Indian trading community has followed for generations. The term "Muhurat" means "auspicious time" in Sanskrit, and it is thought that trading during this period brings money and success for the rest of the year.
Muhurat commerce has a long history dating back to ancient India. This practice is thought to have begun during King Vikramaditya's reign. He was confident that starting Diwali Muhurat trading would bring prosperity to his country. It became a beloved ritual among dealers over time.
Muhurat trading began on the Bombay Stock Exchange (BSE) in 1957. The National Stock Exchange (NSE) later accepted it in 1992. Astrologers select the timing of Muhurat trading, which is notified in advance by stock exchanges. It is usually held in the evening, following the Lakshmi Puja ceremony.
Conclusion
Muhurat trading was introduced on the Bombay Stock Exchange (BSE) in 1957. It was later approved by the National Stock Exchange (NSE) in 1992. The timing of Muhurat trading is established by astrologers and notified in advance by stock exchanges. It usually takes place in the evening, following the Lakshmi Puja celebration.
As Diwali approaches, we send our best wishes for a pleasant and prosperous celebration. We also encourage readers to embrace the festival while keeping safety, sustainability, cultural customs, and the spirit of giving in mind, as this festival not only delivers light and joy but also provides a time to reflect on the ideals it represents. I wish you a joyous and meaningful Diwali filled with the warmth of family and the light of tradition.