CraftTank Pvt. Ltd: Addressing the Corporate Ecosystem About The Rationality Of Modern Marketing And Artistic Advertising
ENTREPRENEUR OF THE YEAR 2022
The CraftTank is a creative firm that works wholeheartedly to give the audience better experiences of the brands. The company is all about incorporating what is going on in the particular industry, customizing the marketing antics accordingly, and helping brands to grow along with it. From cohesive campaigns to avant-garde business designs, The CraftTank establishes surreal connections with people and brings results to the table. Our editorial team had a deep-driven conversation with the two supporting pillars- Mr. Brijesh Solanki- Managing Director of CraftTank Pvt Ltd, and Mr. Kedar Shet- CEO of CraftTank Pvt Ltd.
What left us mesmerized was their vision of revolutionizing the marketing and advertising campaigns of brands. Having experience working with so many reputed brands in the D2C industry, the company has understood the algorithms of modernistic marketing for business growth. So hold on because it was just a glimpse of perfection! Stay tuned with us till the end to know about the brand's journey and how it surpassed all the struggles to reach where it is today.
An Introduction from the Luminaries
CraftTank Pvt. Ltd is more than an advertising agency. It is a team of individuals that believes in "Advertising people for people who give a damn". With a tremendous amount of experience in the D2C sector, the company has brought result-oriented advertisement projects on board. Mr. Brijesh Solanki and Mr. Kedar Shet have down-poured their vast experience in building the company's roots. Let's hear from the leaders what they've in the box for us!
Mr. Brijesh and Mr. Kedar: Both of us started the company at very early stages of our careers. I hail from a sales background whereas Mr. Kedar has indomitable experience working in the creative domain. The mixture of both interests complemented each other magnificently and made its mark. Right from the inception days, our objective was crystal clear- to shake hands with D2C brands for exciting challenges and opportunities.
If you look at our name, it simply goes by the word 'craft'. Crafting has been our safe place. It is a quintessential part of our lives, something that never fails to bring a wide smile to our faces. When this craft merges with skills, techniques, and proper planning, unordinary paradigms are created. Our office is the hotspot (or as we like to call it, 'tank') of talent and creativity.
Welcoming Challenges with Resolute Spirit
Mr. Brijesh and Mr. Kedar: Just like any other entrepreneur, both of us had our own set of obstacles to witness. Talking about the biggest one, it was to get our families on board. Not having a business background made everyone skeptical about our idea. It was like trespassing unknown waters. But with everyone's hard work and support, things went exceptionally well until the COVID-19 pandemic hit us. It was barely a few months since we ventured into a new corporate space, got the best team for us, and grabbed an applaudable clientele. But then everything started to sink at the bottom and things became uncertain like never before.
When the inner self was on the verge of giving up, Mr. Kedar didn't even think to do something like that any sooner. He boosted my confidence and convinced me to push for another six months. Those six months have now stretched to two years of excellence and our company is growing stronger with each passing day. We're successful in grabbing the attention of our investors. Indeed it is a giant leap for any start-up like us! We both agree that competition is everywhere in the industry, no matter what stage you're in. What works out the best, is to understand the competition. After realizing the shortcomings, one becomes more efficient in working towards becoming stronger.
An Audit of Services
Mr. Brijesh and Mr. Kedar: We are inclined towards catering to the D2C brands the most. A few of the first brands that we worked with are mCaffeine, Pintola, Swissbeauty cosmetics, tit-bit spices, Upstox, Plum Goodness, Denver for men and Saucy Affair amongst others. We are firm believers in changing minds and accelerating the impact! We emphasize that brand needs to integrate digital marketing into their business model. With an excellent team of people who are always one step ahead and have the potential to give the best solutions for your hurdles, we have managed to offer top-notch services right from marketing to execution. We also go with a lot of experimentation to break the monotony of the content and impress the clients with results. Some of our maestro services are as follows-
Marketing and Strategy
Brand Strategy
Experience Strategy
Campaign Development
Content Strategy
Performance Marketing
Influencer Marketing
Public Relations
Design
Media Planning
Experience Designing
Campaign Design
Packaging
Communications Planning
Research
Retail Environments
Execution
Full Stack Development
Photo-shoot
Interactive Production
Event Production
Post-Production
Event Production
Print Studio
TVC and Digital Film
Staying Abreast of the Variable Market Trends
Mr. Brijesh and Mr. Kedar: When we started our careers in the advertising industry, we weren't aware that such agencies exist! It was a completely new syllabus to learn that changed our lives forever. For learning about the ongoing market trends, we make sure to take an hour out of our busy schedules to stay updated and aware of what's trending! Also, our team walks on the same path. They are ever-ready to build purposeful solutions for our client's unique business challenges.
A Breeze of Motivation is Sufficient
Mr. Brijesh and Mr. Kedar: We have always wanted to work with people who are bigger and smarter than us. Both of us admire a lot of people in the marketing and advertising industry. We like to be surrounded by people who constantly give us some or other kind of knowledge. Being surrounded by people whom you admire is a whole new way of learning the best of the best. That is how you learn how to grow in the right direction. Therefore, I advise each one of you to be around people who can contribute to your personal growth and inspire you to be alike. They should push you to assimilate knowledge from them instead of feeling envious of their capabilities.
The Ebullient Achievements
Mr. Brijesh and Mr. Kedar: We have been a part of many important campaigns of colossal brands which are true industry leaders. We have also helped many brands to reach heights that they dreamed of in a shorter period.
Employee Contentment
Mr. Brijesh and Mr. Kedar: One can't talk enough about the imperativeness of ensuring employees' content. Employees having serenity in all aspects whether professional or personal, are the most productive ones. We double-check that our employees work under healthy pressure where they can churn thoughts better. Employees who don't enjoy a serene work culture won't make for strong pillars.
So giving periodic breaks and space to work independently is important to refresh their thinking process. We organize frequent team activities, outings, and celebrations during festivals. We also keep refreshing tools in the office to complement their well-being. Additionally, we give them quality time off from work when it is truly auspicious for them. Doing wholesome work with a happy teamwork spirit gets the tasks done efficaciously in advance. Being blessed with a distinct team, every member has gigantic amounts of talent and ideas and that aura reflects through our work.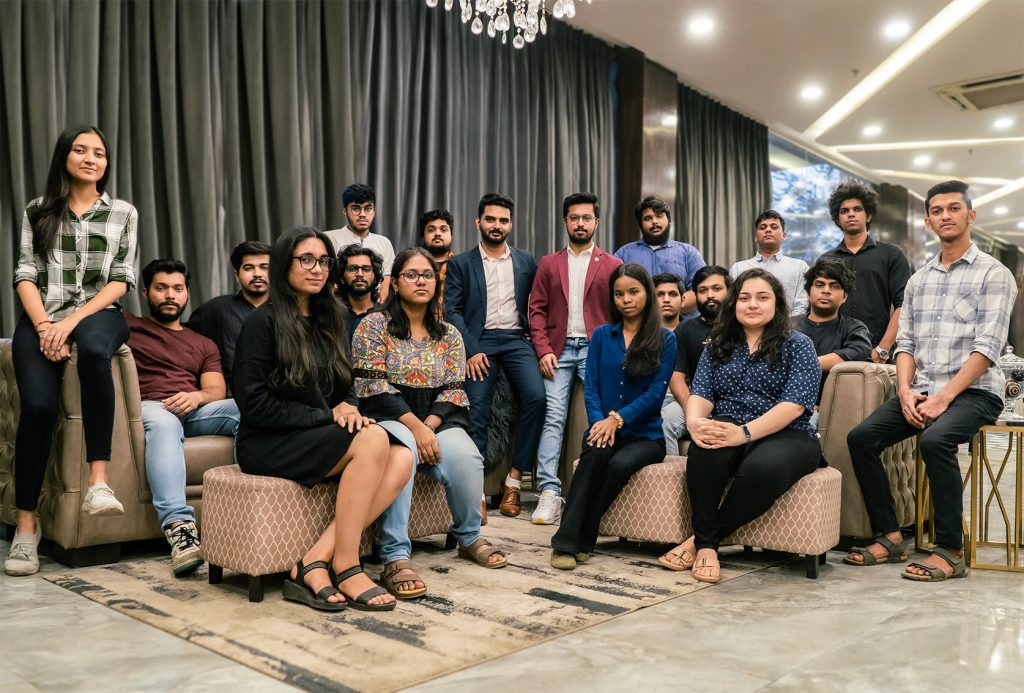 Carving Excellence with Research and Development
Mr. Brijesh and Mr. Kedar: We believe that Research and Development have to be the root steps before initiating anything new. It is a practice that we make sure every team member abides by. Avoiding errors, while executing something new, is the fruitful outcome of investing efforts in R&D. To give the audience what they came for, we leverage R&D to produce relevant content and not fail to comply with any rules. We stand by our affirmations!
An Outlook of the Road Ahead
Mr. Brijesh and Mr. Kedar: Our Company is looking for a path where we only work with a selective group of brands focusing on agitating the cream services for them. We are more about creating ideas where brands foresee not just business but a dramatic turn too! Those experiences are stamped in the minds of the audience. With that being said, our team promises to work resiliently to bustle the challenges that we've set for ourselves. We set targets and feel ambitious about achieving them. We evolve by dreaming! We evolve by working for that dream!
Words of Wisdom for the Readers
Mr. Brijesh and Mr. Kedar: If you're an aspiring entrepreneur manifesting that one leap in your career, then you simply can't give up on your dream. Stereotypes are good for nothing! They only make people doubt their self-worth. Not everyone dares to break the stereotypes. If not successful then at least give it a try to do something that will make you happy. Do it for yourself and no one else. Keep your eyes and ears open, there are things to learn everywhere.