CA Dhanashri Saurabh: Fostering Women Entrepreneurship Through Holistic & Need-Specific Services
In the entrepreneurial space, we often come across examples of business leaders who've ushered a horizon shift in their industry through their visionary attitude. Their thoughtful and inventive processes have gained widespread recognition at not just the regional but also national levels.
For women entrepreneurs especially, the aforesaid qualities shine even more exceptionally given the prevailing stereotypes in our country. Some of them have been so remarkably impactful in their work that they've redefined the very dynamics of women entrepreneurship in India.
CA Dhanashri, the Founder of Swadeshri Advisory Services Pvt. Ltd. is one such woman entrepreneur who has been in the limelight for her reformative work. A champion for the entrepreneurial spirit in women, Dhanashri has helped umpteen businesswomen across India fructify their vision through her need-specific services. Dhanashri along with her mother-in-Law Mrs. Sadhana Deshmukh who also happens to be the Director in Swadeshri Advisory has been steering the business in challenging times.
The indomitable can-do spirit of Dhanashri towards women's equality finds its roots in a mindset of consistency. This has been conspicuously evident in her since her formative days in Nandgaon, a small town in Nashik, Maharashtra. Her parents have always had a progressive mindset and they educated and raised their girls to face the challenges of the modern world.
We'll be highlighting the various defining aspects of Dhanashri's brand, as well as the overall mindset that has shaped her current market stature.
A Deeper Look into Dhanashri's Company
Currently, Swadeshri provides financial and business enhancement handholding services to other small-scale businesses, esp. Those owned by woman entrepreneurs.
As a business owner, Dhanashri feels wonderful collaborating with other small businesses and feels it makes sense for their financial plan. Hence the majority of her clients are from marginalized sections esp. Women who lack financial savings. She wishes to enrich them with the same in order to empower them with the wings to their dreams.
Not only does Swadeshri help them to save their money but also invest it for their secured future. This way, it also contributes to the Nations Goal of 'Financial Inclusion. When businesses in a community work together, Dhanashri feels there's much more to be gained in the local economy. According to her, this is the cornerstone of a sustainable and self-reliant economy.
The Altruistic Vision Behind Swadeshi
Through Swadeshri Advisory Services, Dhanashri holds the mission to create a meaningful and holistic change in the lives of women. The company's major clientele specifically consists of young women from small towns, who have great ideas but not the necessary level of financial & procedural support.
To foster their entrepreneurial vision and livelihood creation, Swadeshri hand holds these women across various aspects, such as:
Getting various clearances and permissions for business.
Helping procure and efficiently utilize funds.
Identifying their True Passions via a Passion Test Series.
Providing Money Manifestation Strategies.
Helping manage Work-life balance.
Fostering their Personal Development
The most noteworthy aspect of Swadeshri's services is the fact that it doesn't just focus on money matters; it also emphasizes the social aspects of a woman. It designs a sustainable, tailormade solution with a human face for every case, thereby unleashing the latent unique potential of each woman.
Surmounting Market Challenges
As a leader with a reformative vision for women, Dhanashri is faced with a slew of daunting challenges while maneuvering her company.
The first and foremost problem is to make people evolve out of the traditional old mentality that women should only cater to their children and household chores. She faced these barriers from her colleagues and seniors when she started working in Delhi. However, thanks to the progressive thinking and love & support from her husband and family, she was able to overcome these eventually.
Some other problems the company faces are to get connected with the real beneficiaries, understand their needs and work upon them online amid the pandemic. In addition, they also have the responsibility of keeping clients motivated to follow their dreams despite all odds & failures.
Thanks to Dhanashri's dogged persistence, the company is surmounting the aforesaid setbacks and gaining stability & momentum with time. In the process, she's leveraging the power of digital media to maximize her impact.
Spurring Change Through Online Platforms
Dhanashri owes much of her brand's current success to social media. Unequivocally, she believes it's a powerful tool to spark a palpable change in today's society.
With the IT revolution in the country, she elucidates that social media has become a pervasive platform where people can share the results of their hard work. Moreover, it has the power to reach millions at a relatively low cost.
Social media has given a voice and power to those who have been excluded by traditional media for ages. With the advent of novel technologies, many social media applications like Twitter, Telegram, YouTube, Facebook, LinkedIn, and others have been playing a key role in facilitating the rapid flow of information.
In terms of business advantages, the aforesaid platforms have helped Swadeshri easily connect with clients, gain vital information regarding them, connect with various stakeholders or investors, and also share their success stories.
Conversely, the clients can also easily connect with them via a FB or WhatsApp text, or share their problem via a video or voice note on these platforms to get a real-time solution.
Keeping The Pace Amid COVID-19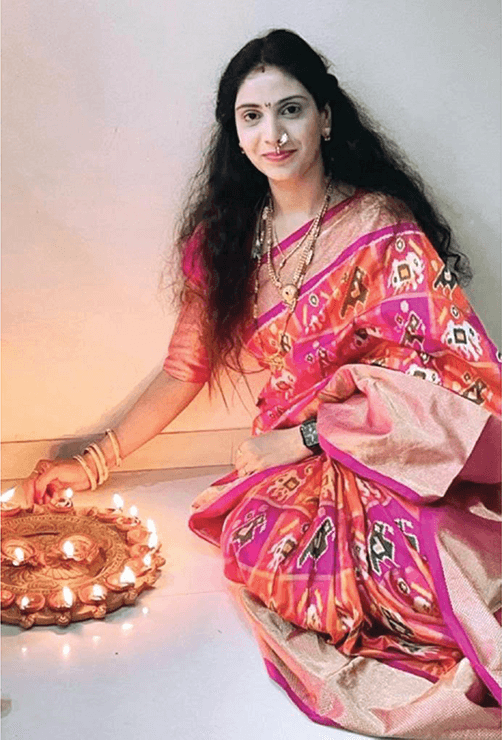 Amid the current pandemic, the relentless client support of Swadeshri witnessed numerous hindrances from the volatile market.
Dhanashri observes that as COVID-19 continues to affect livelihoods around the world, she can already see that its economic fallout is having a regressive effect on gender equality. By her calculation, women's jobs are 1.8 times more vulnerable to this crisis than men's jobs Women make up 39 percent of global employment but account for 54 percent of overall job losses.
One reason for the greater effect on women is that the virus is significantly increasing the burden of unpaid care, which is disproportionately carried by women. This, among other factors, means that women's employment is dropping faster than average, even accounting for the fact that women and men work in different sectors.
Furthermore, it is important to note that the impact could be more severe than the one Dhanashri has modeled here if factors such as increased childcare burdens, attitudinal bias, slower recovery, or reduced public and private spending on services like education/childcare are considered. These factors make women leave the labor market permanently.
The magnitude of inequality is striking; using data and trends from unemployment surveys in the US and India, where gender-disaggregated data is available, Dhanashri has derived the aforementioned statistics which signal a looming threat for women's employment.
To combat this employment threat, Dhanashri and her team are pouring in indefatigable efforts to holistically bolster women and their businesses. They're also making a conscious initiative to propagate the cause across the country and spread awareness about their ongoing challenges.
Dhanashri's Success Mindset for Entrepreneurship
The indomitable can-do spirit of Dhanashri towards women's equality finds its roots in a mindset of consistency. This has been conspicuously evident in her since her formative days in Nandgaon, a small town in Nashik, Maharashtra.
Knowing the unequivocal importance of this quality, Dhanashri recommends all to be consistent in whatever business or life goals they have, have a firm belief in their idea, and give their best at it. Sometimes, it takes 10 years to get to that one year that will change your life….That's why it's worth imprinting in your mind: "JUST KEEP GOING. REMAIN CONSISTENT".
Dhanashri furthermore elucidates that consistency is the precursor to all noteworthy success in business. Nothing is more effective than consistency when it comes to making your company or performance stand out. In short, it is a "success habit" that leads to remarkable projects.
Speaking of impediments, Dhanashri strongly urges all to never let the negative opinions of others get in the way of achieving your dreams. People will always be critical of whatever you do. Remember, however, these same people will clap for you when you achieve something significant.
She furthermore spurs all to hone their transmutative ability for success – shielding your weakness into strengths and converting threats into opportunities.
CA Dhanashri also believes in team spirit and always attributes her success to the team which supports her.
Takeaways For Women Entrepreneurs
Staying true to her staunch ideals, Dhanashri carefully chose the name of the Company Swadeshri to develop home-grown entrepreneurship and to realize the vision of "Atma Nirbhar Bharat" by Hon'ble Prime Minister Shri Narendra Modi. The basic philosophy of the company is "Every Girl has right to dream and we walk an extra mile with you to fulfill our dream"; the Motto of the company is "Your success is our business".
On a concluding note, she shares some invaluable insights that she feels will maximize the progress of budding female entrepreneurs:
Develop Your Passion
According to Dhanashri, many people misunderstand what passion is. They confuse interest with passion, but passion is the addition of interest and skills. It's great that you're interested in something, but for your interest to become a passion, you need to tirelessly work to acquire these skills.
Once you've developed a passion, which is inward-focused, you want to use it to create an impact that's outward-focused. The nature of this positive impact for others may then become your purpose.
Learn to Work With Numbers
The number one thing entrepreneurs need to understand is how they'll make money. More specifically, they should learn to calculate what they can anticipate in terms of revenue and expenses once they start the business. This should take precedence over the general belief that customers will want to pay for their products or services.
There are a lot of financial planning tasks associated with running a business, such as setting pricing, creating forecasts, managing cash flow, preparing taxes, etc. All of this should be meticulously calibrated to achieve seamless functioning.
Be Open to Change & Innovation
Often, people in business get used to processes that are done in one way. Dhanashri however gas learned to be open to change & innovation.
On the operational front, she feels utilizing enterprise collaboration software and workflow automation is a powerful enhancer while growing a business. Furthermore, she has learnt the fine art of striking a balance on multiple fronts. Trying to create a balanced operational strategy by combining people, technology, and processes is the point that will make you unique and stand out.